Another great quarter for Oracle (NASDAQ:ORCL) and long term value investors better take notice, for the numbers testify that this stock is a must for conservative long-term value oriented investors.
To begin with, the company had double-digit growth in all regions. The Americas were up 22%, APAC was up 13% and EMEA was up 12%. New software license and cloud revenues were up 18%, including cloud revenue of $230 million for the quarter. Results came in at the high end of guidance for total revenue.
Total revenue for the quarter was $9.1 billion, up 5% from last year. Hardware systems products revenue was $734 million and Engineered Systems continue to show excellent growth. Operating expenses were flat compared to last year while non-GAAP operating income was up 10% from last year.
Non-GAAP operating margin expanded to 47% from 45% y-o-y. The company said, "we still believe that there remains a lot of leverage in our business model." EPS for the quarter grew 18% in U.S. dollars to $0.64 on a non-GAAP basis.
Operating cash flow increased to $13.5 billion over the last 4 quarters, up from $13.1 billion last year. And free cash flow grew to $12.8 billion over the last 4 quarters. Both are record results for Q2.
You can read Oracle's Q2 announcement here and the call transcript of management's discussion here.
I want to stress on the matter of share repurchases, for I think it is the most important element that will determine the long-term appreciation of the stock.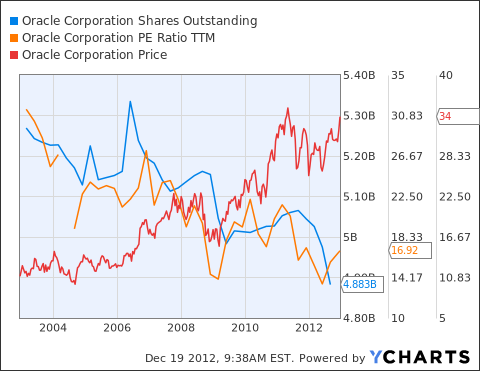 ORCL Shares Outstanding data by YCharts
As you can see from the above chart, the company has been repurchasing shares rapidly over the years.
The company has $34 billion in cash and marketable securities and has a lot of leeway for acquisitions as well as repurchases and dividends.
For the quarter, the company repurchased 96.1 million shares for a total value of $3 billion for the quarter. Over the last 12 months, repurchases totaled 350 million shares for a total value of $10.2 billion.
As long as management is committed to return money to shareholders via repurchases, it means appreciation for the stock. As long as a company generates free cash flow, purchasing shares is the best way to reward long term investors, even in the event that the company experiences no growth.
But when you have a stock that has managed to grow earnings, gives a dividend and repurchases shares at the same time, then you have the best of all worlds.
And as far as I'm concerned, the best reason to buy Oracle, besides the long term growth potential, is that management is committed to reducing the float.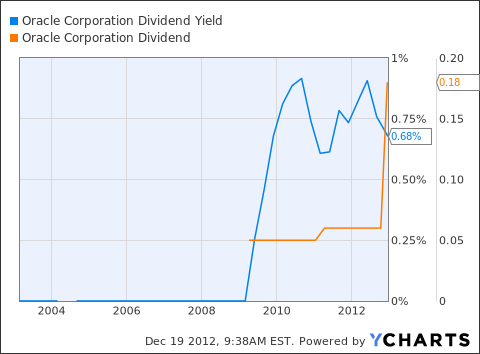 ORCL Dividend Yield data by YCharts
On a technical note, the stock gaped up today and the next resistance level is around $36. If that is taken out, the next resistance level is around $45, where its all time high was reached in 2001.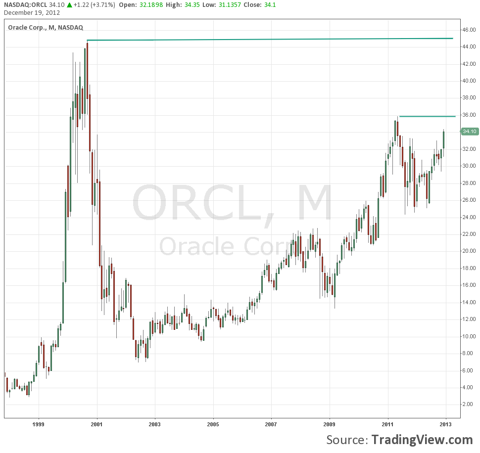 Disclosure: I have no positions in any stocks mentioned, and no plans to initiate any positions within the next 72 hours. I wrote this article myself, and it expresses my own opinions. I am not receiving compensation for it (other than from Seeking Alpha). I have no business relationship with any company whose stock is mentioned in this article.