CenturyLink (NYSE:CTL) is in my opinion the best company in a declining sector. Rural telecom companies have been in hurt by the shift from landlines to cell phones. However, CenturyLink has proven itself to be the most adaptable in this changing industry. CenturyLink has grown mainly through acquisitions, having acquired other companies such as Embarq (2008), Qwest (2010) and Savvis (2011). The Qwest purchase in particular has led to savings of $450 million so far this year, and expected full year annual synergies of $480 million.
CenturyLink is the third largest telecommunications company in the United States, with an extensive coverage area as shown below:
CenturyLink has been investing in key strategic initiatives, which have enabled it to nearly maintain its revenues despite losses in landlines. Pro forma revenue declined 1.4% in 3Q 2012, compared with a 4.1% decline in revenue for 3Q 2011. CenturyLink has been slowly able to improve revenue trends.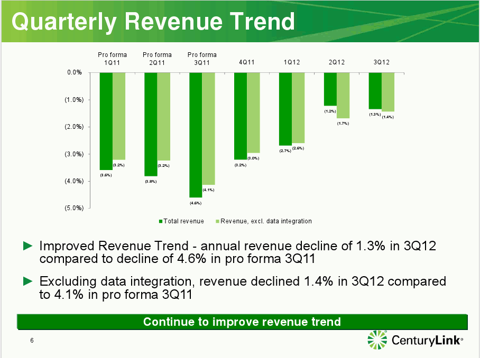 Strategic initiatives for CenturyLink include broadband internet, fiber to tower, and data centers.
Broadband subscribers as of 3Q 2012 reached 5.8 million, an increase of 4.1% from 2011 levels.
Cumulative fiber to tower builds reached

12,000

as of 3Q 2012. CenturyLink is on track for

4,000

-

4,500

fiber builds for FY 2012. This positions CenturyLink to benefit from the significant growth in wireless data demand.
With the Savvis acquisition, CenturyLink has

moved

firmly into the data center business. CenturyLink has over 50 data centers globally, with plans for expansion into additional areas. Cloud services and managed hosting capacities and bookings are expected to expand in 2013. CenturyLink also recently opened a data center in Singapore during 3Q 2012.
CenturyLink anticipates to further improve revenue trends in 2013, with annual revenues expected to decline -0.5% to -1.5%. CenturyLink expects to reach revenue stabilization in 2014. 2013 operating free cash flow levels are anticipated to be lower than in 2012. The causes of this decline are primarily the shifting source of revenue (away from landlines to strategic revenues), further investments in strategic initiatives, and lower incremental annual synergies.
CenturyLink saw its net income surge last quarter to $270 million, nearly double the $138 million reported for the similar quarter last year. For the first nine months of 2012, CenturyLink posted net income of $544 million, an increase of 16% compared with $464 million for the similar period last year. On a per share level, net income per share for the first nine months of 2012 was $0.87, a decrease of 21% compared with the $1.10 for the similar period last year. The difference between net income numbers and per share numbers can be explained by a share count increase. Shares outstanding for CenturyLink have more than doubled, from 304 million to 622 million.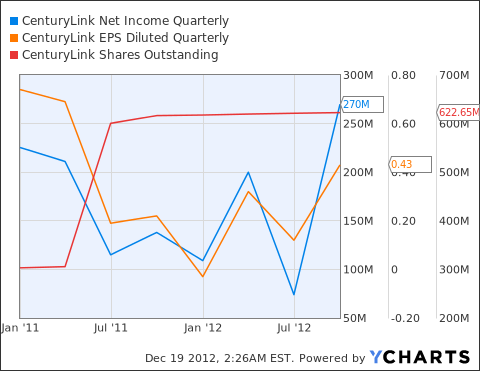 CTL Net Income Quarterly data by YCharts
CenturyLink currently offers a 7.3% dividend yield. While this seems high, this yield is the lowest among its peers. Frontier Communications (NYSE:FTR) offers a 8.6% and Windstream Corporation (NASDAQ:WIN) offers a 11.2% yield. However, do not be lured in by these higher yields. CenturyLink has offered a much more stable share price.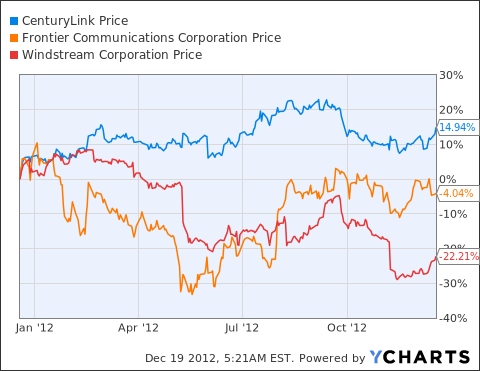 Conclusion
If you are looking to invest in a rural telecom, in my opinion, CenturyLink is the best bet. Excluding the landline segment, it has shown signs of revenue growth. However, I would avoid this entire sector. The reason for this is that I do not wish to put money into an area that is known to be in secular decline. Also, the 7.3% dividend is not enough of a reward for the risk involved.
You can also read some of my thoughts for both Frontier and Windstream.
Disclosure: I have no positions in any stocks mentioned, and no plans to initiate any positions within the next 72 hours. I wrote this article myself, and it expresses my own opinions. I am not receiving compensation for it (other than from Seeking Alpha). I have no business relationship with any company whose stock is mentioned in this article.