Nucor Corporation (NYSE:NUE) guided to 4Q12 EPS of $0.25-$0.30, lower than the consensus estimates of $0.33. While the guidance is lower than the consensus estimates, the projected earnings include a LIFO credit of $29 million or $0.06 per share, compared to a credit of $0.16 in 3Q12 and a charge of $0.11 in 4Q11. The steel marker is also typically conservative in its guidance range.
The company noted weaker SBQ and plate markets as the primary reasons for expected lower earnings in 4Q. We believe these factors are already priced in the stock since the market already knows of these conditions. However, NUE did see improvement in its sheet business. The company stated that mill margins, after bottoming in 3Q12, improved in the last quarter of 2012. This indicates that if 1Q13 volumes follow the normal seasonal pickup, NUE should see the double positive impact of:
Higher ma

rgin

Strong quarter 1Q13 results due to higher volumes (consensus estimates $0.65)
Commenting on the fourth quarter earnings (expected) the company said "Lower steel mill margins are primarily impacting our bar and plate steel mills reflecting the cumulative impact of high import levels and general economic uncertainty. Sheet mill margins are improved in the fourth quarter after bottoming in the third quarter of 2012."
History of Conservative Guidance
Nucor has a history of a conservative approach toward guidance. As you can see from the figure below in the last three years (11 quarters) NUE has always beaten at least the low end of its guidance range. Only on a couple of occasions (3Q10 and 2Q12) the company reported lower EPS than the mid-point and high-end of its guidance range. In terms of outperformance, more than once the company has reported as much as 50% higher EPS than the guidance. The company gave a 1Q12 guidance range of $0.22 to $0.27 and reported actually EPS of $0.42, 10 cents higher than the high end. Similarly in the last quarter the company gave a guidance range of $0.39 to $0.44 and reported actual results of $0.45.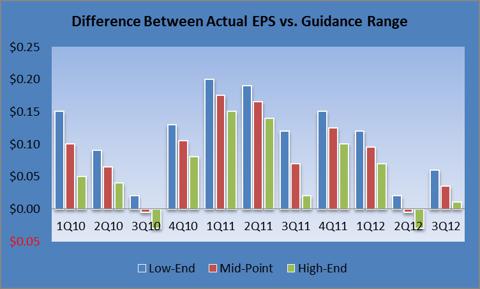 Source: Company documents, Price Point Research
Steel Update
Total U.S. service center shipments of carbon steel fell 6.5% YoY to 3 million tons in November, whereas, total steel shipments declined to 3.1 million tons (-6.4% YoY). Carbon bars with 13.4% saw the biggest decline in shipments, followed by carbon plate shipments which declined by 11.1%. Carbon structural and carbon pipe and tubing shipments were flat YoY; however, YTD shipments increased by 4.8% and 2.7% respectively. Bars were the only carbon steel product group with a YTD decline (-2%) in shipments. Stainless steel shipments declined by 4.5% YoY and by 1.4% YTD.
November shipments were weak. However, service centers continue to reduce inventories in line with the actual demand. As a result, even with weak shipments the inventories remain in a reasonable shape. Total inventories are down 3.3% sequentially to 8.17 million tons. All carbon steel product categories saw a sequential decline in inventories with the biggest decline (-5.5%) seen in carbon plate inventories. Stainless steel was the only category which saw sequential increase (0.3%) in inventories.
The next two months are the most volatile in terms of a sequential change in shipments, with December typically the weakest month and January the strongest.
Conclusion
Keeping in mind the company's conservative approach and Nucor's history of reporting at the top end or even above its guidance range, we expect 4Q12 to be no different. We believe 4Q will prove to be a trough for earnings and maintain our buy rating on NUE, because of its strong balance sheet, attractive dividend yield, attractive cost position, growth prospects, exposure to a recovering construction market and our expectation of a strong 1Q13 demand.
We continue to favor minimill producers in the steel sector. We have a buy rating on both NUE and Steel Dynamics (NASDAQ:STLD). For a detailed analysis on NUE please refer to our recently published article on the company. We will soon do an in-depth analysis on STLD as well, so watch this space.
Disclosure: I have no positions in any stocks mentioned, and no plans to initiate any positions within the next 72 hours. I wrote this article myself, and it expresses my own opinions. I am not receiving compensation for it (other than from Seeking Alpha). I have no business relationship with any company whose stock is mentioned in this article.