The current environment makes it difficult for traders to find the best opportunity. After all, we are all competing for returns and profit. This year is no exception. Without a doubt, this year has made competition that much tougher. In bull markets, it is easy to invest in companies that are benefiting from the macroeconomic picture. We see in 2005-2007, the focus on investing with commodities garnered hefty returns to the bullish trader. In 2008, the environment will benefit the trader that is adaptive to the situation and is humble to admit when he is wrong and quickly close a potentially devastating trade.
But the question still stands--where is the best trade? What is a strong pattern to focus on?
The best trades are the trades with the best relative strength. The concept applies price behavior of individual stocks to that of the overall market. It bears similarity to using Beta to judge a stock, but differs in the sense that relative strength is more adaptive, while Beta is more less adaptive towards market changes (in other words, using Beta to judge a stock's attractive value as a trade may do you more harm than good). However, in this market, traders should know that breakouts have a higher probability of being faded and those that do break out are often quick and short lived. But very profitable nonetheless.
Here are a few examples of trading with relative strength and applying our trading techniques. Take a look at HMSY. (Click Image)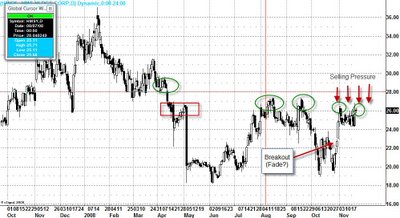 The company is fundamentally strong and has good prospects to be a major leader. However the current market does not rewards fundamentals. This is why Pure Value Investors will be hurt in this market significantly, because they often do not take into account the price fluctuations that do occur in the markets. The stock is currently trading near $26 a share. But given, relatively speaking, past price points, the HMSY will be facing selling pressure. If the stock fails to break above $27.13 , HMSY carries a very high probability trade to short (and decline) to $22 a share ($5.13 profit per share).
The Probability for the Bull Trade in HMSY: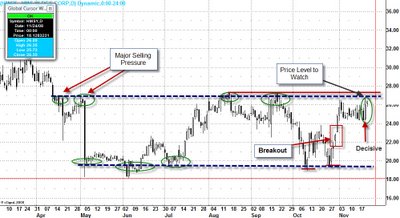 Past resistance on April, May, August, and September of 2008 were major selling points. The 4 major attempts to break its downtrend failed with strong and decisive moves lower. However, in October and late November 2008, HMSY made a strong breakout (due to strong fundamental news) furthered by a decisive bullish move on 11/20/08, suggests there will be a strong retest or attempt to retest the highs established earlier. The unique situation with HMSY that does not apply to many other trades out there is the strong underlying fundamentals.
In markets, there is a unique relationship between fundamentals and stock price. In a market such as this bear market, bullish stocks are very noticable and investors looking to exploit price discrepancies will either face a major move or exacerbate it (therefore increasing its run up). Due to the strong fundamental nature of the company, should a successful breakout occur, the risk/reward relationship will change and persist in a stronger run up to test $31.55 ($5.26 per share gain).
Gauging how strong the fundamentals are (in Brief)
HMS Holdings Corp. (NASDAQ:HMSY) provides a variety of cost management services for government-sponsored health and human services programs. HMS's customers are State Medicaid agencies, government-sponsored managed care plans, child support agencies, the Veterans Health Administration, the Centers for Medicare & Medicaid Services (CMS), and other public programs. On October 5, 2007, the Company purchased the business of Peer Review Systems, Inc.
A majority of the Company's customers are state Medicaid agencies and other state-administered programs. During the year ended December 31, 2007, the Company served 39 State Medicaid agencies and 74 Medicaid health plans (under 31 contracts). HMS also provides coordination of benefits and third party insurance identification services to the 21 Veterans Integrated Service Networks (VISNs) of the Veterans Health Administration, and child support agencies in 15 states.
In brief, as states come under increasing budget pressure, the need for cost containment increases and provides a favorable outlook for the coordination of benefit services that HMSY provides. We believe HMSY is starting to see increased demand for its services and it is starting to see the benefit of rising unemployment on Medicaid spending and therefore, its business. Moreover, HMS is currently contracted with 40 states and over 70 managed care organizations, giving the company a foothold in these organizations and allowing it to cross sell additional services to its existing client base. Moreover, according to CMS, Medicaid spending will rise somewhere north of $350 billion in 2008.
Stock position: None.