On December 19 2012, Johnson Controls (NYSE:JCI) announced higher sales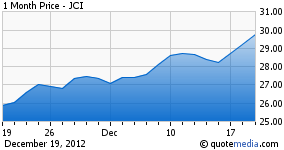 and earnings forecast for year 2013. The stock closed more than 1.85% up after the forecast, at $29.76 and is already up more than 13% since the past month's low of around $26.
About The Company
Johnson Controls manufactures automotive interior systems, automotive batteries and automated building control systems. The company also makes control systems used for energy management in the facilities management business. Its major customers are Ford (NYSE:F), General Motors (NYSE:GM) and Daimler.
Previous Coverage
In this July article, I had stated two key factors that could lead to increased auto sales:
Average age of light vehicles in the U.S. is at historical highs, close to 11 years.
Banks have not only lowered auto loan rates, but are also approving consumers with weak credit to encourage auto sales.
And in fact, auto sales for November came out to be at a five-year high according to a recent report. The increased November sales could be partially attributed to Hurricane Sandy, but nevertheless, consumer sentiment in the auto space has improved either because of the consumer's aging vehicles or because of easy availability of credit or both factors.
Bullish Options Activity
On December 19 when the company announced its positive forecast for 2013, call options were trading more than four times the average daily call volume in the name. The premium for the $30 strike calls expiring in January ran as high as $1.15, indicating that investors are bullish about the prospects of a continued upside. This was even discussed in CNBC's show Fast Money.
Fundamentals and Valuation
Johnson Controls has several catalysts working in its favor in the long run.
Decent dividend yield of $0.76 or around 2.60%.
Positive revenue growth in the past twelve months and a positive revenue forecast for year 2013 in all four of its businesses.
Diluted EPS estimate for 2013 is 4% higher than fiscal year 2012.
Fair valuation with a PEG of 1.15.
Risk - Fiscal Cliff Remains An Issue
The biggest risk facing the automotive sector in general and companies like Johnson Controls specifically is of course the Fiscal Cliff. CEOs of Volkswagen and Ford have agreed that the U.S. is seeing a steady recovery in auto sales but this consumer confidence could very well falter if the fiscal cliff occurs.
It is recommended that investors weigh the risk of a fiscal cliff before jumping to a conclusion about investing in companies like Johnson Controls that belongs to a sector that is heavily dependent on economic expansion.
Conclusion
In my opinion, at the end of this childish drama, we will see some kind of an agreement on the Fiscal Cliff. Johnson Controls should be able to overcome relatively weaker European sales because of the strength in the domestic U.S. market. Auto sales in the U.S. are expected to increase in year-over-year in 2013 and beyond, and any stabilization in Europe should help this company further. Options activity is already suggesting a more than 5% appreciation by January expiration, and any further positive news around auto sales and consumer confidence should drive this stock further upwards from there.
Disclosure: I am long JCI. I wrote this article myself, and it expresses my own opinions. I am not receiving compensation for it (other than from Seeking Alpha). I have no business relationship with any company whose stock is mentioned in this article.