In July, I held an exclusive interview with Alexza's (NASDAQ:ALXA) Chief Executive Officer, Thomas B. King. Since then, the company's share price has climbed approximately 65% to $5.49 per share.

The company announced last week that the Committee for Medicinal Products for Human Use (CHMP) of the European Medicines Agency (EMA) recommended marketing approval for its lead drug, Adasuve, an acute treatment of agitation associated with schizophrenia or bipolar I disorder in adults. The Committee recommended that patients receive regular treatment as soon as their agitation symptoms are under control, and that Adasuve be administered only at a hospital under supervision of a health care professional. The recommendation will be forwarded to the European Commission, which normally endorses recommendations within two or three months.
In addition, after receiving two Complete Response Letters (CRLs) by the FDA for Adasuve's New Drug Applications (NDAs), Adasuve is again under FDA review and the company anticipates an approval decision tomorrow.
In an effort to learn more about the chances of Adasuve to win FDA approval tomorrow, I had the pleasure of catching up this week with one of best analysts in the pharmaceutical sector, Mr. Scott R Henry, CFA, Head of Healthcare Research, and Senior Research Analyst at Roth Capital Partners. Mr. Henry came to Roth Capital directly from Oppenheimer where he led coverage of the US pharmaceutical sector, and he brings 12 years of sell-side experience. He has also been affiliated with Thomas Weisel Partners, ABN AMRO, and Leerink Swann & Co. His universe included specialty pharmaceuticals, large-cap pharmaceuticals, and biotech, along with selective medical device names.
Ben Yoffe: Mr. Henry, what are your expectations regarding the upcoming PDUFA date for Adasuve?
Henry: I expect an approval. It appears that manufacturing is the last hurdle, and it appears that they have submitted responses to the questions from the FDA.
Yoffe: Can you assign the probability of approval for Adasuve?
Henry: My subjective probability of a timely approval is 75%.
Yoffe: Do you see any red flags which can cause a rejection or delay by the FDA?
Henry: Based on the company's public comments, and as I mentioned, it appears that manufacturing is the last hurdle. I take comfort that Europe signed off on manufacturing. The FDA is, however, a black box and the agency can choose to revisit prior issues. The 25% probability of non-approval is meant to capture these unknowns.
Yoffe: If Adasuve will be approved, how many sales do you expect to see in the US?
Henry: Our 2013-16 end user revenue targets in the US are $13M, $74M, $137M, and $207M.
Yoffe: What is the value of the recent recommendation by the CHMP to approve Adasuve in Europe, and what is the potential market in Europe?
Henry: I target the European franchise at $2/share or ~25% of the US. franchise. The market is smaller; perhaps 50% of the size of the US. market, and the product is already partnered with Grupo Ferrer.
Yoffe: Do you see other significant products in Alexza's clinical-stage pipeline?
Henry: It's a platform technology that can speed up clinical activity. The pipeline includes products to treat insomnia, migraines, breakthrough pain, seizures, and smoking cessation. The value of this pipeline, in my opinion, is minimal by investors today. However, validation of Adasuve should drive increased attention in the earlier stage pipeline.
Yoffe: What can you tell us about the company's financial liquidity?
Henry: It's adequate for now. The answer, however, will depend on the marketing of Adasuve in the US. If they take it to the market, they will likely need more money. However, if they partner the compound, they may not. Generally, I'd classify Alexza as a company that likely will need more capital, but that will have the flexibility to raise it in an opportunistic way.
Yoffe: In closing, what are your rate and your price targets for ALXA?
Henry: Buy, $10 price target - $8/share for US Adasuve franchise, $2/share for ex-US franchise. It is important to mention that the risk profile is higher than normal due to the binary event of approval.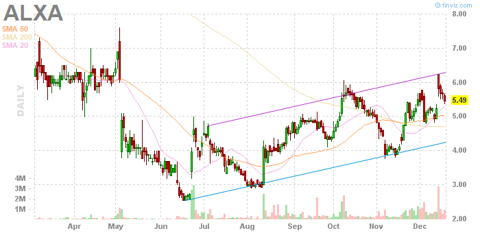 Disclosure: I have no positions in any stocks mentioned, and no plans to initiate any positions within the next 72 hours. I wrote this article myself, and it expresses my own opinions. I am not receiving compensation for it (other than from Seeking Alpha). I have no business relationship with any company whose stock is mentioned in this article.