On December 19th, Mad Money host Jim Cramer was asked during his "Lightning Round" what he thought of Mondelez International (NASDAQ:MDLZ). Cramer's comment was that he thinks it is the one to own in the sector. He even added that it was the one to own "over Heinz (HNZ), General Mills (NYSE:GIS), and McCormick (NYSE:MKC). Mr. Cramer, though I respect your opinion because you're willing to put yourself out there, you are wrong on this choice.
Cramer is a battleground when it comes to readers and followers. Many like what he does and many go against every move he makes. Cramer is no more right than an "Average Joe." However, he still stands up there every day to give his opinion on companies. It is nothing more than an opinion based on what he thinks, and has possibly analyzed. Each investor should have their own opinion on their investments or prospects and shouldn't be using Cramer's opinion by itself.
Which of the four food manufacturers should you own going into 2013 -- MDLZ, HNZ, GIS, or MKC? Many followers or former readers of mine should already know I like all four companies, as the consistency of the sector is refreshing and the focus of returning capital to shareholders is a nice bonus. In my opinion, there is nothing wrong with any of these four companies. To own any one of them is a good way to diversify and add a "backbone" to a portfolio. The chart below shows how the four companies have performed over the last 5 years (Source: Yahoo! Finance):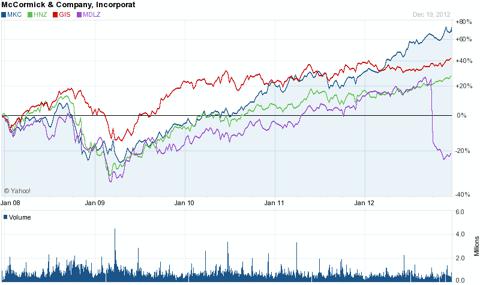 The data from MDLZ is a bit skewed due to the spin-off in October. Outperformance is great to see, but it does not tell forward returns.
1) McCormick:
MKC is engaged in the manufacturing, marketing, and distribution of spices and seasonings worldwide. It is looking to grow internationally in emerging markets, expand its product portfolio, acquire smaller companies, maintain its ~50% market share of spices worldwide, and generate return to shareholders. It is the smallest company of the four, which would immediately point to outperformance over the long-term due to the notion of small and mid-cap firms outperforming large-caps over the long-term.
MKC has its own product niche and is not a typical food manufacturer. MKC's products are found everywhere, as it even produces private labels. The stock may be a bit ahead of itself here, but is a great choice for investors if the opportunity presents itself. Many think it is "expensive" and "overvalued" based on its P/E multiple alone. However, the 10-year average P/E multiple is 22x earnings, which is where it is trading now.
I would look to enter this if it dropped below 20x earnings, and even more so if it dropped to 18x earnings. MKC also was just added to the dividend aristocrats last year, as it has consistently raised its dividend for 27 consecutive years. The company is in "expansion" mode and has been extremely focused on acquisitions in high-growth areas.
2) H.J. Heinz:
HNZ manufactures, markets, and distributes a variety of condiments globally. It is best known for its ketchup brand. This Pittsburgh-based company pays a +3% dividend to investors, which it has consistently increased each year. This stock is the definition of "slow and steady wins the race." It allows investors to go to sleep at night. Any strong dips should be bought up immediately, as the dividend alone provides downside protection. What HNZ really has going for it is the strong exposure to emerging markets. Emerging markets comprise about 40% of sales for HNZ. This will create better long-term growth for shareholders. Like MKC, HNZ is extremely focused on "bolt-on-acquisitions." It is focusing its acquisitions in China and Brazil mainly, as its acquisition pipeline is busy according to CEO William Johnson.
3) General Mills:
GIS manufactures cereals, snacks, yogurt, vegetables, and various other items. It is the dominant player in the cereal business, due to its strong brand perception. It also supports a +3% yield, which it has increased for many years. Over the long-haul, it has been shown to outperform HNZ. In recent years, it has struggled with rising grain, wheat, and sugar costs, as well as the poor health perception of its products in developed areas. It has since acquired Yoplait, a Greek yogurt company that has a healthy perception. It is also increasing advertisements of Green Giant, its vegetable line. GIS has cut sugar amounts in its cereals and added varieties that include multi-grain. Given the potential turnaround in margins, GIS could see multiple expansions in the coming years.
4) Mondelez International:
MDLZ is a snack-company with Kraft Foods (KRFT) old snack brands that include the likes of Oreos. MDLZ has a dividend yield of ~2%, strong international exposure and the lowest multiples. However, snacks have had the problem of poor health perceptions. These brands have high calories and lots of saturated fat. This does not bode well for developed markets which have shifted toward a health-conscious consumer. The hope with this company thus lies with emerging markets like China.
The thing to really like about MDLZ is the potential of multiple expansions. MDLZ trades at an approximate 14x ttm earnings, which is a discount to the market and the sector. It is only expected to grow revenue 4.4% next year. This company clearly has potential to see rising multiples and beat earnings due to the low expectations.
Conclusion:
Which company has the most sustainable growth, which would show long-term strength?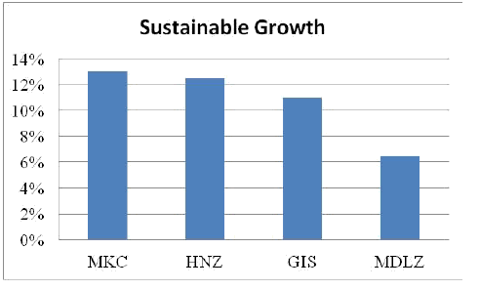 MKC has the most sustainable growth due to its 42% payout ratio and strong +20% ROE. MDLZ is much farther behind due to its low ROE. Thus, return to shareholders is limited for MDLZ.
I do believe that the proper recommendation is the following ranking: MKC, HNZ, GIS, and then MDLZ based on sustainability. MKC is in an extremely niche market and is the best of its breed. It reinvests in itself and buys other companies to expand. The fact that it is in expansion mode still can really drive stock price growth moving forward. HNZ is a similar story and could be a number one choice too. The emerging markets exposure is a dominant force. GIS just had a decent quarter and still has room to expand its margins.
Investors should enter these positions on a pullback. Any of these companies provide safety, yield, and a backbone for investors. It allows them to sleep well at night as product demand is consistent. Also to note, MKC, HNZ, and GIS are all trading near their 52-week highs, despite the macro-headwinds. This sector is doing many things right.
Disclosure: I am long MKC, HNZ. I wrote this article myself, and it expresses my own opinions. I am not receiving compensation for it (other than from Seeking Alpha). I have no business relationship with any company whose stock is mentioned in this article.