For those of you with children, and I am sure even those without, you likely understand all too well the question: "Are we there yet?" Usually this question is met with an answer of "almost!" or "just be patient!" and often this question comes near the end of the journey. The fact of the matter is the more "are we there yet?" is heard, the more likely you are to be "there soon."
That's where we are with Sirius XM (NASDAQ:SIRI). $3, which has been talked about for well over a year now with increasing frequency, is a stone's throw away. Tuesday and Wednesday's trading activity saw the equity close at $2.96 each day on very high volume. Understandably, investors are both excited and impatient for that milestone mark of $3 per share to hold through closing and not simply be touched on an intraday basis.
My answer to the question of "$3, Are We There Yet?" is "soon." The truth is that it is very difficult to predict the exact day an equity will make a move. If one could do this with regularity, that person would be wealthy beyond imagine. But there are some tools available to allow investors to try to understand what is going on behind the scenes and understand why what is expected simply is not here yet.
The first thing to consider with respect to Sirius XM, I outlined on Tuesday:
Last Thursday, 12/13, there was extensive options activity in shares of Sirius XM. When I say extensive, I mean huge volume. For those who were paying attention to in the money call options at the December 2012 and January 2013 strikes on this date, you would have seen over 1 million in volume on these in the money options. Considering each contract covers 100 shares, that is over 100 million shares worth of activity was covered by these transactions.

The interesting thing was that this activity did not appear as new open positions as of market open on the following day. Open interest for in the money near term call options actually decreased. What happened here?

It is my feeling that options were used to make short term plays or cover short positions due to the 12/14 ex dividend date. The overall decrease in positions the following day points to early conversion for options in the money in order for holders to receive the dividend. These options sold for little or no premium to the share price at the time, and may have presented excellent opportunity for a player, or players, to take on large numbers of shares without moving the share price.

So why may this be a "witch?" Because as of today, 12/18, these trades settle. Over 100 million shares settle out today, and depending on the sentiment of those who exercised those options, they may be interested in selling.
And I think this is exactly what transpired on 12/19. Sirius XM has had strong and consistent positive money flow for quite some time now. For nearly 8 weeks almost every single day it has shown positive money flow into the equity. But take a look at money flow for 12/19 taken from Barrons.com's daily data: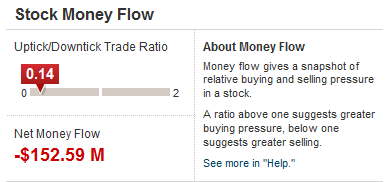 That's no joke. -$152.59 million in cash flow on the sell side, and a .14 uptick / downtick ratio. 12/19 was absolutely dominated by massive selling, and by looking at the day's chart it becomes apparent where this selling occurred: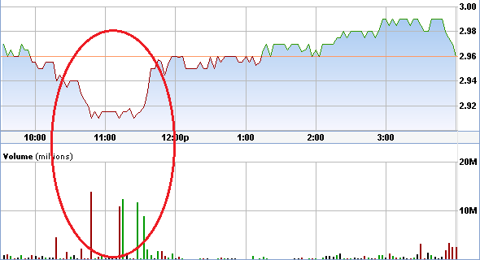 Consider that immediately after the rebound near 11:45, money flow was negative to the tune of roughly $200 million. The latter half of the day was dominated by buying which reduced the negative money flow number. There's some key factors at play here and I was not surprised at all to see this activity. Why? Consider my comment from the Goldman article linked above:

Understanding what may be going on behind the scenes can offer tremendous opportunity. As I watched massive block after massive block get traded I was not surprised. If one has large numbers of shares they wish to sell, the best way to do this is to bring the price down to support levels or just below them, especially during a strong uptrend. From investors to traders alike, there will be significant buying volume at a support level that will hopefully allow the unloading of the majority of one's position. Sure, the shares go out at 5 or 6 cents less, but that's the cost of moving tens of millions of shares in less than an hour.
I expect this was a significant portion of the shares covered by the option exercises, and the short-term profit here is considerable from both the $0.05 dividend payout and the $0.13 or so appreciation of the share price since the exercises.
The good news here for investors is that it appears this has covered a large part of that sizable position, and it has shown a hand of strength in the equity around $2.90 per share. This is important to consider going forward. If continued strength is shown here, the snap up beyond $3 may be just around the corner.
I do not expect prolonged consolidation here. With high volume and significant buying pressure, the question of "Are we there yet?" may not change, but the destination may change from $3 to $4 as $3 is seen in the rear-view mirror. Remember, with Sirius XM waiting in the wings to repurchase up to $2 billion worth of stock, and with the performance of the company likely exceeding expectations in Q4, I think there's still time to get in at levels I would consider reasonable.
If you missed the $2.70s a few days ago, look to the low $2.90s for an entry point. Is this a guarantee that lower prices will not be afforded for entry? Absolutely not, but I think there are just too many good things going on for Sirius XM right now, and I think those shorting $3 per share are setting themselves up for trouble. The downside risk (and subsequent downside potential gain for shorts) here is small, but the upside potential is considerable through 2013.
Disclosure: I am long SIRI. I wrote this article myself, and it expresses my own opinions. I am not receiving compensation for it (other than from Seeking Alpha). I have no business relationship with any company whose stock is mentioned in this article.