It seems that the M&A market in the commodities space is alive and well, as we have had many deals announced (from outright buyouts to asset sales of entire assets and even partial assets and joint venture announcements) which indicate to us that companies believe that 2013 is not going to be a bad year at all. Yes these guys plan out years ahead, but we also know from the credit crisis that if they fear for the near term and liquidity concerns, they simply disappear from the market. The fact that we are seeing deals done with debt being a factor in the purchase price as well as a requirement to help develop the asset is the best indicator of the bullishness in the industry. Markets are marginally higher in Europe, so it will be interesting to see what the commodity markets do today in response to the fiscal cliff and the news of SandRidge's asset sale.
Oil & Natural Gas
After the close yesterday there was big news released by SandRidge Energy (NYSE:SD) regarding their Permian assets. The company announced that they had sold their properties in the play for $2.6 billion to privately held Sheridan Production Partners II in an all cash deal, with proceeds to be used to pay down debt and fund SandRidge's development of its large Mississippian Lime acreage position. Previously the company indicated that $2.4 billion was a figure that would be fair to expect from a sale, and they did a bit better than that so it is no wonder shares jumped 8% in after hours trading and should open above $7/share if that price action holds up during today's session. This is just another deal where investors are discovering the hidden value on companies' balance sheets. As a trained accountant a balance sheet and income statement are not lost on us, but we would like to point out that the deal total was about $400 million below the company's entire market capitalization, so with further development of their leaseholds in Kansas and Oklahoma it is not far-fetched, as bears would have you believe that this could be a $20/share stock again.
Many investors thought the market had frozen up with the delays from Chesapeake Energy (NYSE:CHK) in monetizing their properties which they had up for either joint venture or outright sale. It seems plausible now that they are simply waiting to get the price they want as we have seen numerous deals reached in various plays recently. We feel better about the company's prospects in light of these transactions, however the fact that the company has to bridge the gap between expenditures and cash flows is not lost upon us so the company will need to get moving on closing transactions soon. There are fewer sellers today than yesterday so that in and of itself does put Chesapeake in a better position than before.
Refiners
Refiners are in a bull market, there is no other way around that. Both HollyFrontier (NYSE:HFC) and Valero (NYSE:VLO) finished at 52-week highs yesterday and there is quite a lot to be happy about if you are a shareholder. We have attached a graph to the article which highlights both US consumption and US production and the closing gap between the two is becoming apparent. Our guess is that the estimates moving forward in regards to production will be understated as technology improves and companies get better ideas on the geology of some of these plays currently under development (think the Utica shale and the new various layers in other plays which are just now getting attention). Refiners benefit from domestic oil production, and with our domestic oil production here in the US increasing simultaneously with Canada's it does appear that we will have cheaper input costs than in the past with this trend continuing so long as the pipelines from Canada are approved.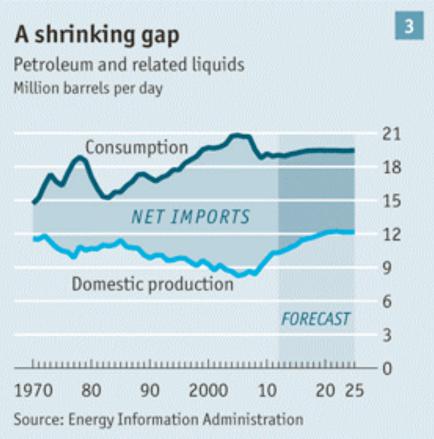 Chart courtesy of the EIA.
Coal
We have previously discussed the situation with Alpha Natural Resources (ANR) and some of the other coal names approaching levels which appeared could give the upwards momentum in many of these names issues. Yesterday it appears that the $10/share level gave Alpha Natural some issues and even though the shares did break above that level, they also broke below it, and worse fell through the $9.90 and $9.80/share levels before finally closing the day at $9.53/share after finishing the day down $0.36 (3.64%). The stock has had a great run, we would be in favor of a retracement in the near-term in order to build up for another run at $10 and beyond for our readers who are invested here. The logic here is one step back and two steps forward.
Disclosure: I have no positions in any stocks mentioned, and no plans to initiate any positions within the next 72 hours. I wrote this article myself, and it expresses my own opinions. I am not receiving compensation for it (other than from Seeking Alpha). I have no business relationship with any company whose stock is mentioned in this article.