There is a ton of economic news due out today; in fact, one of the busiest days we will have this month. The most important of the numbers shall be the job numbers, and that is something which we want to focus on this morning. We have attached a visual aid this morning which displays the continuing claims, and if one looks back to use history as an example then it is obvious we are still in the recovery phase and have not yet reached the level where employment stabilizes and the focus shifts from jobs to other issues in the economy. Notice the recent action on the graph and how we have sputtered recently. Just another unintended consequence of the fiscal cliff negotiations which after yesterday appears will take longer to compromise on than appeared would be the case only a few days ago.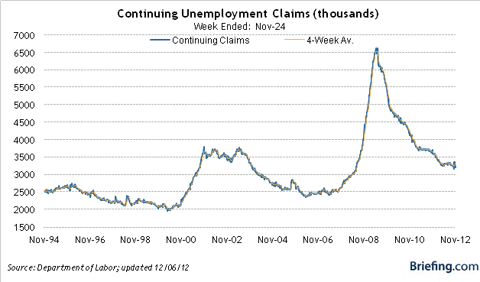 Chart courtesy of Briefing.com.
We have economic news due out today, and it is as follows (all figures are the consensus on estimates):
Initial Claims (8:30 AM EST) - 345k
Continuing Claims (8:30 AM EST) - 3192k
GDP Third Estimate (8:30 AM EST) - 2.7%
GDP Deflator - Third Estimate (8:30 AM EST) - 2.7%
Existing Home Sales (10:00 AM EST) - 4.9 Million
Philadelphia Fed (10:00 AM EST) - (1.3)
Leading Indicators (10:00 AM EST) - 0.2%
FHFA Housing Price Index (10:00 AM EST) - N/A
Natural Gas Inventories (10:30 AM EST) - N/A
Asian markets finished higher today:
All Ordinaries - up 0.29%
Shanghai Composite - up 0.28%
Nikkei 225 - down 1.19%
NZSE 50 - up 1.30%
Seoul Composite - up 0.32%
In Europe markets are mixed this morning:
CAC 40 - up 0.39%
DAX - down 0.11%
FTSE 100 - up 0.07%
OSE - down 0.58%
Technology
The rally continued in shares of Dragonwave (NASDAQ:DRWI) yesterday as shares rose another $0.28 (9.36%) to close at $3.27/share on volume of 1.1 million shares. The shares closed just off of the highs for the day and the stock got stronger as the day went on, with the chart rising from the bottom left to the upper right - a bullish sign indeed. This is all attributable to the Clearwire merger as we discussed yesterday, and we are interested to hear what the company has to say about their largest customer moving forward when they release results for the quarter in early January.
Consumer Goods
Yesterday saw Herbalife (NYSE:HLF) shares fall off a cliff around 2 PM EST on news that Bill Ackman had initiated a short position. The company's Chief Executive Officer went on CNBC later to defend the company, but the Ackman name carries credibility and headline risk for those he decides to bet against and that was too much to overcome in yesterday's session. Remember, David Einhorn also asked questions about the company a few months ago which sent shares down sharply and forced the SEC to inquire about the very questions Einhorn himself raised. Ackman will present on the trade today to a conference of his peers but did describe the company as a pyramid scheme, and with one of the top investors in the industry saying that it is easy to understand why shares fell $5.16 (12.14%) and closed at $37.34/share with volume spiking to 20.7 million shares.
Also falling were shares of Nu Skin (NYSE:NUS) which has a very similar business model to Herbalife and has come under suspicion before when issues have arisen regarding the structure of the entities. As the news broke regarding Herbalife yesterday, Nu Skin trading mirrored the price action in Herbalife with shares eventually finishing the day at $41.54/share after having fallen by $4.14 (9.06%). In our opinion, the price action around $40/share moving forward should be interesting.
Automobiles
General Motors (NYSE:GM) yesterday agreed to purchase 200 million shares at a price of $27.50/share from the US Treasury. This will leave the government with another 300 million shares which they will look to sell over the next year or so, but ultimately the taxpayer will lose money here. The company will also lose the scarlet letter that is the government as a large shareholder which means we will no longer be able to call it 'Government Motors.' The government's exit shall be orderly, but we cannot help but think that with those shares hitting the market that the share price will take a hit moving forward, but investors seemed not to mind as they pushed shares to a new 52-week high in yesterday's session.
Construction Materials
We have been witnessing a rebound in the housing sector along with credit markets having thawed and more and more people discovering that they can once again finance projects from single family homes to apartment complexes to commercial projects - all requiring cement and other building materials. To this end, Cemex (NYSE:CX) has been a big winner as shares have essentially doubled this year and are currently trading at another new 52-week high.
The stock finished at $10.00/share yesterday, but we will need to see if there will be some resistance at this level as that is an important psychological level. The company had issues keeping above it yesterday and we are approaching 2-year highs now (so some profit taking may take place as the year comes to a close, especially as investors have no idea what the tax situation is going to be moving forward).
Disclosure: I have no positions in any stocks mentioned, and no plans to initiate any positions within the next 72 hours. I wrote this article myself, and it expresses my own opinions. I am not receiving compensation for it (other than from Seeking Alpha). I have no business relationship with any company whose stock is mentioned in this article.