While some are expecting the world to end tomorrow, the stock market certainly doesn't seem to think it's going to happen. Of the dozens of country and regional ETFs that we track, nearly all of them are in overbought territory.
Below is a snapshot of our most recent ETF Trends report. In the report, we provide a "Bespoke Trend" and "Bespoke Timing" score for each ETF, which allows investors to quickly see whether it's a good time to take a short-term or long-term position. The "Bespoke Trend" score shows whether an ETF is in an uptrend, downtrend or sideways trading pattern, while the "Bespoke Timing" score analyzes entry point opportunities based on overbought/oversold levels. While an ETF may be in a long-term uptrend, if it's extremely overbought, it's best to wait for it to pull back a little, hence a "Bad" Timing score.
As you can see in our table of country ETFs, while nearly all of them are now in uptrends, nearly everything is overbought as well, which gives them either a "Poor" or "Bad" Timing score. The world is overbought, so it's probably smart to take a breather on buying until things can cool off a bit (or after the apocalypse).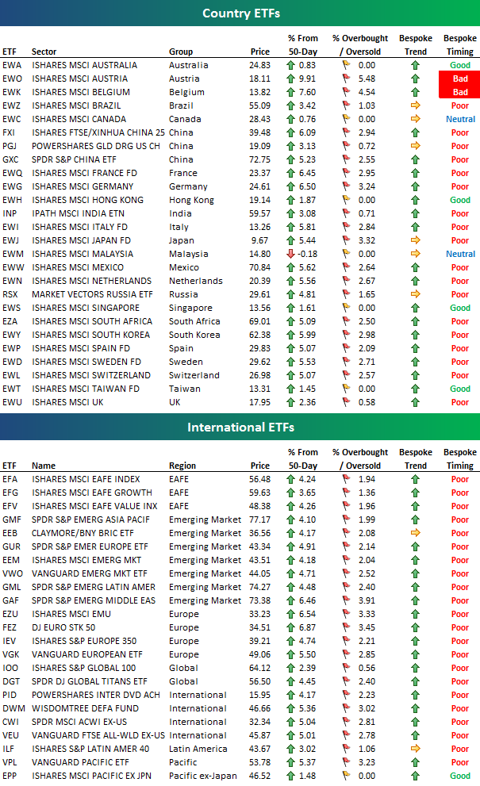 Click to enlarge