Chembio Diagnostics (NASDAQ:CEMI) (link to November presentation PDF) specializes in the development, manufacture and commercialization of rapid diagnostic tests for infectious disease that are designed for use at the point of care (POC) by healthcare professionals.
The Company's product portfolio includes several rapid (15-minute), blood-based HIV tests which are distributed exclusively in the US by Alere (NYSE:ALR) and by CEMI outside of the US. Alere markets the tests in the US under the Clearview Complete HIV 1/2 (barrel format) and Clearview HIV 1/2 STAT PAK (cassette format) while CEMI markets ex-US as Chembio Sure Check HIV 1/2 and Chembio HIV 1/2 STAT PAK.
As of the most recent guidance with the Company's quarterly SEC 10-Q filing last month (top of page 14), CEMI expects to receive a CE Mark (Europe) for the FDA approved HIV screening tests during the current quarter. CEMI has a another key distributor for sale of the Company's tests for use in Brazil public health programs, Oswaldo Cruz Foundation or FIOCRUZ, with anticipated sales exceeding $9 million (NYSE:M) in 2012 and strong demand projected for 2013.
The Company's lead product in late-stage clinical development based on its Dual Path Platform (DPP) technology is the DPP HIV 1/2 Screening Assay (oral fluid, whole blood, serum and plasma) which is currently pending FDA marketing clearance as part of a Premarket Approval (NYSEARCA:PMA) submission. In June 2012, CEMI filed the third and final module of the PMA including clinical trial data from a 3,000-patient pivotal study.
The FDA completed a pre-approval inspection in October and CEMI continues to expect a FDA decision by year-end as of its most recent guidance in a SEC 8-K filing earlier this month. If CEMI receives FDA approval for the test, the Company plans to seek a CLIA (Clinical Laboratory Improvement Act) waiver to support a planned 2013 product launch for use of the test by healthcare professionals with a key advantage of allowing oral fluid samples compared to Chembio's currently marketed tests which are blood-based.
In late November, the US Preventive Services Task Force (USPSTF) issued draft guidance that recommends routine HIV screening for all adolescents and adults age 15-65, expanding the US market potential for the Company's HIV tests. In October, US rapid HIV screening test market share leader (see chart below from CEMI presentation) OraSure (NASDAQ:OSUR) announced the availability of a rapid HIV screening test (OraQuick In-Home HIV Test) for over-the-counter (OTC) sale directly to consumers following FDA approval in July.
As a quick valuation comparison, OSUR currently trades at about 4.5X sales and is not profitable while CEMI trades at about 1.5X sales and 30X projected full-year 2012 earnings (EPS estimate of $0.15).
In addition, CEMI will seek to capitalize on OraSure's investments in creating marketing awareness and demand for the OTC test with plans to conduct clinical trials for the tests already approved for use by healthcare professionals. CEMI is in the process of completing a self-testing study of SURE CHECK HIV OTC to meet the requirement for submitting an IDE (Investigational Device Exemption) application to FDA for clearance to begin observed-use clinical trials in 2013 with a goal of completing a pivotal study by mid-2014.
Below is a summary of the financial and operating highlights for CEMI through the first nine months of 2012 as reported by the Company last month (Q3 2012 results press release).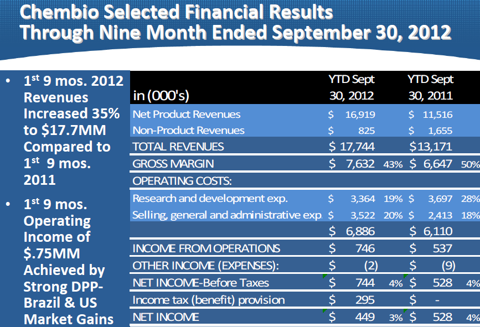 - CEMI reported total revenues of $17.7 M (+35% from year-ago $13.2M), and product sales of $16.9M (+47% from year-ago $11.5M).
- CEMI reported net income of $450,000 or $0.05 earnings per diluted share (NYSEARCA:EPS) down slightly from $528,000 or $0.06 EPS in year-ago period.
- CEMI reported that Q3 2012 product revenue was lower (-14% vs. year-ago period) due to deferral of some large international orders that will be reflected in Q4 2012 along with a record amount of orders pending that is expected to results in record revenue and profits for full-year 2012, continuing the growth trend highlighted in the chart below from the Company's presentation.
- As of 9/30/12, CEMI reported cash and equivalents of $3.3M vs. $3M as of year-end 2011, which is relatively low but typical for the Company which is able to consistently generate cash flow from operations to fund research & development (R&D) activities while achieving consistent profitability and product sales growth.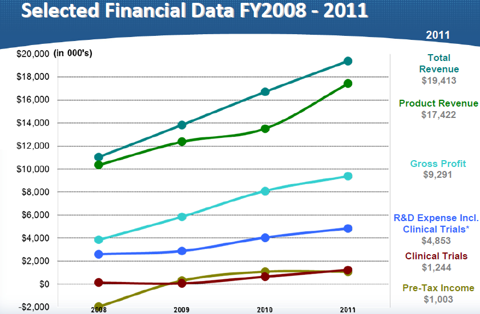 - As of 11/9/12, CEMI reported 8M shares of common stock outstanding (8.8M shares on fully diluted bases) with total debt of $146,000 and an ownership stake of 1.6M shares by management (20% of outstanding shares).
- In late May, CEMI conducted a 1-for-8 reverse split of its common stock as part of an upgrade from OTC to NASDAQ trading which resulted in a low share count for the Company and improved visibility for shares on a major exchange.
Other pipeline projects for CEMI include POC tests for use by healthcare professionals to detect syphilis (expected US market launch in 2014) and hepatitis C virus (HCV) infection (expected US market launch in 2015). In October, the Centers for Disease Control and Prevention (NASDAQ:CDC) issued a recommendation for one-time HCV screening for baby boomers (i.e. those born in 1945-1965).
Given a large valuation discrepancy to market share leader OSUR, projected record sales/profits for 2012 and a pair of near-term regulatory catalysts (CE Mark and FDA/PMA decision), shares of CEMI are poised for a breakout year in 2013 that should result in a share price closer to consensus analyst estimates of $10/share. The Benchmark Company rates CEMI as a speculative buy with a $10 target while Zacks rates CEMI as Outperform with a $10.30/share target in its most recent Q3 2012 update report.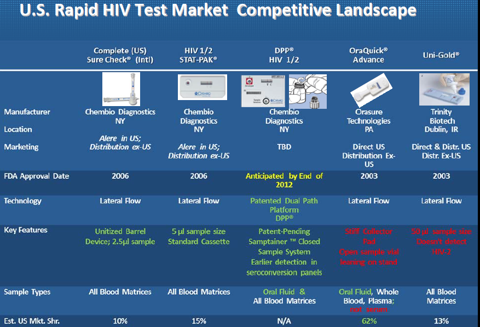 Risks include low average trading volumes that result in poor liquidity due to a low share count/float following the reverse split to obtain a NASDAQ stock listing and the potential for FDA delays in the PMA decision. Based upon the guidance by CEMI in a SEC filing earlier this month highlighted earlier; no clinical trial issues were identified by FDA and the information requested was straightforward and easily addressable (i.e. equipment validation and sample testing.)
Since no additional SEC filings related to the PMA have been filed by CEMI indicating a significant delay or additional requests by FDA, a decision appears likely by the Company's projected timeline (year-end) or shortly thereafter in early 2013 after the holidays with the same estimate for the CE Mark for which the Company expects this quarter, but may get pushed back until early next year after the holidays.
Disclosure: I am long CEMI. I wrote this article myself, and it expresses my own opinions. I am not receiving compensation for it (other than from Seeking Alpha). I have no business relationship with any company whose stock is mentioned in this article.