China and the FTSE China Index ETF (NYSEARCA:FXI) have been notorious for taking investors on wild rides and the current vector seems to be up.
While Europe and Japan have entered confirmed recessions and the United States' economy limps along at stall speed, China and its 2nd largest economy in the world have so far managed to stay on a dramatic growth curve.
The fundamental economic factors for China remain positive:
On Monday December 10, the nation's Bureau of National Statistics reported that industrial production jumped 10.1 percent, compared with economists' expectations of a 9.8 percent advance.
Retail sales surged 14.9 percent last month, slightly edging out expectations for a 14.6 percent increase
Exports grew in November at 2.9%, up but missing expectations
HSBC Flash Manufacturing PMI for December climbed to 50.9, a 14 month high
Goldman Sachs forecasts a Q4 GDP growth rate of 7.8% year over year for China and a 8.2% GDP forecast growth rate for 2013.
Technical factors for China and look strong, as well:
The chart (below) for the iShares FTSE China 25 Index ETF portrays a very positive situation. The 50-day moving average is on a steady climb above both its 200-day and 50-day moving averages, flying away from an inverse head-and-shoulders pattern. Its next resistance level is the February 3 closing price of $49.49. FXI has a Relative Strength Index just above 71. The chart provides a strong basis for bullishness on FXI. (Chart courtesy of Stockcharts.com.)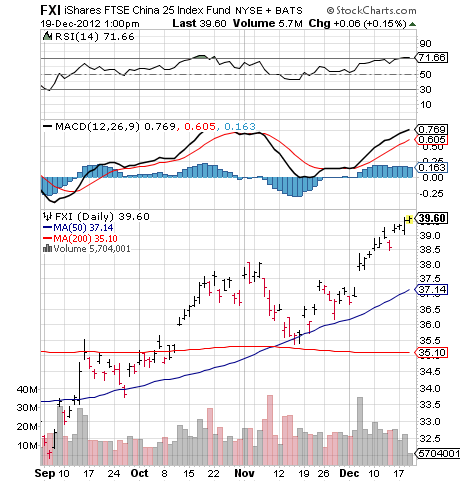 During the past month, FXI has advanced 10.26 percent. Its three-month advance has been 13.53 percent and its six-month advance has been 19.5 percent. During the past year, FXI has climbed 17.36 percent.
A glance at the chart shows that a reasonable upside target would be $54 with a stop loss at $31 which offers a 35% upside target and a 22% downside risk, close to the optimal 2:1 risk/reward ratio. Tighter stops at $34 would put the exit below all significant recent support levels, reduce risk and still offer decent chance for success in this trade.
Disclosure: I have no positions in any stocks mentioned, and no plans to initiate any positions within the next 72 hours. I wrote this article myself, and it expresses my own opinions. I am not receiving compensation for it (other than from Seeking Alpha). I have no business relationship with any company whose stock is mentioned in this article.