Walgreen (WAG), the retail drug store giant, reports their fiscal 1st quarter, 2013 before the bell on Friday morning, December 21st, with analyst consensus expecting $0.70 in earnings per share (NYSEARCA:EPS) on $17.45 billion in revenue, for expected year-over-year (y/y) growth of 11% and -4% respectively.
Analyst consensus for the fiscal quarter has gradually drifted lower since WAG's last earnings report in September, where Q1 '13 EOS was $0.73 and the initial revenue estimate was $17.742 billion.
Credit Suisse called fiscal 2012, one of WAG's toughest years in the company's history, and we would not disagree.
The public and messy spat with Express Scripts (NASDAQ:ESRX), as well as the very warm Midwest winter last year, resulted in a loss of foot traffic and a hit to both pharma and front-end comparisons, as WAG ceded business to CVS.
In addition, WAG took flak for their acquisition of Boots, the UK pharmacy chain, more for the price that was paid than for the strategic buy, although the jury is still out on the acquisition.
As you can see from the cut in Q1 '13 consensus, there continues to be a drag on WAG's front-end as the EXRX traffic lost during the dispute hasn't returned to the degree WAG has liked. November comp's for the front-end fell 1.7% on a 5% drop in traffic, which likely means that the front-end erosion is not over yet.
How the Walgreen and retail drug store model works in theory is that customers come into the store for prescriptions, and then buy "convenience" items in what is called the "front-end" of the store, which is the non-pharma business, which is also the higher-margin business. So as WAG lost traffic to other retailers from the Express Scripts spat, it hit them in both the pharma and the front-end, which then compresses margins.
It warrants a far longer article, but CVS's acquisition of Caremark and the entry into the PBM business, changed the business models for the retail drug store chains, and may have put WAG at a competitive disadvantage, as WAG seems to have forsaken that side of the business, and made a significant bet on Boots and the UK.
The one overwhelming plus to WAG is its cash-flow valuation: trading at 7(x) 4-quarter trailing cash from ops, and 11(x) 4-quarter trailing free-cash-flow, WAG's CEO Greg Wasson has done a much better job slowing store growth and generating cash-flow, and working the balance sheet than his predecessor, although the old model was more about adding new stores and growing organically, which left working capital and the balance sheet looking a little ragged.
The stock has had a great run the last few months, after 2013 and 2014 EPS estimates were revised sharply higher on the settlement of the ESRX mess and the UK Boots deal. However, the downward revisions are starting to show up again, and it could be the fact that WAG hasn't brought the customers back, that were lost in the ESRX mess.
The first WAG chart is a monthly chart from last June, showing WAG on the verge of a major technical breakdown, from a 30-year trading range. Then management resolved the Express Scripts stand-off, and acquired UK Boots, and the stock (2nd chart, as of last night's close) looks much better technically.
Click to enlarge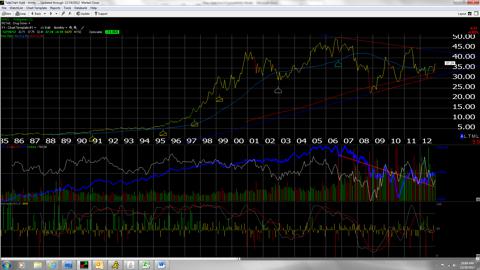 Click to enlarge
WAG's cash-flow valuation trumps a lot of worries for us, but we want to see comp's improve, and we want to see how the Boots acquisition unfolds. WAG has a run sharply to the upside the last few weeks, so we aren't buying pre-earnings. We'd love another shot at buying WAG under $35, and even better at $32 - $33. In addition, it is looking now like a lot of the ESRX business lost to other retail drug store chains may be permanent.
Disclosure: I am long CVS. I wrote this article myself, and it expresses my own opinions. I am not receiving compensation for it (other than from Seeking Alpha). I have no business relationship with any company whose stock is mentioned in this article.