The best cure for low natural gas prices is supposed to be low natural gas prices. Or at least it used to be. Natural gas prices in North America started plummeting in 2008 and still haven't rebounded. You would have thought that five years would have enough to cure the problem.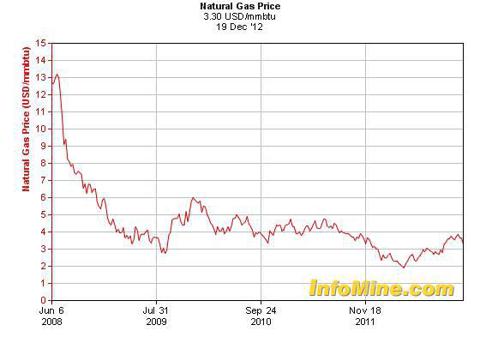 I recently watched an interview with EOG's (NYSE:EOG) Mark Papa hoping to get some insight on what is in store for natural gas prices in 2013 and beyond. In the interview Papa answered several questions that I listened to with keen interest.
Key Question 1 - Why is he shifting his company away from natural gas and towards oil?

Papa's answer was pretty simple, the profit margins from producing North American crude oil are much larger than those that can be realized from producing North American natural gas.
Key Question 2 - When will natural gas prices turn?
Papa's answer is that he sees depressed natural gas prices for the next three or four years. After that he expects to see an equilibrium price that at least creates a decent profit on natural gas production for the industry.
Key Question 3 - Natural gas production in the United States is still rising, how much longer is that going to continue?
The best guess that Mr. Papa has is that domestic gas production will flatten out in 2013 as the momentum from connecting already drilled natural gas wells subsides and the lower rig count kicks in.
Key Question 4 - At what price would EOG start to get interested in drilling natural gas wells again?
Papa sees a $4/mcf to $5/mcf price for natural gas over the next three to four years, after which it will rise to a $6/mcf range which is when EOG will get back in the natural gas game.
Key Question 5 - Where does he see the price of oil in 2013?
Mr. Papa thinks 2013 will see WTI oil around $90 and stable.
Those are five key questions answered from someone who is more in the know about such matters than I will ever be. What then do I do with this knowledge?
For me it will be more of the same. Avoid natural gas producers and focus on the oil weighted names, one of which is Papa's company EOG Resources itself.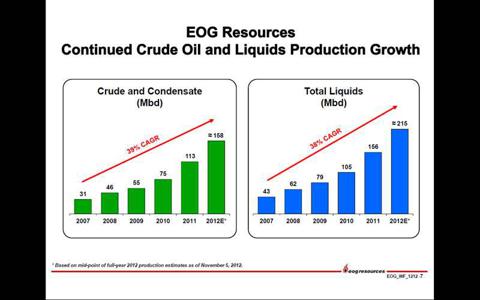 As can be seen from the slide above, EOG figured out this shale oil revolution sooner than most. EOG has seen oil production increase five-fold since 2007, which is pretty impressive considering this was a mid-sized company to begin with.
That growth will continue as EOG has plenty of room left to run in both of its "big two" unconventional oil plays which are the Bakken and the Eagle Ford.
EOG is a company that I would be happy to own, the question is whether or not the price is right.
EOG Valuation
Shares Outstanding - 271 million
Share Price - $123.00
Market Capitalization - $33.33 billion
Net Debt - $5.50 billion
Enterprise Value - $38.83 billion
For $38.83 billion of enterprise value investors today receive daily production of almost 480,000 boe / day and 2012 cash flow which will be roughly $5.5 billion per day.
In relation to Enterprise Value the valuation of those two items looks like this:
Enterprise Value / Cash Flow - $38.83 billion / $5.5 billion = 7.06 times
Enterprise Value / Production - $38.83 billion / 480,000 boe/day = $80,895 per flowing barrel
Despite rapidly shifting production to oil, the truth is that EOG still has a lot of exposure to natural gas. More than half of EOG's production still comes from natural gas and not oil and liquids. In the quarter ending September 2012 EOG produced 480,000 boe / day with 230,000 of that coming from oil and natural gas liquids. While the company talks a lot about oil it is still more reliant on natural gas.
To me the valuation multiples above 7 times cash flow and $80,895 per flowing barrel are pretty reasonable for EOG given its liquids / natural gas split. By reasonable I mean a pretty fair valuation and not cheap.
For me, that means that while I love what EOG is doing as a company with a massive shift to oil, I'm going to wait for a better valuation before buying shares. Until that happens I will continue to monitor the company and the opinions of its esteemed Chairman Mr. Papa.
Disclosure: I have no positions in any stocks mentioned, and no plans to initiate any positions within the next 72 hours. I wrote this article myself, and it expresses my own opinions. I am not receiving compensation for it (other than from Seeking Alpha). I have no business relationship with any company whose stock is mentioned in this article.