Nordstrom (NYSE:JWN) is a high-end fashion retailer that operates under the apparel segment. The company is likely to generate poor yields in 2013.
Qualitative Analysis
Source: Information pertaining to Nordstrom came from the shareholder annual report
Nordstrom was founded in 1901 in Seattle Washington. The company operates 225 U.S. stores located in 30 states. Nordstrom primary location demographic is in the east and west coast of the United States.
Nordstrom operates in two segments: retail, and credit. The retail segment comprises of 116 Nordstrom branded full-line stores, with 105 off-price Nordstrom Rack stores.
The retail segment also comprises of HauteLook, Jeffrey Boutiques, Treasure&Bond, and Last Chance (these stores represent a very small fraction of Nordstrom's business operation).
The credit segment includes its wholly owned federal savings bank, through which it provides a private label credit card, and debit card. The credit and debit cards feature a shopping-based loyalty program designed to increase customer visits and spending. The company also generates revenue through finance charges and other fees from the cards.
Nordstrom has opened stores more aggressively in the Nordstrom rack division over the Nordstrom full-line. The investment objectives of Nordstrom most likely changed as a result of economic uncertainty during the 2007-2009 great recession period. Nordstrom continues to make an asymmetrical bet in the lower-end Nordstrom Rack.
Nordstrom competes aggressively in a monopolistic competitive market (Herfindahl-Hirschman Index rating less than 1,800). Nordstrom competition includes but is not limited to: TJX Companies (NYSE:TJX), Coach (NYSE:COH), The Gap (NYSE:GPS), Limited Brands (LTD), Ross Stores (NASDAQ:ROST), Macy's (NYSE:M), JC Penney Company (NYSE:JCP), Dillard's (NYSE:DDS), Kohl's (NYSE:KSS), Urban Outfitters (NASDAQ:URBN), among many others.
Technical Analysis
On 12-20-12 JWN broke below the multi-year trend line from 2009 lows. It is likely that the stock will continue to decline going into 2013.
Source: Chart from freestockcharts.com
The stock is trading below the 20-, 50-Day Moving Average. The stock is trending lower on moderate to high volume implying liquidation of shares. This negative momentum is likely to continue due to a break below the support trend line extending from the March 2009 lows. Technical analysis supports a short thesis.
Notable support is $44.29, $46.80, and $50.00 per share.
Notable resistance is $55.00, $58.50, and $66.00 per share.
Street Assessment
Analysts on a consensus basis have moderate expectations for the company going forward.
| | | | | |
| --- | --- | --- | --- | --- |
| Growth Est | JWN | Industry | Sector | S&P 500 |
| Current Qtr. | 19.80% | 43.60% | 9.50% | 7.70% |
| Next Qtr. | 15.70% | 55.70% | 10.10% | 14.60% |
| This Year | 11.10% | 14.00% | 5.10% | 5.50% |
| Next Year | 13.50% | 18.10% | 5.30% | 13.10% |
| Past 5 Years (per annum) | 11.00% | N/A | N/A | N/A |
| Next 5 Years (per annum) | 12.34% | 11.79% | 14.11% | 8.77% |
| Price/Earnings (avg. for comparison categories) | 15.13 | -152.48 | -27.52 | 14.36 |
| PEG Ratio (avg. for comparison categories) | 1.23 | -4.16 | -0.36 | 0.04 |
Source: Table and data from Yahoo Finance
The company shows reasonable growth as analysts on a consensus basis have a 5-year average growth rate forecast of 12.34% (based on the above table).
| | | | | |
| --- | --- | --- | --- | --- |
| Earnings History | 12-Jan | 12-Apr | 12-Jul | 12-Oct |
| EPS Est | 1.1 | 0.75 | 0.74 | 0.72 |
| EPS Actual | 1.11 | 0.7 | 0.75 | 0.71 |
| Difference | 0.01 | -0.05 | 0.01 | -0.01 |
| Surprise % | 0.90% | -6.70% | 1.40% | -1.40% |
Source: Table and data from Yahoo Finance
The average surprise percentage is -1.5% analyst forecast earnings over the past four quarters (based on the above table).
Forecast and History
| | | |
| --- | --- | --- |
| Year | Basic EPS | P/E Multiple |
| 2007 | $ 2.92 | 16.99 |
| 2008 | $ 1.85 | 18.59 |
| 2009 | $ 2.03 | 5.71 |
| 2010 | $ 2.80 | 11.60 |
| 2011 | $ 3.20 | 12.36 |
Source: Table created by Alex Cho, data from shareholder annual report, and price history is from Yahoo Finance.
The EPS figure shows that throughout the 2007-2009 period revenues dropped as the company was adversely affected by the great recession. Once the United States economy exited the recession in 2010-2011 the company earnings have improved.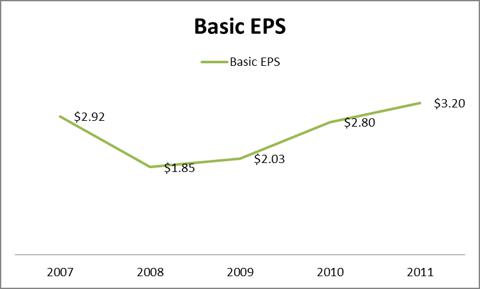 Source: Table created by Alex Cho, data from shareholder annual report
By observing the chart we can conclude that the business is cyclical and is affected by macroeconomics. Therefore the largest risk factor to Nordstrom is the slowing of international gross domestic product growth. So as long as the United States economy continues to grow, the company will generate reasonable returns over a 5-year time span based on the forecast below.

Source: Forecast and table by Alex Cho
By 2017 I anticipate the company to generate $5.52 in earnings per share. This is because of earnings growth, improving global outlook, and earnings management.
The negatives: lack of international presence, investment into low-end brand (margin compression), competition (market is saturated), slowing growth rate (missing analyst growth expectations).
The forecast is proprietary, and below is a non-linear chart indicating the price of the stock over the next 5-years.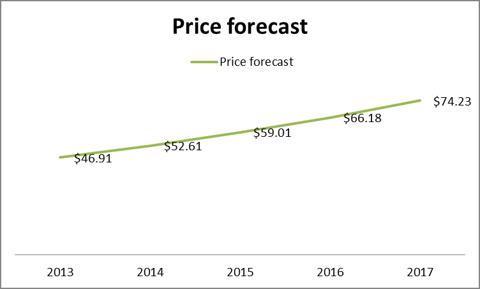 Source: Forecast and chart by Alex Cho
Investment Strategy
JWN currently trades at $51.80. I have a price forecast of $46.91 for 2013. The stock is likely to decline throughout the year of 2013.
Short Term
Over the next twelve months, the stock is likely to depreciate from $51.82 to $46.91 per share. This implies 9.4% downside from current levels. The technical analysis indicates a down-trend (death-cross, 20-Day Moving Average crosses below the 50-Day Moving Average). While the previously mentioned price forecast using fundamental analysis further supports the negative outlook.
Investors should not buy or short the stock in 2013. The short set-up will generate at most a 9.4% yield. This yield is below the market rate yield of 12% (Standard and Poor 500), making JWN a poor risk to reward trade off. Likewise buying the stock would not generate any profit because the stock is already trading well above the price forecast for 2013. In fact the stock is trading near 2014 valuations of $52.61 (current price $51.76). With a whole year of gains already priced into the stock, I cannot recommend a long position.
Long Term
The company is set to generate reasonable investment yields. I anticipate JWN to deliver upon the price and earnings forecast despite the risk factors (macroeconomic, competition, margin compression). Nordstrom's primary upside catalyst is earnings management, and consumer sentiment. I anticipate the company to deliver upon my forecasted price target of $74.23 by 2017. This implies a return of 43% by 2017. This rate of return is below average. Considering JWN has a market capitalization of $10.1 billion, the limited liquidity would be a turn-off for institutions, this limits this investment to smaller growth or income oriented investors (JWN offers a dividend yield of 2.05%). The company is likely to generate a yield of 10.65% on average for the next 5-years including the dividend yields. This rate of return is below the Standard and Poor 500 average rate of return of 12%. This means JWN is a bad risk-to-reward investment over the long-term. Investors would generate higher yields buying into an index fund.
Conclusion
The stock is both depressing over the long and short-term. I anticipate JWN to fall short of the Standard and Poor's 500 in 2013 (the average return from equities is approximately 12% but JWN will generate -9.4% in 2013). Nordstrom will be a poor investment for many years ahead. The conclusion is simple: sell Nordstrom.
Disclosure: I have no positions in any stocks mentioned, and no plans to initiate any positions within the next 72 hours. I wrote this article myself, and it expresses my own opinions. I am not receiving compensation for it (other than from Seeking Alpha). I have no business relationship with any company whose stock is mentioned in this article.