When it comes to many of the major pharmaceutical drug companies, variables such as value, income potential and product consistency all come into play. The last few days however have not been one of the sector's finer moments and as a result I think a near-term short strategy may be the best bet to turn a profit before year's end. In this article I wanted to focus one two major drug makers that announced significantly negative developments in the past 24 hours.
Merck & Co. Inc. (NYSE:MRK), which is based in Whitehouse Station, New Jersey, currently "provides human health pharmaceutical products, such as therapeutic and preventive agents for the treatment of human disorders in the areas of cardiovascular, diabetes and obesity, respiratory, immunology infectious diseases, neurosciences and ophthalmology, oncology, vaccines, and women's health and endocrine systems." (Yahoo! Finance)
From a fundamental perspective, shares of MRK currently carry a market cap of $132billion, have traded up 2.83% since July 1, and are currently trading at a 1.49% discount to their 50-DMA and in-line with their 200-DMA.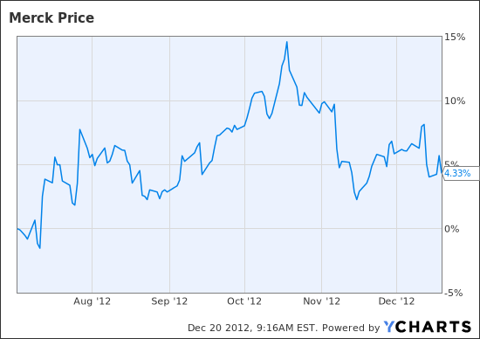 MRK data by YCharts
On Thursday December 20, it was announced that the company's cholesterol treatment Tredaptive (Cordaptive) failed to meet its primary goal in a study of roughly 25,700 patients. The drug didn't significantly cut the risk of coronary deaths, non-fatal heart attacks, strokes or revascularizations compared with statin therapy. Merck will end its bid for regulatory approval of Tredaptive in the U.S. and possibly consider scraping the drug's global production all together. A blow of this magnitude could send shares lower over the next few sessions and as a result I'd look to establish a short position and cover that short once a drop of 4%-7% has occurred.
Mylan, Inc. (NASDAQ:MYL), which is based in Canonsburg, Pennsylvania, "together with its subsidiaries, engages in the development, manufacture, marketing, licensing and distribution of generic and branded generic pharmaceuticals, specialty pharmaceuticals, and active pharmaceutical ingredients (APIs) worldwide." (Yahoo! Finance)
Fundamentally speaking, shares of MYL currently carry a market cap of $11.30 billion, have traded up 27.60% since July 1, and are currently trading at a 3.74% premium to their 50-DMA and at a 13.83 premium to their 200-DMA.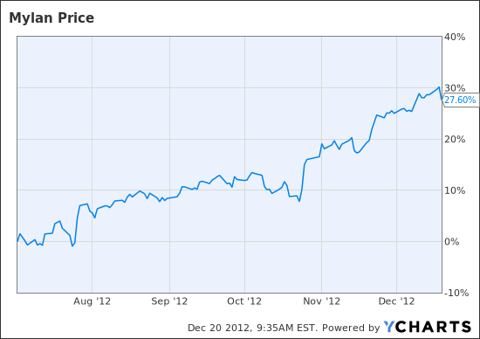 MYL data by YCharts
On Thursday December 20, it was announced that the company would be recalling a total of three lots of hydrocone bitartrate (Vicodin) and acetaminophen pain tablets due to worries that a small number were too large and therefore too strong. The drugs were manufactured for Mylan by Endo Health (NASDAQ:ENDP) unit Qualitest, which recently recalled 101 lots of the pills. My concern lies within the numbers and although three lots may concern a whole bunch of folks the fact Qualitest recalled an alarming one hundred and one lots concerns me much more. As we all know pain killers have a tendency to become addictive and a slip-up of this magnitude puts both companies at risk. I'd look to establish a short position at current levels and look to cover that position once a drop of 3% - 7% occurs.
Final Analysis
For potential investors looking to establish a short position in either Merck or Mylan, I'd take a closer look at each company and keep in mind the primary positive and negative catalysts moving forward. Given the fact that both companies are making considerable strides in terms of earnings and revenue numbers, I'd look to maintain my short position only in the near-term and then gradually look to cover more and more of that position as time goes on.
Disclosure: I have no positions in any stocks mentioned, and no plans to initiate any positions within the next 72 hours. I wrote this article myself, and it expresses my own opinions. I am not receiving compensation for it (other than from Seeking Alpha). I have no business relationship with any company whose stock is mentioned in this article.