I've recently become very interested in the regional banking sector. Many regional banks survived the financial crisis without accepting TARP money and continue to maintain sound fundamentals. Here I profile National Bankshares, Inc. (NASDAQ:NKSH), a regional bank that I recently invested in. National Bankshares was profiled in June here.
Background
National Bankshares is the holding company for two subsidiaries, the National Bank of Blacksburg and National Bankshares Financial Services, Inc., that operate in the southwest part of Virginia. National Bank of Blacksburg operates in 25 offices and is the primary source of revenue.
National Bankshares trades on the NASDAQ and is included in the Russell 3000 and Russell 2000 indexes. Its market capitalization is 207 million, and the average daily trading volume is 9,800. Traditionally it has paid a dividend twice a year in May and in November. The dividend payment per share has increased for the past 12 years. The forward dividend yield based upon the last payout is 3.8%, but it's likely a bit higher as the dividend has been increasing every six months rather than every year.
I became interested in NKSH because it has reported Returns on Equity in excess of 12% for each of the last 10 years. Where many financial institutions struggled through the financial crisis and after, it has consistently produced above-average returns compared with its peers and has raised its dividend consistently. It has done so by remaining committed to sound lending practices.
Historical Data
Below, I give some graphs highlighting National Bankshares' performance over the last 10 years.
First is a graph of earnings per share and dividends per share in the past 10 years and TTM. Overlaid is the dividend payout ratio.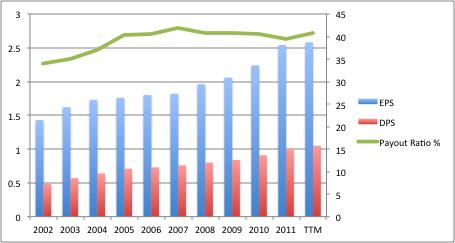 The next graph showcases Returns on Assets and Equity as well as the Net Margin over the past 10 years. I was first interested in researching National Bankshares because of the consistency in the Returns on Equity over time. Of particular note in this graph is both the consistency of the Returns on Equity as well as the trend in the net margin.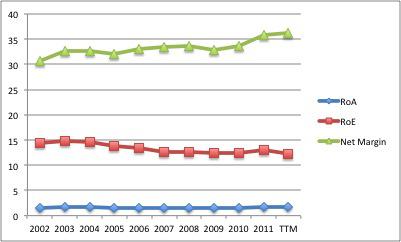 The next graph gives a closer look at the balance sheet and supplies the deposits, net loans (total loans minus loss reserves), and total assets. Dollar amounts are in the thousands. Overlaid on the graph is the ratio of loans to deposits, which I will discuss later.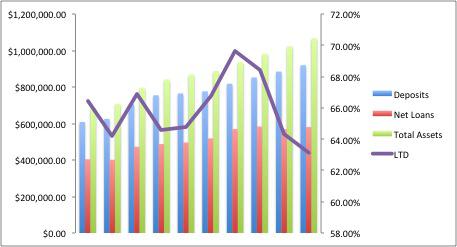 Finally, stockholder's equity over the past 10 years.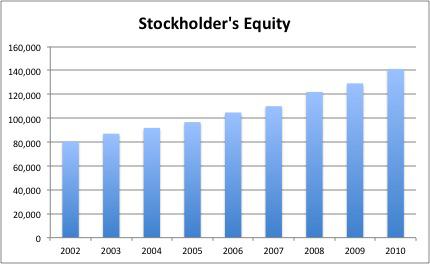 Capitalization and Regulation
As of September 30, 2012, the Tier I and Tier II risk-based capital ratios were 20.8% and 22.01% respectively. Not only do these numbers easily exceed the current minimum regulatory requirements of 4% and 8%, but they also are comfortably high with regards to Basel III. Had these ratios been lower, we might be concerned that Return on Equity would necessarily decrease as a result of higher capital requirements in the future.
National Bankshares is also concerned with the implementation of Dodd-Frank. While the size of the bank technically means it is not the target of some of the regulatory provisions with regards to fees, the bank expects that marketplace competition will preclude a two-tiered fee structure, and it will have to reduce fees as a result. In addition, increased demands for paperwork and reporting to meet regulatory oversight could also drag on the bottom line.
Loans versus Deposits: A Source of Future Growth
National Bankshares has no long-term debt. In addition, the loan-to-deposit ratio is around 63%. This suggests that National Bankshares is having trouble making loans, whether because it does not like the credit-worthiness of potential borrowers or due to a lack of potential borrowers.
However, if we take a longer view, this also means that National Bankshares is sitting on top of a pile of relatively cheap money that is waiting to be deployed as soon as appropriate opportunities present themselves. The cost of deposits is lower than the cost of debt, so the first thing to look forward to is the size of the loan portfolio growing to be more in line with the size of the deposit base. Should that be achieved (perhaps quite a long time from now), there's then room for the bank to take on debt to lend out at higher rates. In all, I think this means that National Bankshares is strongly positioned for an economic upturn.
Valuation
In valuing a financial services firm, I follow Damodaran's thoughts in The Little Book of Valuation. I look at the Price / Book ratio as a relative measure and then a Dividend Discount Model.
National Bankshares currently has a Price / Book ratio of 1.37 (1.5 if you look at tangible book). The five-year historic P/B for National Bankshares is about 1.4, suggesting that National Bankshares is fairly valued should future investors/traders feel the same about National Bankshares as they do today. However, given the potential of the large number of deposits to support strong future growth, I believe the future will support a higher P/B multiple.
In constructing a Dividend Discount Model, I make a number of assumptions:
The RoE for the next five years will be roughly in line with the current RoE of 12.3%.
The dividend payout ratio for the next five years will be roughly in line with the current payout ratio of 40%.
The cost of equity (discount rate) for the next five years is about 7%.
The RoE for computing the terminal value after five years will drop to 9%.
The long-term earnings growth rate will be 3%, which combined with a RoE of 9%, gives a long-term payout ratio of 66.67%.
The cost of equity after five years will rise to 8%.
Putting this together and using an earnings per share of 2.58 in the TTM gives:
DDM Computations for NKSH
Year
EPS

Predicted

EPS

Growth

Payout

Ratio

RoE

Div /

Share

Discount

Rate

Present Value
TTM
2.58
40%
12.3%
1.032
1.032
1
2.77
7.38%
40%
12.3%
1.11
7%
1.036
2
2.97
7.38%
40%
12.3%
1.19
7%
1.039
3
3.19
7.38%
40%
12.3%
1.28
7%
1.043
4
3.43
7.38%
40%
12.3%
1.37
7%
1.047
5
3.68
7.38%
40%
12.3%
1.47
7%
1.05
Terminal
3%
66.67%
9%
8%
31.87
Adding up the discounted cashflows gives a fair value estimate of $38.12 / share. With a current share price of $29.70 (as of Dec. 19, 2012), this represents a margin of safety of about 22%.
To explore how sensitive the model is to assumptions, I made a few adjustments.
If the near term RoE is 10% for the next five years, but if all else remains the same, then the fair value estimate is $35.93 / share.
If the near term RoE remains 12.3% for the next five years, but the terminal RoE is adjusted to 7%, then the fair value estimate is $33.56 / share.
Finally, if the RoE assumptions are as initially assumed, but the short-term discount rate is adjusted to 8%, and the long-term discount rate to 10%, then the fair value drops to $26.5 / share.
Based upon the relative valuation, the dividend discount model, and the potential for future growth at a low cost of equity by lending excess deposits, I believe National Bankshares is undervalued, although moderately so.
Final Takeaway
I find National Bankshares to be attractively priced and to be well positioned for a long-term holding. I expect some volatility when interest rates finally go up, but I believe that after that, shareholders will be rewarded. When the economy improves and National Bankshares finds ways to make more sound loans, I think shareholders will be very satisfied. In the meantime, there is a nice, growing dividend from a very conservatively run company.
Disclosure: I am long NKSH. I wrote this article myself, and it expresses my own opinions. I am not receiving compensation for it (other than from Seeking Alpha). I have no business relationship with any company whose stock is mentioned in this article. All data for this article was compiled from SeekingAlpha, Morningstar, and annual reports.