Pitney Bowes (NYSE:PBI) has been in business since 1920, and is the world's largest maker of mailing systems. The company's postage meters and other offerings help business customers optimize the flow of physical and electronic mail, documents and packages. Revenue is derived mostly from the U.S. (68%), however the company has a substantial international presence.
The company began a restructuring plan in 2009, aimed at improving processes and systems. As of the end of 2011, the restructuring has cost the company $385 million, and they have eliminated 2,000 jobs as a result.
PBI's revenue declined in 2009, 2010, and 2011 due mostly to restructuring costs and the soft economic climate, however the company still reports positive earnings, as it has every year in the past decade. As a result of the revenue decline, the share price has fallen considerably, from the $25 range in 2009 to its current price of $11.13 as of this writing.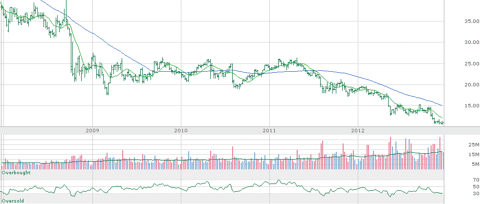 Click to enlarge
The company does reward its shareholders very nicely with a $1.50 annual dividend, which equates to a very nice 13.5% yield as of this writing. Although the company's payout ratio is very high currently at 86% in 2011, it is expected to fall to 76% for FY 2012. Going forward, it should remain around that level, as revenues are once again forecast to increase in 2013 and beyond.
Even more impressive than the dividend itself, in my opinion, is the fact that the company has raised it each and every year over the past 10 year period. I believe it to be very impressive that during a massive restructuring effort and one of the worst crashes in history, the company found a way to increase the cash benefit to its shareholders every single year.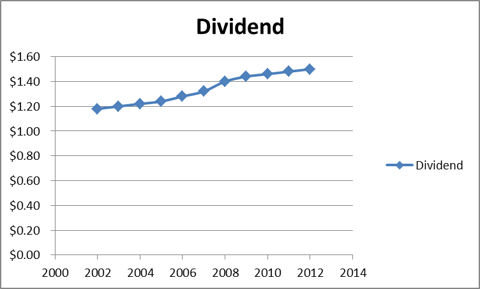 Click to enlarge
Valuation
As a result of the declining revenues the past three years, PBI trades at a very cheap valuation. Currently, the stock trades at only 5.65 times 2012's consensus earnings and 5.5 times 2013 earnings. Although the payout ratio is currently high, the company uses excess cash for share repurchases, which could be a positive catalyst going forward. To put some numbers on this claim, the number of outstanding shares has declined steadily from 209.7 million in 2008 to 202.8 million at the end of FY 2011, representing a 3.3% reduction over 4 years.
Other positive indicators include the decline since 2009 in the company's long term debt, from $4.2 billion in 2009 to $3.7 billion currently. Over the same period, the price/EBITDA ratio has also declined from 3.97 to 3.56.
However, valuation and yield like this do not come without risk. While the restructuring measures could provide significant cost savings, with declining need for postal services, revenues could conceivably drop further before the full effects of the restructuring efforts are reflected in the company's bottom line.
I feel that although the postal industry is contracting somewhat, this stock is very cheaply valued and is worth serious consideration. I have a 1-year target price of $15 on this stock, 34.7% over current levels, based on a multiple of 7.5 times forward earnings, at the lower end of the sector's average, and well below Pitney Bowes' historical averages, which were consistently over 10 times earnings until this year. Even in the depths of the 2009 lows PBI was trading at an 8 times earnings multiple, and I think the company has significantly improved upon their business model in the 3 years since.
Disclosure: I have no positions in any stocks mentioned, but may initiate a long position in PBI over the next 72 hours. I wrote this article myself, and it expresses my own opinions. I am not receiving compensation for it (other than from Seeking Alpha). I have no business relationship with any company whose stock is mentioned in this article.