It never seems to fail. Just when you think our super-high-strung, bi-polar media complex can't get any more manic depressive, yet more evidence comes out to prove once again that they need a heavy dose of prozac. Case in point: The Weather Channel has come out with a list of names for weather events for the 2012 - 2013 winter storm season. (here)
Very shortly after Super-Storm Sandy ravaged the East Coast early in November, a significant Nor'Easter pounded the area as well. If you were listening closely, you began hearing that storm referred to as Athena.
Brutus and Caesar followed, but unlike the tale from the Great Bard himself, this Brutus and Caesar didn't achieve the attention the original tale of treachery did.
Now just in time to divert our attention from the looming fiscal cliff comes the mighty Draco! (An aside: I can't wait until around Mid-March when the Nefarious Nemo may raise its blustery head... or better yet, Incredible Iago. It seems the wizards of the weather channel must have had a Disney movie marathon going when they developed the list.)
But I digress.
A few weeks back, I wrote a brief piece on how increased usage of compressed natural gas may be a positive for US Natural Gas (NYSEARCA:UNG) in the long term. (here) A comment left by a Seeking Alpha subscriber stuck with me. he wrote: "The link between UNG and the increase in usage of NG by fleet operators is, at best, miniscule when compared to what a cold week of weather can do for the spot price of natural gas..."
So how does UNG respond to weather events historically? In attempting to find an answer I took a look at January for the last three years: January 2012, January 2011 and January 2010.
Before ending as the fourth warmest January on record, January 2012 broke records for snowfall, and both high and low temperatures. (here)
How did UNG fare? Pretty much the same as the weather ... it was all over the place: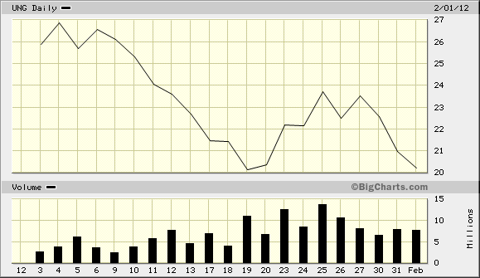 In January, 2011, historic snowfalls blanketed some parts of the country (here).
And the UNG? Again, all over the place: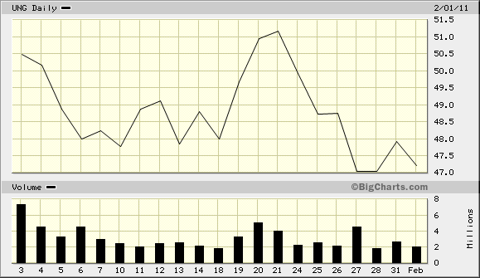 For 2010, weather, like the UNG ... pretty much all over the place: (here)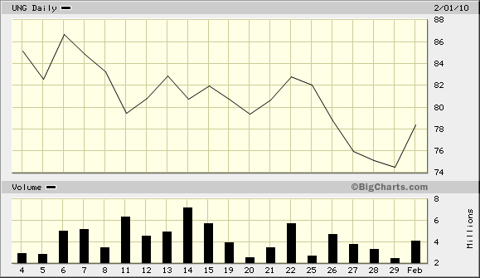 So what do we take from this?
That UNG, like the weather, is a pretty tough thing to predict, especially in the short term. But weather is something many like to tune in and talk about. Lots of ink and electrons get spilled hyping, discussing, downplaying and prognosticating about it. And now with the mighty media elevating winter storms to the same cachet as truly damaging hurricanes and tropical storms by giving them names, how can we expect UNG to respond?
I don't know. But with the increase in weather media hype, I think an increase in volatility could well be in UNG's cards. And as you traders well know, volatility is a good thing in the pursuit of making money in the markets. Trade it if you wish, but if you trade, tread carefully.
Oh Dreaded Draco. May your winds be wild and your snowfall be great! And may you make the UNG soar!
(Dear Reader, rest assured that my tongue is firmly in cheek as I write this. I wish any and all impacted by the storm to be safe, happy and warm this Holiday Season.)
Disclosure: I have no positions in any stocks mentioned, and no plans to initiate any positions within the next 72 hours. I wrote this article myself, and it expresses my own opinions. I am not receiving compensation for it (other than from Seeking Alpha). I have no business relationship with any company whose stock is mentioned in this article.
Additional disclosure: I don't trade UNG personally, but some of my clients do.