The Boeing Company (NYSE:BA) is an aerospace company, manufacturing commercial airplanes, providing defense equipment, and maintaining a small captive finance division. The sales are nearly split 50/50 between airplanes and defense segments. Following the acquisition of McDonnell Douglas in 1997, Boeing operates in duopoly with Airbus EAD. Boeing enjoys a narrow economic moat with its focus on innovation and its symbiotic relationship with key suppliers and customers.
Recent Highlights
On Dec. 19, 2012, BA announced the development of an advanced method to test wireless signals in airplane cabins, making it possible for passengers to enjoy more reliable connectivity when using networked personal electronic devices in the air. As reported, "once the new method was established, testing that previously took more than two weeks to conduct was reduced to 10 hours."
On Dec. 17, 2012, BA announced a 10% increase in the company's regular quarterly dividend to 48.5 cents per share and the resumption of its stock repurchase program with repurchases currently expected to total between $1.5 to $2.0 billion in 2013. As reported by Reuters, the number and timing of shares to be purchased will be based on the level of cash balances, general business conditions and other factors, including alternative investment opportunities.
On Dec. 15, 2012, BA completed sales of the first 777 to the Republic of Iraq. As reported, "As one of the newest members of the 777 family, the 777-200LR can carry more passengers and revenue cargo farther than any other jetliner today. The 777-200LR can also carry a full cargo load on routes where other airplanes are payload limited." The Republic of Iraq also has 30 Next-Generation 737s on order, the first of which are scheduled for delivery in mid-2013, as well as 10 787 Dreamliners.
On Dec. 4, 2012, BA projected the world's airlines should see reasonable liquidity and pricing for new-aircraft delivery financing in 2013. As said by Kostya Zolotusky, managing director of capital markets development and leasing at Boeing Capital Corp, "We expect that despite economic and political challenges, global air travel will again demonstrate its remarkable resilience in 2013. The industry's global growth and airlines' fleet replacements, accelerated by higher fuel prices, should keep demand stable and attract sufficient financing." The manufacturer has forecast total industry jetliner deliveries at $104 billion in 2013, with 95 percent of that expected to be split between Boeing and Airbus.
Earnings Estimates
Analysts are expecting an EPS of $1.19 for the current quarter, which is increased from $1.13 (projected 90 days ago). The current full-year revenue is estimated at $81.46B with an EPS of $5.01, which was increased from $4.73 as estimated 90 days ago. For 2013, analysts are expecting revenue of $88.01B with an EPS of $5.09, which dropped from $5.63 as projected 90 days ago. A table for earnings and revenue estimates for BA is provided below.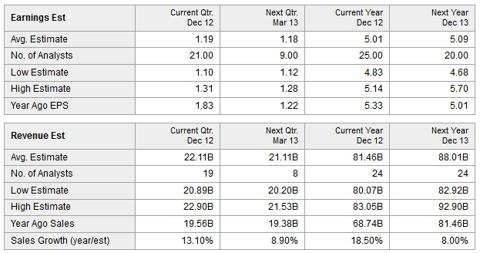 Source: Yahoo! Finance
Key Stats and Valuation
By using the data gathered from Morningstar, BA's key stats will be compared with its peers in the aerospace and defense industry, including Lockheed Martin Corporation (NYSE:LMT), Raytheon Company (NYSE:RTN), and Northrop Grumman Corp (NYSE:NOC). Despite the lagging EPS growth (three-year average) of 13.5, compared with the industry average of 19.0, BA had a higher revenue growth (three-year average) of 4.1, compared with the average of 2.1. BA has lower operating margin of 8.0%, ttm, and net margin of 5.5%, ttm, compared with the averages of 9.6% and 6.0%, ttm, respectively. However, BA managed to generate stronger ROE of 63.7, ttm, compared with the average of 22.0. BA also has a lower debt-to-equity of 1.2, compared with the average of 2.0. BA has a total cash of 11.12B, mrq, with an operating cash flow of 6.27B and levered free cash flow of 2.67B, ttm.
BA currently has a P/E of 13.3, which is higher than the industry average of 13.1 but lower than BA's five-year average of 17.1. BA also has a higher P/B of 7.5, as compared with the industry average of 2.9 and BA's five-year average of 5.1. BA has a forward price/earnings ratio of 13.7, which is lower than the average of 14.2 for the S&P 500. The PEG ratio is 1.5. At the current price, BA is fairly valued.
Technical Analysis
BA closed at $75.51 with a 0.01 point change on Wednesday. The volume of 6.08M was 25.62% higher than the 30-day average of 4.84M. BA had been trading in the range of $66.82-$77.83 in the past 52 weeks. BA has a beta of 1.22. The MACD (12, 26, 9) indicator had been showing a bearish sign since December 14, and the MACD difference continued to converge. The momentum indicator, RSI (14), is showing a strong bullish lean at 61.62. BA is currently trading above its 50-day MA of $72.74 and 200-day MA of $72.26. The next resistance will be $76.33, the R1 pivot point, followed by $78.37, the R2 pivot point, as seen from the chart below.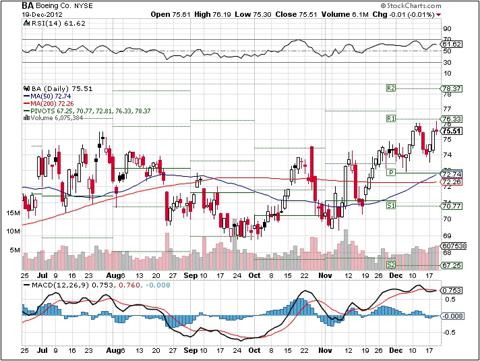 Source: StockCharts.com
Options Play
With the optimistic growth outlook, strong balance sheet and consistent cash flow, along with the continued innovation, BA is a solid long-term investment holding. In the short term, BA is bullish, technically. A credit put spread options play will be reviewed below for investors who would like to acquire BA stock at a lower price while gaining some upside potential.
Short 1x Feb. 16, 2013 put at the strike price of $70.00 for the credit of $0.90
Buy 1x Feb. 16, 2013 put at the strike price of $65.00 for the cost of $0.37
The maximum profit is $0.53, and the maximum risk/margin requirement is $4.47 ($5 loss - $0.53 credit received). If BA closes above $70.00 on Feb. 16, 2013, 11.86% return on margin will be gained. If BA falls below $70.00 upon options expiration, BA stock will be acquired at $69.47, which is 8% lower than the current price of $75.51. The projected annual dividend yield will be 2.82% based on the acquisition cost of $69.47 with projected dividend of $0.49 per quarter.
Note: All prices are quoted from the closing of December 19, 2012, and all calculations are before fees and expenses. Investors and traders are recommended to do their own due diligence and research before making any trading/investing decisions.
Disclosure: I have no positions in any stocks mentioned, but may initiate a long position in BA over the next 72 hours. I wrote this article myself, and it expresses my own opinions. I am not receiving compensation for it (other than from Seeking Alpha). I have no business relationship with any company whose stock is mentioned in this article.