Dividend investors should expect middle of the road returns, and pure high quality and pure low volatility investors should expect to be near the bottom, compared to key US broad stock indexes and sector indexes in 2013.
VGT, XLK, XLE, IWM and XLB are projected to be the best total return ETFs among the 21 key S&P and dividend ETFs for 2013, based on Thomson/First Call average analyst target prices and trailing yields.
The technology sector outcome is highly leveraged to the returns of Apple (NASDAQ:AAPL) due to its approximate 20% weight in the sector. If Apple does not perform as projected VGT and XLK could well fall back to the middle of the pack.
| | |
| --- | --- |
| Broad Indexes | Proxy ETF |
| S&P 500 | SPY |
| S&P 400 | MDY |
| Russell 2000 | IWM |
| | |
| S&P Sectors | Proxy ETF |
| Basic Materials | XLB |
| Energy | XLE |
| Financials | XLF |
| Industrials | XLI |
| Tech | XLK |
| Consumer Staples | XLP |
| Utilities | XLU |
| Healthcare | XLV |
| Consumer Cyclicals | XLY |
| | |
| Sectors (Not Just S&P 500) | Proxy ETF |
| Info Tech | VGT |
| Telecomm | VOX |
| | |
| S&P Special Segments | Proxy ETF |
| S&P 500 High Quality | SPHQ |
| S&P 500 Low Volatility | SPLV |
| | |
| Dividend Funds | Proxy ETF |
| S&P 1500 Div Aristocrats | SDY |
| DJ Select Dividends | DVY |
| Vanguard Div Appreciation | VIG |
| Vanguard Hi Div Yield | VYM |
| iShares High Div Equity | HDV |
This table image shows the 1-year target price appreciation for each ETF, based on the weight of each constituent company in the fund and the average analyst 1-year target price calculated by Thomson/First Call.
The total return is the sum of the price appreciation calculation and the trailing yield.
The resulting price return and total return columns are color coded to show the leading and lagging projections.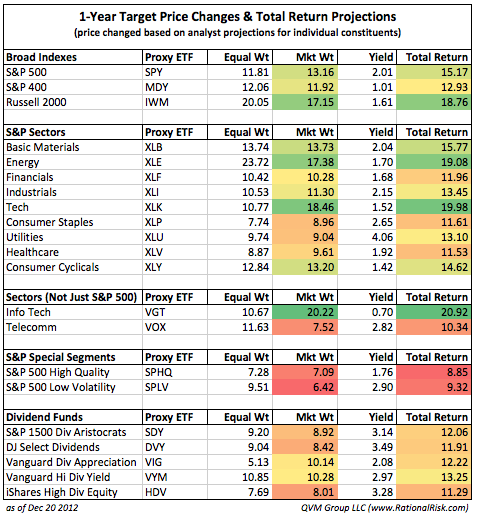 These calculations do not make any attempt to judge the quality or prospective accuracy of the average analyst 1-year targets, and does not consider the historical or probable volatility of the indexes.
Except for the question of volatility, the relative ranking of the price appreciation element, is probably more accurate than the absolute price appreciation level.
While the analysts may be too optimistic or too pessimistic, they are probably roughly equally so for each index (with the exception of XLK and VGT, where Apple is dominant).
We know that many readers think that all analysts are a waste of time. We think that they tend to be lagging indicators of price trends on balance, but so too are most individual investors. There are hundreds of analysts who have spent thousands of hours, making an eclectic study of quantitative, qualitative and technical aspects of thousands of stocks behind this data.
While individual judgments may be way off, over a larger number of estimates from different parties about different securities using different techniques, one could reasonably hope (at least for relative ranks) that the errors in their judgments tend to cancel each other out.
All of the projections, of course, are based on some set of expectations about the world next year. If the world becomes substantially different by so-called "fat tail" events, then all bets are off with respect to this data table.
Disclosure: QVM has positions in SPY, MDY, IWM, VYM, VIG, and XLU as of the creation date of this article (December 20, 2012). We certify that except as cited herein, this is our work product. We received no compensation or other inducement from any party to produce this article, but are compensated retroactively by Seeking Alpha based on readership of this specific article.
General Disclaimer: This article provides opinions and information, but does not contain recommendations or personal investment advice to any specific person for any particular purpose. Do your own research or obtain suitable personal advice. You are responsible for your own investment decisions. This article is presented subject to our full disclaimer found on the QVM site available here.