An article that was recently posted states that Tesla (NASDAQ:TSLA) is the next Apple because Tesla's Model S Sedan received "2013 Car of the Year" by Motor Trend magazine. While this is wonderful optimism, Tesla still has a lot to prove. Winning medals doesn't make you a billionaire and while electric cars surely are the future, there are a lot of things left to be desired before Tesla could be considered a serious investment candidate.
Real Profit
Tesla's revenue has been declining since January. At the very least Tesla should prove positive revenue growth let alone earning potential.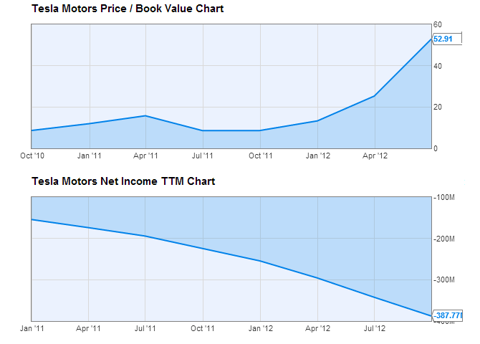 Tesla has an exceptionally high Price to Book that should make any value investor nervous. This is also a company that has very large negative gross profit margins (-17.49%).
Stranded
The biggest draw back to all electric cars is the concept of range and that means if you're traveling any kind of long distance, you will be dead in the water until you can reach a charging station, an infrastructure that currently doesn't exist outside california.
To put this into perspective, at least once a month I take a trip that is 329km or 204 miles. I would be dead in the water with their lowest model. If I want to do any serious travel with a Tesla, I would need to get at least their 85 kWh model which will set me back a cool $69,000.
Fully electric cars have serious competition from anyone else building hybrid cars because those cars support long distance trips. Other companies can also benefit from economies of scale, something Tesla does not currently have.
Tesla is the Anti-Apple
Apple did not start out as a luxury brand, they were all about accessibility, just check out this advertisement for the Apple II. The Tesla doesn't make electric cars accessible. They are expensive, limiting, and now they even want you to put down a $5000 deposit (refundable) to get on a customer list for one of their fancy limited range cars.
Proclaiming a company is the next Apple when they can't even prove revenue is a little short sighted. Let's not forget, even before Apple came into existence, Jobs and Wozniak's hobby projects were more profitable then Tesla currently is.
Outlook
If Tesla is the next multi-billion dollar company, the stock has plenty of upwards potential and you don't have to worry about missing the boat. I recommend that any serious investors wait until, at the very least, Tesla can show even a small amount of profit for their endeavors.
Disclosure: I have no positions in any stocks mentioned, and no plans to initiate any positions within the next 72 hours. I wrote this article myself, and it expresses my own opinions. I am not receiving compensation for it (other than from Seeking Alpha). I have no business relationship with any company whose stock is mentioned in this article.