We've been covering undervalued dividend stocks from the Basic Materials sector in our recent articles, some with high dividend yields, and some with high options yields.
This article focuses on a Consumer Goods stock, from the Auto Parts sub-industry. Standard Motor Parts, (NYSE:SMP), has been on a roll since bottoming out below $12.00 this summer, having risen over 50%. It's currently riding along the top of its Bollinger Bands, but is still up only 4.43% year-to-date, as of 12/20/12:

Undervalued Earnings Growth: Analysts are currently predicting 15%-plus earnings growth for SMP in fiscal 2013, which gives it a low, undervalued .78 2013 PEG. SMP is also still in the lower part of its 5-year P/E range. (Some financial websites are listing a much lower trailing 12 months' P/E, but that figure misses the fact that SMP's 4th quarter 2011 earnings had a one-time benefit of $24.3 million, from a deferred tax allowance. The higher 12.03 P/E figure below strips that benefit out.)

SMP also had good growth in its most recent quarter, and is estimated to have continued strong growth over the next 5 years which of course, is a long ways out, but still speaks positively for its prospects: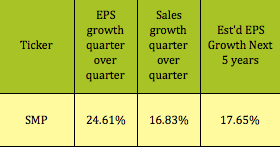 Dividends: During the Recession, SMP eliminated its $.09 quarterly dividend, but reinstated it, at $.05 in 2010, and has since raised it back to $.09.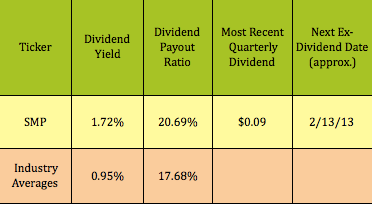 Call Options: With its high beta, SMP also has some attractive options yields. We've listed this trade, from our Covered Calls Table, in which SMP's May 2013 $22.50 call outpays its next 2 dividends by over 6 times. The $22.50 strike is also $1.56 above SMP's current $20.94 price, which leaves room for an additional 7.44% gain, (18.37% annualized.)

Put Options: With SMP's big runup, a more conservative way to profit would be to sell Cash Secured Puts below its current price, as in the trade below. This trade offers a higher option yield, nearly 18% annualized, and a break-even that's 11.41% below SMP's current price/share. As with the calls, these puts pay much more than SMP's next 2 dividends.
You can find more details on this and over 30 other Put Options trades in our Cash Secured Puts Table:

Financials: SMP's management efficiency, debt, and margin figures all outshine its industry's averages: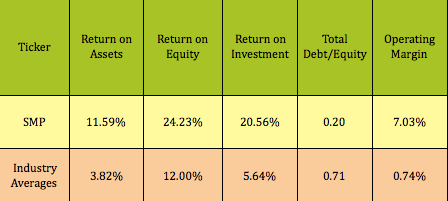 Technical/Performance Data: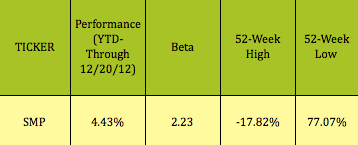 Disclaimer: This article was written for informational purposes only and isn't intended as investment advice.
Disclosure: I have no positions in any stocks mentioned, but may initiate a long position in SMP over the next 72 hours. I wrote this article myself, and it expresses my own opinions. I am not receiving compensation for it (other than from Seeking Alpha). I have no business relationship with any company whose stock is mentioned in this article.