After the bell on Thursday, BlackBerry maker Research in Motion (RIMM) reported its fiscal third quarter results. The company posted revenues that beat, and both its adjusted and unadjusted profit were ahead of expectations. The company also announced a huge rise in its cash position. The stock rose initially in after-hours trading, but like last quarter, the initial pop faded quickly, and shares ended up down big. This is a stock that was up 127% from the 52-week low going into the report, so you have to figure that some of this beat may have already been priced in.
Third Quarter Results Breakdown:
For the third quarter, Research in Motion reported revenues of $2.727 billion, which represented a 47.24% decline over the prior-year period. However, that figure beat analyst estimates for $2.66 billion.
In terms of the bottom line, there were three numbers reported, all of which beat the $0.35 loss that analysts expected. Research in Motion reported a GAAP profit from continuing operations of $14 million, or $0.03 per share. When including a loss from discontinued operations, the profit was $9 million or $0.02. In the prior-year period, the company reported a GAAP profit of $265 million, or $0.51 per share.
On the adjusted side, the company lost $114 million, or $0.22 per share diluted. Adjusted net loss and adjusted diluted loss per share exclude the impact of pre-tax charges of $55 million ($38 million on an after-tax basis) related to the Cost Optimization and Resource Efficiency "CORE" program and excludes the impact of an income tax benefit of $166 million.
The following table shows the company's three primary GAAP margins during Q3 of the last four fiscal years. This year's period is considered in fiscal 2013.

We knew that overall, results were going to decline. However, it is positive that gross margins rose over last year's period, and I'll have more on that coming up. Operating margins plunged because despite the 47% plus drop in revenues, operating expenses only declined by 2%. However, thanks to $18 million in investment income as well as the tax benefit mentioned above, the company made some of those losses back by the bottom line.
While the company reported a profit margin lower than the year-ago period, the quarter by quarter numbers have been improving. The following table shows RIM's quarterly margins since Q3 of last year. After hitting a bottom in Q1 earlier this year, operating and profit margins have come up nicely.

During the quarter, the company shipped 6.9 million smartphones and 255,000 Playbooks. However, the company's subscriber base fell to 79 million, down about a million from the prior-year period. The company also announced that CIO Robin Bienfait is retiring at the end of the year after 6 years with the company.
Balance Sheet Update:
The following table shows how RIM's balance sheet changed during the quarter, with dollar values in millions.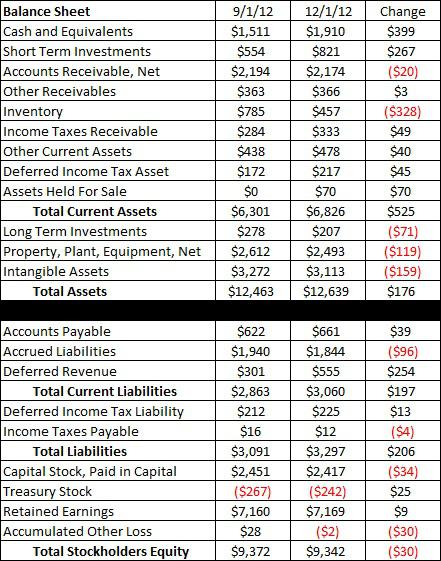 What are the key takeaways? Well, the cash and short-term investments figures jumped a bit. The company also saw a large decrease in inventories, which is good because it shows they are getting rid of the older phones ahead of the BB10 launch.
In terms of some key financial ratios, I put together the following table showing changes over the past year-and-a-half. The company's cash pile, which includes both short and long term investments, is now higher than it was 18 months ago. The current ratio has continued to increase, along with working capital. The debt (liabilities to assets) ratio weakened slightly in the quarter, as total liabilities rose a bit faster than total assets.

Now I'm sure there will be some doubters. A large part of that rise in cash was due to another $523 million in non-cash amortization add backs to operating cash flow, as well as another $420 million in operating cash flow from "changes in working capital items."
Guidance Update:
In terms of actual financial guidance, the company stopped providing numbers a couple of quarters ago. They have decided instead to provide a guidance statement, which I've included below.
The Company expects that there will be continued pressure on operating results as it gets set to launch its BlackBerry 10 platform in the fourth quarter. The Company intends to continue to consider using pricing initiatives on BlackBerry 7 devices and service fees in some markets as a way to maintain our subscriber base and drive more BlackBerry users. The timing of the BlackBerry 10 launch event for January 30, 2013 could also impact sales of current BlackBerry 7 products as some customers may defer purchasing decisions and wait for BlackBerry 10 devices. All these factors are expected to impact unit volumes, subscribers, margins and service fees. In addition, the company will be significantly increasing its marketing spending this quarter as expected, to support the global launch of BlackBerry 10, and the Company expects to report an operating loss for the fourth quarter.
This statement is fairly generic and isn't too different from statements we've seen in the past. Currently, for the fiscal fourth quarter, analysts are looking for the company to post revenues of $2.87 billion, a decline of 31.5% from the prior-year period. The company is also expected to swing to a 26 cent loss from an 80 cent profit in the prior-year period. Given the statement above, I don't think any of the guidance is surprising, and we'll see how analyst estimates change over the next couple of weeks.
Final Thoughts / Recommendation:
The overall revenue and earnings numbers were good for RIMM, but it was a little worrisome that the subscriber base fell a little. It was good that the cash balance jumped, although I'm sure there will be some doubters as to why that occurred.
Strangely enough, the stock's movements were almost identical to when they reported the second quarter beat. The company rose going into earnings, especially with some rises late in the day, including the final 30 minutes before the bell. Then, after earnings the stock popped. Last quarter, the stock closed at $7.14 into earnings. It hit an after-hours high around $8.81, but the next trading day never traded above $8.20, and closed at $7.50. Thursday afternoon, I saw the stock as high as $15.50 in the extended hours trade, shortly after the stock started trading again, but it quickly retreated. The stock then went negative, plunging to $12.36 at one point. That means that from the high to low, Research in Motion declined more than 20%. That's quite a move for an extended hours session. In addition to profit taking, it seems that investors were worried that the services business, which provides more than a third of revenue, and a bigger share of profits, could be pressured by a pricing overhaul that will come with BB10. BB10 will supposedly offer a variety of service options, and some of the basic ones won't cost much. Also, the fact that RIM's subscriber base is now declining and shifting towards emerging markets will affect services revenue. At the end of the extended hours session, shares were down $1.31, or 9.28%.
I traded RIM in both after-hours sessions following the earnings reports, taking profits in both sessions. Like last quarter, I decided not to hold the position overnight. At this point, while the numbers are looking better for RIM, I will let the stock settle down over the next couple of trading days, and will not initiate another position, long or short, especially given the late plunge in shares.
While Q3 was good for RIM, the waiting game now begins. Everyone will be jumpy as we approach the January 30th launch date of the BB10 phones. If the company can get some of those phones out during February, Q4 might not be as bad as hoped. However, everyone will be really focused on fiscal Q1 of next year, which basically runs from March to May. That full selling quarter of the BB10 phones may determine this company's future. If sales are good, this company will have proven it is back from the dead. However, if the BB10 phone launch goes poorly, this rally and any subsequent ones will have proved to be false hope. Two analysts from UBS provided the following reminder to investors on the huge rally: "the rally is reminiscent of Palm which saw shares go from $3 to a peak of ~$18, only to fall back down to $3.76 in about 15 months."
Disclosure: I have no positions in any stocks mentioned, and no plans to initiate any positions within the next 72 hours. I wrote this article myself, and it expresses my own opinions. I am not receiving compensation for it (other than from Seeking Alpha). I have no business relationship with any company whose stock is mentioned in this article.
Additional disclosure: Investors are always reminded that before making any investment, you should do your own proper due diligence on any name directly or indirectly mentioned in this article. Investors should also consider seeking advice from a broker or financial adviser before making any investment decisions. Any material in this article should be considered general information, and not relied on as a formal investment recommendation.