We find it absolutely ridiculous that Teva Pharmaceuticals (NYSE:TEVA) should be trading at an adjusted 2013 PE of 7.35X earnings. We understand that it has lost its groove and it has a long way to go before it comes back to its all-time high of $64.95 set back in 2010. However, we think that it is absurd that it is trading at an adjusted PE that is about 50% below the median PE ratio for eight of the largest innovative pharmaceutical firms in the world. We were aware that the new CEO Dr. Jeremy Levin had cut TEVA's 2012 adjusted EPS guidance from $5.48-$5.68 to $5.30-$5.40 not long after he joined the firm. We were a little nonplussed when Levin issued 2013 guidance on November 30th in which adjusted EPS was expected to decline by $.25-$.45 versus 2012 levels and that TEVA's revenues was expected to decline by $500M versus 2012 levels. TEVA's share price declined by 5.5% in premarket trading on November 30th before recovering its losses and gaining $.13 (.3%) on that day. Investors bid up Teva's shares by nearly 10% from a near-term regular trading session low of $39.09 on November 30th to $42.83 before Teva's Investor Day on December 11th. We were surprised that TEVA's share price gave up its gains in the wake of Teva's Investor Day because we found that the company's management realized that its previous strategy of growth by blockbuster acquisition was not sustainable and was creating diseconomies of scale.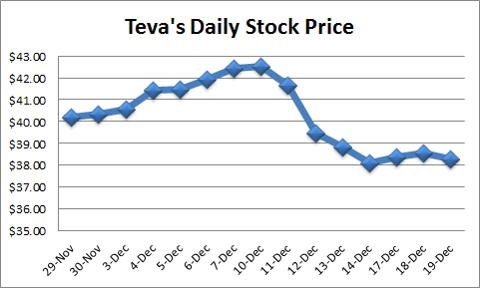 Click to enlarge
Source: Morningstar Direct
We liked that Teva's management announced that it was bringing a strategic focus to add value to its drug pipeline. Teva announced that it was focusing its attention on Central Nervous System drugs, Respiratory medicines and New Therapeutic Entities. Teva seeks to establish leadership in high-value, complex generics, sustain its leading presence in Central Nervous System medicines, build a unique platform for New Therapeutic Entities and achieve a leading presence in Respiratory medicines. We have mixed feelings on Teva's "Business Development Strategy". We're glad that it has eschewed the blockbuster acquisition but displeased that it is floating $10B for "strategic business development". We understand that strategic business development may not necessarily Teva's acquisition strategy will be focused on small and mid-sized deals to build out its CNS, Respiratory and OTC franchises. Teva is also planning on divesting non-core assets and is targeting $1.5B-$2B in cost savings between now and 2017.

Source: Teva's Investor Day
Levin's "Constellations of Transactions" strategy is similar to the "String of Pearls" model that he oversaw at Bristol Myers Squibb (NYSE:BMY) from 2007-2012. Each transaction is linked to another. Every time Teva does a transaction, it is to set up another one in order to bulk up Teva's core product franchises. An example of this is Teva's licensing deal with Xenon. Teva and Xenon entered into a collaborative development and exclusive worldwide license for XEN402. XEN402 is currently in clinical development for a variety of painful disorders. This product specifically targets sodium channels which are abundantly found in sensory nerve endings that can increase in chronic painful conditions. Under the Agreement, Teva will pay Xenon an upfront fee of $41 million. In addition Teva shall pay development, regulatory, and sales-based milestones totaling up to $335M. Xenon is entitled to royalties payable on sales and an option to participate in commercialization in the U.S. This is the second CNS treatment Teva acquired in 2012, the first was Teva's $26M asset purchase deal of Huntexil from NeuroSearch A/S. Huntexil is a drug candidate being developed for the symptomatic treatment of hand movement, balance and gait disturbances in Huntington's disease.
Copaxone continues to lead the U.S. and global relapsing-remitting multiple sclerosis market in both sales and market share. Copaxone's US market share is over 40% and Teva's management expects it to maintain its global market leadership position due to its established and clinical experience in treating RRMS patients. Copaxone (Glatiramer acetate) was originally discovered by Dr. Dvora Teitelbaum at the Weizmann Institute of Science in Rehovot, Israel. Copaxone gained approval in the US in 1996 and will go off patent in 2015. There were concerns that Copaxone would lose its patent protection before 2015, but Teva's patent victories in June 2012 helped eliminate that short term threat. Although Teva will have to deal with Copaxone's patent expiring in 2015, it may not necessarily have to deal with an immediate generic version of Copaxone as the drug has very particular chemical properties and any generic version would potentially require separate, costly clinical trials before receiving approval. Teva is also submitting a 40mg, 3 times a week dose for Copaxone to replace the 20mg, daily dose formula and if approved, will provide patent coverage until 2030.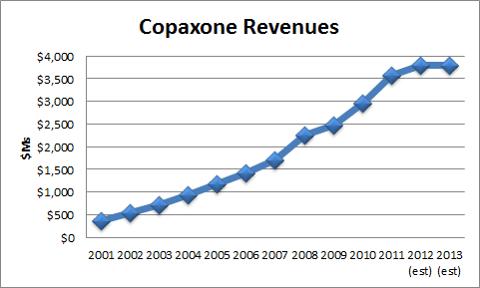 Click to enlarge
Source: Teva's 2002-2011 Annual Reports and we at Saibus Research
Teva's Respiratory business has the number one short-acting beta agonist in ProAir and the #2 fastest growing mono-ICS. ProAir is expected to generate between $400M-$440M in 2013 and Qvar is expected to generate $320M-$360M. Teva also developed the Spiromax inhaler device and is submitting it for EU approval in 2013, as well as combining it with ProAir and launching the combined ProAir/Spiromax product in 2015. Spiromax can be used for maintenance and rescue needs and it is designed to emit the correct dose every time. Teva's reslizumab is a Phase III monoclonal antibody against IL-5. Respiratory products accounted for 11% of Teva's R&D in 2012 and will account for 19% in 2013.
Teva is targeting growth in New Therapeutic Entities based on the success of its competition. Notable NTE blockbuster products include Duragesic ($2.5B) from Johnson & Johnson (NYSE:JNJ), OxyContin ($3.6B) from Purdue and Namenda ($2.3B) from Lundbeck. Teva is targeting 10-15 NTEs that will be approved for development and identified the following benefits from NTEs:
Lower development costs
Low regulatory costs
Low development risk
Proven efficacy
Validated targets
Shorter timelines
For 2013-2017, Teva is targeting the following annual financial performance metrics:
$5.5B in operating cash flows
Up to $2B in business development investment
$1B in net debt reduction
$1B in capital expenditures
$1B-$2B in dividends and share repurchases
$1.5B-$2B in cost savings through rationalizing and improving its operations
In conclusion, we at Saibus Research remain bullish on Teva Pharmaceutical Industries. While we can see that Copaxone's salad days have passed it and it has two more years of above-average growth and profitability, we believe that the market is assigning a high level of fear, uncertainty and doubt to Teva's Copaxone franchise. The key part of our thesis in Teva is the new management team led by Dr. Jeremy Levin. While Teva is not going to generate the 20%+ annual revenue growth that it enjoyed from up until 2010, we believe that it offers superior valuation prospects relative to its generic competition and its branded pharmaceutical peers and we believe that Teva is one of the rare situations for investors in that it is a "blue-chip turnaround play". We believe this because Teva's problems have come because of its breakneck pace of blockbuster acquisitions which have left it with a number of rough edges. We believe that Teva's back to basics strategy is what the doctor ordered with regards to fixing Teva based on the solid record at Bristol Myers Squibb that was achieved by Teva's new CEO Dr. Jeremy Levin.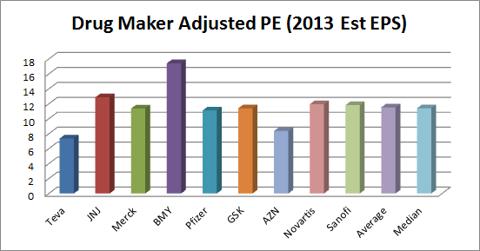 Click to enlarge
Source: Morningstar Direct
Disclosure: I am long TEVA. I wrote this article myself, and it expresses my own opinions. I am not receiving compensation for it (other than from Seeking Alpha). I have no business relationship with any company whose stock is mentioned in this article.
Additional disclosure: This article was written by an analyst at Saibus Research. Saibus Research has not received compensation directly or indirectly for expressing the recommendation in this article. We have no business relationship with any company whose stock is mentioned in this article. Under no circumstances must this report be considered an offer to buy, sell, subscribe for or trade securities or other instruments.