Nike Inc. (NYSE:NKE) reported second quarter 2013 earnings after the bell on Thursday, 12/20, and although profits were down 18% year-over-year they still came in $0.14 ahead of estimates at $1.14 per share. This sent shares climbing another $4.70 after hours after gaining $1.22 during the day. Revenue for the quarter was up 7% year-over-year; however they missed estimates by about $60 million. The quarter saw weakness from China but results were lifted by strength in North America and Emerging Markets. Emerging Markets had their first $1 billion revenue quarter ever, the result of an 18% year-over-year revenue increase.

Nike's valuation compared with its peers reflects its status as the market leader and has a leading innovator in the space. Nike's higher P/E ratio and EV/EBITDA ratio compared with Adidas (OTCQX:ADDYY) is justified given their higher profit margin and growth rate. Nike's lower PEG ratio compared with Adidas indicates that it might be a better value. When it comes to Under Armour (NYSE:UA) its faster growth rate is driving its higher multiples. While this may be attractive, I believe it also increases risk and paired with Under Armour limited business footprint compared to Nike it is reason to consider avoiding Under Armour. Under Armour's future gains also partly depend on growing its footwear segment; I believe they will have a harder time making gains against Nike in footwear, their strongest segment. Footwear accounts for over 60% of Nike's revenue, compared to about 10% for Under Armour. Under Armour is also dependent on North America for about 95% of revenue while only 40% for Nike's revenue comes from North America.
The Chinese market for Nike continues to be troubled by oversupply. Revenue in China was down 11% year-over-year driven by a 16% fall in apparel revenue. With Nike seeing double digit gains around the world and even 4% revenue gains in economically troubled Europe, I believe China is the main issue holding up gains in Nike's share price. I believe Nike's over 30 years of experience selling in China will allow them to overcome the challenges in that market both with a slowing economy and oversupply.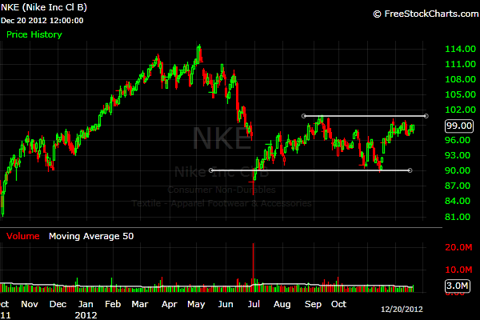 The chart shows a stock that has found support around $90 per share and resistance around $100 per share over the past 6 months. The strong Q2 earnings have propelled the stock above the $100 level, and I believe this move will carry the stock to resistance around $114 per share. Global trends including increasing running perception rates, along with Nike's innovation should help drive better returns for Nike investors in 2013.
Data sourced from: Company filings, and Yahoo!Finance. Chart from: Freestockcharts.com
Disclosure: I have no positions in any stocks mentioned, and no plans to initiate any positions within the next 72 hours. I wrote this article myself, and it expresses my own opinions. I am not receiving compensation for it (other than from Seeking Alpha). I have no business relationship with any company whose stock is mentioned in this article.