The juncture we find ourselves at can be simply summarized as highly anxious credit and stock markets with uncertain but anemic economic growth forecasts. Though the carnage in equity markets may well be indiscriminate and savage, Terex (NYSE:TEX) is down a massive 80% this year, substantially underperforming its industry peer, Caterpillar (NYSE:CAT).
click to enlarge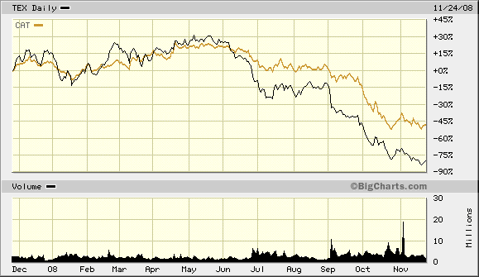 Click to enlarge
One critical investment decision that management now faces, in the context of current conditions, is straightforward:
Does the company proceed with the purchase of Fantuzzi, paying $267 million, or should Terex use that cash to buy back 28% of its outstanding shares? (At the current price of $10 per share).
- Fantuzzi is currently reporting earnings for a loss, represents less than 10% of Terex sales, and may turn profitable in 2009.
- 28% of Terex represents $161 million of PAT in 2008, (493 million for first nine months, 82 million estimate for 4Q). An authorization is already in place.
I believe the choice is very clear. Management is not responsible for the decimation of its share price this year, but is very responsible for being proactive and operating in the investment environment in which they find themselves, the interests of shareholders being paramount.
Doubtless there are clauses, possibly difficult ones, in exiting from the Fantuzzi acquisition discussions. But current conditions not only warrant it, they necessitate it. Regarding the clause of 'material adverse conditions', is there any doubt that the world has changed- materially- in the last six months? Would a Fantuzzi profit forecast made a mere six months ago have any credence today? If profit projections of listed companies are any reference, the resounding answer is "No!"
I was hence immensely relieved to read that Terex management has halted the Fantuzzi deal, as reported on Nov. 21. The next step is to pursue the acquisition of a very compelling company - their own shares.
The authorisation is in place. It would be enormously accretive to earnings: Interest foregone (say at 3%, taxed at 30%) on the $267 million would be $5.6 million, and the reduction in outstanding shares would be 28%. So on proforma, 2008 earnings per share would go up from $6.12 to $8.4, an increase of 38%!
So Dear Terex management, whatever your earnings are going to be in this incredibly uncertain 2009, you can increase it by 38% by replacing Fantuzzi with a buyback. I guarantee you that investors will reward the company for plain, common financial sense. This is the time to demonstrate confidence in Terex's sustainability - and it's the best use of the company's cash.
Disclosure: The author has a long position in Terex.