Thesis
While the patent expiration of Diovan has led to a fall in Novartis' (NYSE:NVS) revenues, its newly launched products are increasingly contributing a large portion in total sales. Novartis is also moving forward with its rich pipeline and recently its influenza virus vaccine named Flucelvax was approved by the FDA. In addition, Afinitor was earlier approved by both the FDA and the European Medicines Agency (EMA) in combination with Exemestane as a treatment for postmenopausal women with hormone receptor-positive, HER2/neu negative advanced breast cancer.
I believe Afinitor along with other newly launched products (which I will touch upon later in the article) will play a key role in revenue growth in the future. Afinitor is expected to generate $1bn in annual sales by 2013 and $2bn by 2017 in the treatment of breast cancer alone. Further $500mm of sales is expected from Afinitor in several other potential indications such as renal cancer, TSC, SEGA/AML/seizures and lymphoma.
In my view, NVS's current dividend yield of ~4% looks sustainable and I will provide a more detailed commentary on dividends later in the article. Another positive feature of NVS's operations is the presence of Sandoz; the unit of NVS responsible for the manufacturing of generics. The generics industry continues to grow and Novartis has made sure it addresses this particular market as well. The growth in the newly launched products and NVS's presence in the generics industry will make sure that it has a steady revenue stream and continues to pay strong dividends. These facts and estimations make NVS a solid dividend paying stock.
Company Description
Novartis is the third-largest pharmaceutical in the world and offers a wide product portfolio which includes patent-protected prescription medicines, eye care products, generic pharmaceuticals, consumer health products, vaccines and diagnostic tools. Today's Novartis is the result of a series of calculated acquisitions and divestitures. Over the years, the company has acquired Hexal, Eon labs and OTC business from Bristol-Myers Squibb (NYSE:BMY) and furthermore has divested some of its businesses. The result is a large diversified company with an excellent history of revenue growth.
Recent Developments
NVS's leading medicine Diovan lost its patent protection in September 2012 and the drug's sales fell by 32% and stood at $969mm in 3Q'12. But this is where NVS's generic pharmaceutical segment Sandoz steps in to counter falling revenues. Novartis held on to 69% of Diovan prescription in the U.S. since September, 2012 by introducing its own branded copy through the Sandoz division. In my view, the most admirable part of the Novartis' strategy is the importance attached to generics. In 2005, NVS bought Helax and 67% of Eon labs to essentially create one of the leading generics makers in the world. But Sandoz division saw its sales fall by 6% in 3Q'12 owing to competition for Enoxaparin, which is a copy of Lovenox originally produced by Sanofi (NYSE:SNY).
Sales have been under pressure and fell by 7% in the third quarter to $13,807mm. Although pressure from Diovan's protection loss is being felt, the good news is that the company's newly launched products are performing well. These products include: Lucentis, Gilenya, Afinitor and Tasigna. Collectively these drugs accounted for 29% of net sales in 3Q'12 and contributed $4bn.
Dividend Stock
NVS has a five-year average dividend yield of 3.66% and currently provides a yield of ~4%. Dividends have been continuously rising since 1996 on the back of strong cash flow generation and have grown at an annual compound rate of more than 18% since 2006.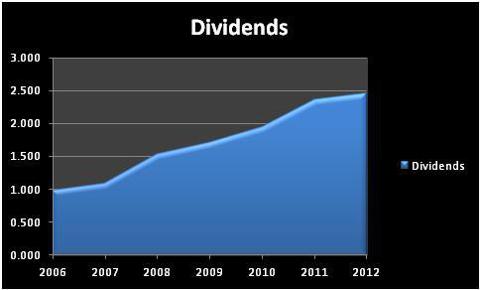 Below in the chart, we see how free cash flows have increased steadily over the years and have been enough to cover the dividend payments. To better gauge the ability of the company to pay dividends, I have calculated the average six-year dividend coverage ratio (Free cash flows/dividends paid) which stands at 2.6x.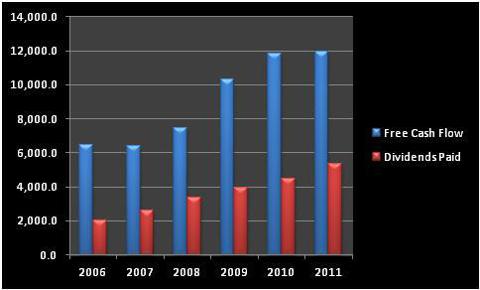 Debt seems to be manageable at a current total debt-to-equity ratio of 31% and an interest coverage ratio of 70x. Below in the table, I have compiled some metrics to help investors compare NVS's debt level with its peers. Debt level for NVS is at the lower end compared to its peers and interest coverage ratio is the highest. Payout ratio is one of the lowest compared to other European pharmaceuticals which means there is still room for dividend increase.
| | | | | |
| --- | --- | --- | --- | --- |
| | NVS | Roche Holding AG (OTCQX:RHHBY) | GlaxoSmithKline (NYSE:GSK) | AstraZeneca (NYSE:AZN) |
| Total Debt/Equity Ratio | 31% | 276% | 280% | 50% |
| Interest Coverage Ratio | 70x | 5x | 8x | 29x |
| Payout Ratio | 62% | 70% | 77% | 58% |
NVS currently trades at 12x its forward FY'13 earnings; in line with the industry average. Having said that, I believe the stock is fairly valued in the market. I believe the stock provides a safe dividend yield backed by strong cash flows and there is considerable room for dividend increases as well. Strong cash flow generation, promising performance of the newly launched products and NVS's presence in the lucrative generics market should provide for predictable revenue generation in the future. Therefore, I believe NVS is a solid dividend paying stock.
Disclosure: I have no positions in any stocks mentioned, and no plans to initiate any positions within the next 72 hours. I wrote this article myself, and it expresses my own opinions. I am not receiving compensation for it (other than from Seeking Alpha). I have no business relationship with any company whose stock is mentioned in this article.