Initial jobless claims rose slightly more than expected this week, coming in at a level of 361K versus expectations of 360K. Regardless of the increase, it appears as though jobless claims have now worked themselves back into a normal range following the impact of Hurricane Sandy.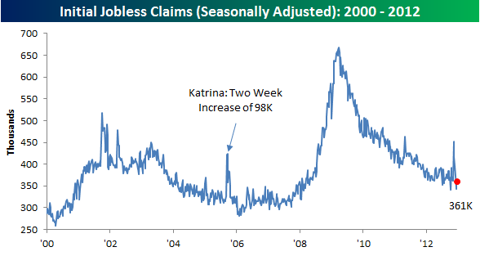 This week, the four-week moving average dropped to 367.8K from last week's reading of 381.5K. While it isn't quite there yet, the four-week moving average is finally getting back near its post-recession low of 363K, which is a level that we haven't seen in 38 weeks now. Barring any revisions or an increase above 375K next week, we could finally see a new post-recession low in this number next week.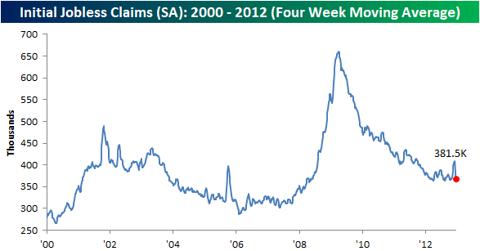 On a non-seasonally adjusted basis, jobless claims fell to 400.4K from last week's reading of 429.2K. For the current week, this represents the lowest reading in this indicator since 2007, and it is below the average of 441.5K for the current week dating back 2000.