Shares of Sirius XM Radio (NASDAQ:SIRI) are up 7% since my last report on the satellite radio company. I suggested the possibility for investors of earning a return of approximately 15%. A couple of weeks later, the stock is well on its way to crossing $3, which is also its 52-week high. There is a positive sentiment around the company based on the better than anticipated improvement in auto sales, with the investor community responding positively to the high probability that the company will be able to achieve its net subscriber addition target of 1.8 million subscribers comfortably. I reiterate my long stance on the stock based on its attractive valuations as well as the recent developments, which I will discuss in this report.
Sirius has named Jim Meyer as its interim Chief Executive Officer, after Mel Karmazin stepped down and resigned from the board. Jim Meyer who has been serving as the president of sales, before his appointment as interim CEO, is also being considered by the company's committee to hold this position permanently and is very likely that he will get it because of his services for the company for almost a decade now. He has been responsible for overseeing the company's auto industry relationships, which provide the company with a major chunk of its revenues. Moreover, he has long been considered the "No. 2" executive alongside the outgoing Mel, so it seems like the change in executives will be an easy transition. Now that Meyer takes over as the acting CEO, he will have to deal with matters like price increases and royalty payments which have been the hot topic of discussions recently.
As far as royalty payments are concerned, Judges at the Copyright Royalty Board ruled in favor of high rates that Sirius XM would have to pay over the next five years to SoundExchange. The company currently pays 8% of a portion of its gross revenues in royalties but the latest decision requires the company to pay 9% in 2013, 9.5% in 2014, 10% in 2015, reaching 11% in the year 2017. On the face of it, this decision goes against Sirius XM, however, interesting to note is that the royalties are only going to increase by half a percentage point per year. This will not dent the company's profitability a great deal as Sirius, unlike some of its rivals, passes these costs on to its subscribers, hence its business model is capable of absorbing these royalty hikes. According to an analyst at ICI, the new rates are better than expected and will be modestly positive for the company's EBITDA.
In another development, S&P, a credit rating agency, announced its BBB rating on the company's recent $1.25 billion credit facility. This rating is two notches above its corporate BB rating, with recovery rating of 1, which basically implies a very high probability of a recovery in case of a default. This also indicates S&P's confidence in the company's future profitability based on its improving subscriber additions, vehicle conversion rates as well as a stable churn. The agency mentioned that the company's recent move to return capital to its shareholders through a buy-back program will not increase Sirius's leverage beyond its target because of its healthy operational outlook and growth in cash flows.
In my previous report, I included a table showing the option activity for the stock. That was more than a week ago, with the stock trading near $2.50. Here is an update on the recent option activity, with the stock currently trading near $3.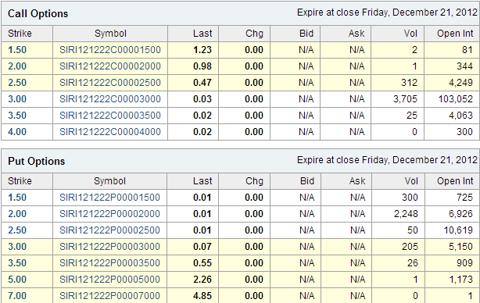 Click to enlarge
Source: finance.yahoo.com
The stock is trading near its 52-week high of $3, however, the table above suggests that the call buyers are still betting on the stock going higher. Despite the recently closed call positions, there still remains a significant open interest and volume for calls around $3, which signals the bullish sentiment for SIRI. The mean price target has moved up to $3.21 from $3.15 last week, and I believe it is very achievable considering the company's recent decision to pay dividends, growth in subscriber additions and improving auto industry numbers. I reiterate my long recommendation for SIRI.
Disclosure: I have no positions in any stocks mentioned, and no plans to initiate any positions within the next 72 hours. I wrote this article myself, and it expresses my own opinions. I am not receiving compensation for it (other than from Seeking Alpha). I have no business relationship with any company whose stock is mentioned in this article.