Altria Group (NYSE:MO)
I am bullish on the stock given its leading market position in the U.S. market, cost control program and favorable margins trend. Also, the stock offers a healthy dividend yield of 5.3% and earnings are expected to grow at a healthy rate of 7% per annum for next five years.
MO holds a dominating position in the U.S. tobacco market, with market share of approximately 50%. Its brand portfolio includes famous brands like Marlboro, Skoal and Black & Mild. Marlboro has 86% contribution to total cigarette volume of the company.
MO registered shipment volume growth of 1% in 3Q'12 in contrast to the industry volume decline of approximately 2.7%. Positive takeaways from the recent quarter earnings release were that the company was able to increase net pricing and volume simultaneously. For 3Q'12, total sales for the company were up 2.2% YOY and adjusted earnings were up 3.5% YOY.
Since the tobacco industry is facing pressure due to declining shipment volume, cost cutting efforts have become important to drive up profitability. MO's Board of Directors approved a restructuring program that is indented to save up to $400 million in overhead costs annually. This cost reduction program will help the company to expand its margins.
Despite sluggish economics conditions in the past, the company has improved its margins.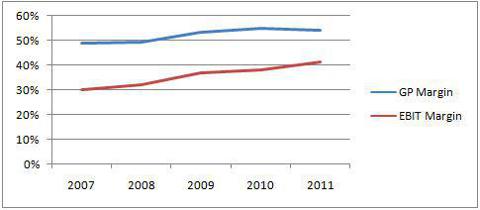 Source: Annual Reports
MO has a high debt to equity ratio of 355%. As the company is aggressively involved in its share repurchase program, I foresee a magnifying impact on the ROE. $550 million of share repurchases are expected to be completed by the end of 2Q'13. MO also offers an attractive dividend yield of 5.3% and it has constantly increased its dividends over the years.
Lorillard Inc. (NYSE:LO)
LO is among the top tobacco companies of the U.S. It offers a wide range of cigarettes with varying flavors, and in different price ranges. Newport is LO's flagship brand which holds 12.2% of the total market share in the U.S. Also, Newport is the best selling menthol cigarette in the U.S. LO offers an attractive dividend yield of 5.2% and analysts are expecting an earnings growth rate of 8.7% per annum for the next five years. Therefore, I am bullish on the stock.
For 3Q'12, LO registered flat sales on a YOY basis. The company was able to increase net pricing by 2.2% in the most recent quarter. However this was offset by a 2% volume decrease. Volume decrease for LO was less than that of the overall industry which had experienced a volume decline of 2.7%. Diluted EPS for 3Q'12 was up by 11.9% YOY. LO was also able to increase its retail and Newport market share by 0.2% in 3Q'12. In addition, the company was able to expand margins for the quarter. The graph below shows that LO has been successful in increasing margins over the years, despite intense competition and sluggish consumer spending.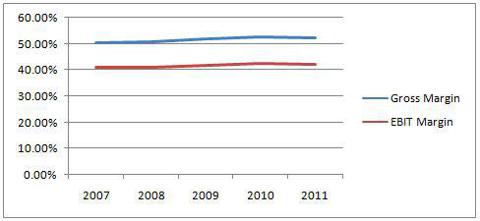 Source: Annual Reports
In 3Q'12, the company approved an additional share buyback program of $500 million. In the most recent quarter, the company repurchased $86 million worth of shares. Other than the attractive share buyback program, LO offers a high dividend yield of 5.2%. I believe the current dividend yield is sustainable as LO has a strong free cash flow yield of 7.2%. Also, the company has increased its dividends at a decent rate over the years.


Source: www.ycharts.com
Conclusion
| | | | | |
| --- | --- | --- | --- | --- |
| | MO | LO | British American Tobacco plc (NYSEMKT:BTI) | Reynolds American Inc. (NYSE:RAI) |
| Forward P/E | 13.5x | 13x | 14.3% | 14x |
| Dividend Yield | 5.3% | 5.2% | 2.6% | 5.5% |
Source: Yahoo finance
Both MO and LO are trading at lower forward P/E compared to BTI and RAI. In light of the points discussed above, I am bullish on both MO and LO.
Disclosure: I have no positions in any stocks mentioned, and no plans to initiate any positions within the next 72 hours. I wrote this article myself, and it expresses my own opinions. I am not receiving compensation for it (other than from Seeking Alpha). I have no business relationship with any company whose stock is mentioned in this article.