Since my previous positive mention of Phillips 66 (NYSE:PSX) in a piece entitled 3 Reasons To Consider Going Long Phillips 66, published August 2, 2012, shares are up more than 35%.
Pipeline IPO
Just days ago, PSX announced plans to raise as much as $400 million from an initial public offering in 2013 of a minority interest in some logistics and pipeline assets. This is a positive for shareholders as the offering should better bring out the value of PSX's assets.
Increased Dividend & Stock Buyback Programs
In early December, PSX announced it was increasing its dividend from $1 per share to $1.25 per share. Also, PSX approved another $1 billion for its share repurchase program.
Stock Fails To Respond
Interestingly, despite a plethora of positive news announced in December, PSX shares are flat. The likely reason for PSX lackluster response to the bullish news is that the stock had moved up so aggressively prior to the news.
Options Activity
In my intial piece, one of the reasons why I was bullish was options activity. Recently, options monster has reported on more bullish activity:
A trader sold 20,000 January 48 calls for $5.10 and 24,747 January 49 calls for $4.20. The open interest at each strike was more than 40,000.

Seconds later, the trader bought 53,136 January 55 calls for the ask price of $1.15. That volume was twice the strike's open interest at the start of the session and therefore a new position.

This appears to be a roll of the in-the-money calls up to the higher out-of-the-money strike. The trader would be taking profits off the table while maintaining upside exposure.
Given the large size of the trades, it is safe to say that this transaction represents institutional money. Institutional money is usually smarter, thus worth following. In summary, the recent options activity points to more upside ahead for PSX over the short-term.
Brent/WTI Spread
In addition to bullish options activity, another reason why I was bullish on PSX previously was the Brent/WTI spread. Since my initial piece, as shown by the chart below, the Brent/WTI spread has continued to widen. The widening of this spread is good for all refiners including PSX.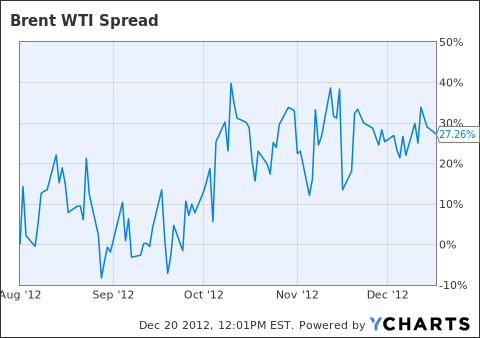 Brent WTI Spread data by YCharts
Conclusion
Right now, given the bullish options activity, widening of the Brent/WTI spread, and lack of response in PSX shares following a lot of good news I am remaining bullish. I expect the stock to make new highs soon. The major risk to my thesis, and a development that would change my outlook, would be a tightening in the Brent/WTI spread.
Disclosure: I have no positions in any stocks mentioned, and no plans to initiate any positions within the next 72 hours. I wrote this article myself, and it expresses my own opinions. I am not receiving compensation for it (other than from Seeking Alpha). I have no business relationship with any company whose stock is mentioned in this article.