The results from Japan's general election on Sunday, December 16 may be a bellwether event for nuclear power. In a landslide win, Japan's Liberal Democratic Party claimed 294 out of the 480 seats in the lower house of the Diet Sunday, defeating anti-nuclear opponents with a platform focused on economic issues and foreign policy.
The Global X Uranium Exchange Traded Fund (NYSEARCA:URA), which tracks a number of global companies operating in the sector, is up 9.65% since the election results.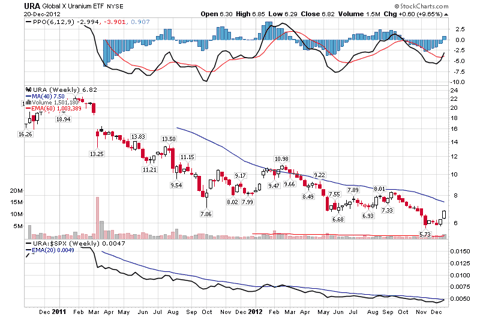 Rob Chang of Cantor Fitzgerald Canada commented:
"We view the Japanese election results as a catalyst for the uranium market because it is the strongest indication to date that Japan will return to meaningful nuclear electricity use. With the Russia-U.S. highly enriched uranium agreement drawing to a close at the end of 2013 and removing about 24 million pounds of uranium from the market, Cantor Research forecasts a continuous uranium supply deficit for many years."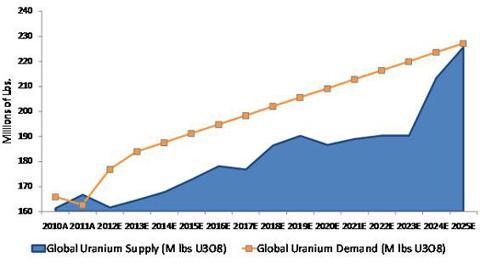 Source: Cantor Fitzgerald Research
In this article, I will feature two uranium companies that could benefit from these fundamentals. Both of these companies have also seen insider buying during the last 30 days.
1. Cameco Corporation (NYSE:CCJ) operates as a uranium producer, supplier of conversion services, and fuel manufacturer. The company''s Uranium segment is involved in the exploration for, mining, milling, purchase, and sale of uranium concentrate.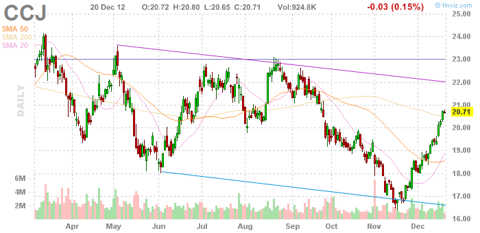 Insider Buys
Tim Gitzel purchased 5,000 shares on December 18 and currently holds 33,173 shares, or less than 0.1% of the company. Tim Gitzel was appointed chief executive officer of the company on July 1, 2011.
Ian Bruce purchased 25,000 shares on December 17 and currently holds 75,000 shares, or less than 0.1% of the company. Ian Bruce serves as a director of the company.
Financials
The company reported third-quarter financial results on October 31 with the following highlights:
| | |
| --- | --- |
| Revenue | $408.4 million |
| Net income | $81.6 million |
| Cash | $663.9 million |
| Debt | $858.7 million |
Outlook
Cameco remains confident in the long-term fundamentals of the nuclear industry as world demand for safe, clean, reliable and affordable energy continues to grow. Nuclear energy remains an integral part of the energy mix, demonstrated by the 64 reactors under construction today.
The company's current view is that over the next decade (to 2021), there will be 80 net new reactors, compared to the 95 previously anticipated. Most of this change is due to the retirement of some reactors and new reactor builds being pushed out beyond the 10-year period. As a result,Cameco has revised its cumulative world uranium demand forecast to 2.1 billion pounds for that period, down 50 million pounds from its previous expectation.
Given this expected near-term decrease in demand, the company examined its portfolio of projects to determine if it should adjust the timing of development for them. From this review, the company has decided to focus primarily on advancing its brownfield projects, while deferring development of its greenfield projects. However, the company will undertake some measured activity to preserve the option to bring on these greenfield projects as quickly as possible should market conditions warrant doing so. In addition, Cameco will advance its arrangement with Talvivaara and pace the expansion projects at Inkai. By taking these actions, the company expects to achieve about 36 million pounds of annual supply rather than 40 million pounds by 2018.
The company is expecting 2012 uranium production to be 21.7 million pounds.
News
Cameco announced on December 18 that it has completed the acquisition of the Yeelirrie uranium project in Western Australia for $430 million. Yeelirrie is one of Australia's largest undeveloped uranium deposits, and is located about 650 kilometers northeast of Perth and about 750 kilometers south of Cameco's Kintyre exploration project.
My Analysis
The stock has a $13 price target from the Point and Figure chart. There have been two insider buy transactions, and there have not been any insider sell transactions during the last 30 days. There are six analyst buy ratings, three neutral ratings and 0 sell ratings with a average target price of $28.00. The stock is trading at a P/E ratio of 16.59 and a forward P/E ratio of 14.81. The company has a book value of $12.51 per share, and the stock has a 1.97% dividend yield. I have a cautiously bullish bias for the stock based on the fundamental picture.
2. Laramide (OTCPK:LMRXF) is engaged in the exploration and development of high-quality uranium assets based in Australia and the United States.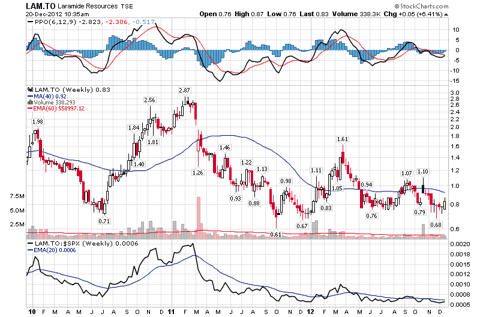 Insider Buys
Paul Wilkens purchased 40,000 shares from November 30-December 3 and currently holds 101,000 shares, or 0.1% of the company. Paul Wilkens serves as a director of the company.
Marc Henderson purchased 175,000 shares from October 17-November 13 and 135,000 shares from June 20-August 23. Marc Henderson currently holds 6,101,712 shares, or 8.6% of the company. Marc Henderson serves as a director of the company.
Greg Ferron purchased 10,000 shares on August 24 and currently holds 82,400 shares, or 0.1% of the company. Greg Ferron is Vice President of Corporate Development and Investor Relations.
Financials
The company reported third-quarter financial results on October 26 with the following highlights:
| | |
| --- | --- |
| Revenue | $0 |
| Net loss | $0.5 million |
| Cash & Investments | $9.0 million |
| Debt | $4.7 million |
Outlook
The company's main focus is the advancement of its flagship asset, the Westmoreland Uranium Project in Queensland, Australia. Westmoreland is ranked as one of the 10 largest uranium deposits in Australia, and only one of a handful in the world not under the control of a major mining company. Laramide has more than 60+ million pounds of uranium oxide in NI 43-101 compliant resources at its wholly-owned projects located in Australia and the U.S. The projects are:
La Sal project
Historical reserve of 2.7 million pounds of U3O8 (non-compliant with NI 43-101)
Production potential of 400,000-500,000 pounds per annum
Rehabilitation, underground exploration and small scale production/metallurgy testwork to commence in Q4 2012
Commercial production anticipated in 2013
Churchrock Royalty
Royalty covers several separate parcels of mineral leases including Uranium Resources' (NASDAQ:URRE) Section 8 lease in the Churchrock area (6.5 million lbs U3O8)
Feasibility Q4, 2012
Construction in late 2013
Production 2013/2014
La Jara Mesa Project
The project has a mineral resource estimate of 10.4 million pounds of uranium
Production 2014
Westmoreland Project
Total resource of 51.9 million pounds of uranium
Mine life is expected to be 11 years with potential to increase to more than 15 years following further resource/reserve drilling
Production 2016
My Analysis
The stock is currently trading below the 200 day moving average. There have been three different insiders buying and no insiders selling the shares during the past six months. The company expects to begin commercial production in 2013 at its first uranium mine, with three additional mines following in 2014-2016. I have a cautiously bullish bias for the stock based on the insider trading activity.
Disclosure: I am long URRE. I wrote this article myself, and it expresses my own opinions. I am not receiving compensation for it (other than from Seeking Alpha). I have no business relationship with any company whose stock is mentioned in this article.