The rivalry between Microsoft (NASDAQ:MSFT) and Apple (NASDAQ:AAPL) is now almost thirty years old. And it seemed to be over the day Steve Jobs presented the iPhone to the world. From that day forward, Apple has been writing the rules of the game, increasing its market share in internet enabled devices and with the introduction of the iPad put low-end laptops into the history books.
Then the impossible happened. Microsoft released Windows 8. This fantastic piece of software has something that we haven't seen from Microsoft since Windows 95. Brilliance.
Before you start yelling, laughing or having whatever extreme emotional reaction, let me explain to you how Windows 8 will probably conquer the majority share of the internet enabled devices once again. Now, let's see some of the reasons why Windows 8 is a game changer.
1) It's Cool
If you haven't tested a Windows 8 tablet yet, I suggest you read this extensive review and go test it as soon as possible. It's the only way for you to understand how big this paradigm shift is for Microsoft. It has eventually, a really cool customer product that is even more innovative and fluid than Apple's iOS.
It is also more gamer friendly. Windows 8 tablets don't rely only on tablet specific apps that third parties will provide. Depending on their hardware they will be able to run almost every application that was created for desktop PCs! Especially now that Intel's new Haswell processor series arms tablets with the necessary power to play modern low or medium end PC games.
2) It Enhances Productivity
In contrast with every other operating system that's available for tablets, Windows 8 hasn't lost the practicality of its predecessors. It has enhanced it instead with new features like multitasking and multiple screen connectivity.
And with solutions like the new Dell XPS 12, Microsoft will win over a lot of people and businesses that value tablets but also want to use them as a tool for their work.
3) It's Familiar To PC Users
Every person that is using a windows desktop is more likely to buy a windows tablet for a variety of reasons. The three most important ones are:
Customer familiarity with the interface and the overall structure,
Device and software compatibility and
The new Windows ID. This ID work similarly to Apple's and allows users to (through the cloud) have the same interface and files on every Windows 8 device they have.
4) It Will Eventually Enjoy The Greatest Third Party Support
Since a lot of companies are going to manufacture and market Windows 8 devices, its only reasonable that there will be a Windows 8 tablet/laptop/desktop/server to service every possible need consumers or businesses have. And due to competition these devices will only get better.
For the same reason it's only reasonable to assume that soon enough will have a big enough app ecosystem that will nullify the advantage Apple derives from the iTunes Store.
The Impact on Apple
And now let's get to the chase. How is all of the above going to affect Apple? Well, they won't. There is a big misconception about Apple since the iPhone's release. Many people think that Apple has become a mainstream company. However, Apple never was nor is a mainstream company. Apple always targeted a specific audience. The high-tech style-conscious audience that was willing to pay up in order to buy Apple's beautiful, intuitive, innovative and pricey products.
Apple's market share in the PC & Tablet market grew from 5% to almost 15% mostly due to the introduction of the iPad. This is because Apple was the first one in the tablet market (actually it created it). I believe that its market share in this market will reach 25% tops and the rest will be divided between Windows and Android tablets.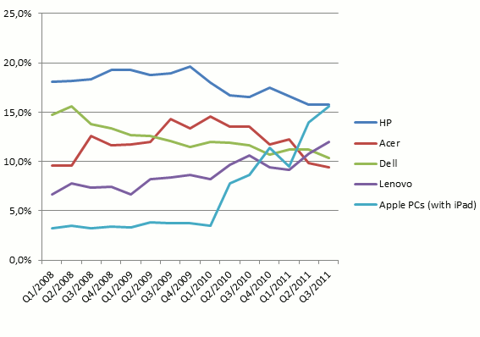 Source: appleoutsider.de.
And that's fine if you ask me. Apple can't always be on the lead of innovation. In fact after Samsung's (OTC:SSNLF) Galaxy SIII and Windows 8 it may have fallen behind already. But this doesn't matter, because as long as Apple builds products that address the needs and the desires of its core audience it will keep making boatloads of profit through renewals and the expansion of the market itself. And that means double digit growth for quite some years ahead!
I believe that both stocks are a buy for every investor who wants to participate in the secular change that's happening in the PC and cellphone markets. Microsoft as the standard OS provider for PCs and tablets, and Apple as a high-end luxury brand that will command a more sophisticated part of the market.
What do you think? I'd love to read your comments on this.
Disclosure: I have no positions in any stocks mentioned, and no plans to initiate any positions within the next 72 hours. I wrote this article myself, and it expresses my own opinions. I am not receiving compensation for it (other than from Seeking Alpha). I have no business relationship with any company whose stock is mentioned in this article.