When researching oil companies as long-term investments, it seems like every company has been a big winner over the past decade or so. As I mentioned in a previous article, an investment of $10,000 in Exxon Mobile (NYSE:XOM) 10 years ago would be worth $105,943 today. However, as we know all too well, past performance, while useful for things like predicting the likelihood of dividend increases, does not necessarily indicate future gains. The question is: which of the major oil companies is the most attractively valued currently. A case can be made for several companies, however I believe that Chevron (NYSE:CVX) is the best bargain right now.
Chevron is the second largest U.S. oil company to Exxon Mobil, and the fifth largest in the world. The company has interests in exploration, production, refining, marketing, and petrochemicals. At the end of FY 2011, Chevron owned 8 refineries and had interests in 7 international refineries, for a total capacity 1.967 million barrels per day. The company is actively reducing its refining operations, having exited 27 countries since 2005. Instead, the company plans to focus its effort on upstream projects with higher margins.
The company has steadily risen in price over the past decade, with a small correction after the oil peak of 2008. The stock has since risen beyond the highs reached then, and is one of the best performers in the industry.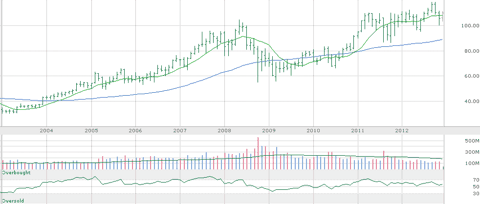 In addition, the company has raised its dividend each and every year during the same time period, from an annual payout of $1.40 per share to the current annual rate of $3.60. This is almost a 12% annual increase on average, and with the consistency of the increases as shown in the graph below, there is an extremely good chance this trend will continue going forward.
Now, why do I think this is more attractively valued than its peers? Chevron trades at only 8.6 times 2012 earnings, compared with 9.35 for Exxon. When backing out the company's' cash on hand, CVX trades at 7.6 times earnings as opposed to 9.04 for XOM. Analysts expect CVX to grow its earnings at a 10% annual rate, which is a very good growth rate for a company trading at such a low multiple.
The company also pays a higher yield. Chevron is currently yielding 3.34% as opposed to Exxon's 2.28%, and as mentioned before, the dividend has been raised like clockwork every year. In addition to the nice yield, Chevron is very active in buying back shares, reducing the number of shares outstanding by approximately 50 million since 2008.
So, what is the goal? The average 1-year target price is $123.26, which is approximately 15% above the current price. However, I believe this to be a bit conservative as the historical P/E ratios for Chevron are between 9 and 11 times earnings, on average. Using the middle of this range, based on projected 2013 earnings of $12.57, I arrive at a 1-year target of $125.70, making this great dividend stock a nice bargain at current levels.
Disclosure: I have no positions in any stocks mentioned, but may initiate a long position in CVX over the next 72 hours. I wrote this article myself, and it expresses my own opinions. I am not receiving compensation for it (other than from Seeking Alpha). I have no business relationship with any company whose stock is mentioned in this article.