One major reason for the success of Exchange Traded Funds (ETFs) is they are designed to closely track popular benchmarks such as the Dow Jones Industrials or the Standard & Poor's 500. They save the investor the headache of "being right on the market but wrong on the stock!" As an example, today the iShares Dow Jones Transportation Average Index Fund (NYSEARCA:IYT) is up 0.35%. But United Parcel Service (NYSE:UPS), one of the better known components, is down nearly 1%. That's what Brown can do for you!
The Dow Jones Transportation Average, like all the Dow Jones Averages, is equal weighted. You add up the share prices of the twenty companies in the index, and divide by...well, if you thought you divided by twenty, as a math teacher I am forced to thwack! your knuckles with a ruler.
Shame on you. How could you not know you end up dividing by (drum roll, please...) 0.183371570? Why? Over the years stock splits, spinoffs, stock dividends, and substitutions have required Dow Jones to adjust that denominator (you did know it was the denominator, didn't you? Don't make me thwack you again), so that the average would remain a continuous and meaningful data series over the years.
Oddly enough, IYT, the ETF that tracks the Dow Jones Transportation Average, is not an equal weighted portfolio. Rather, it is capitalization weighted. In layman terms, it means the importance of each company's stock price in this index differs. In the case of IYT, Union Pacific (NYSE:UNP) has nearly 13% of the weight; at the other end Jet Blue Airways (NASDAQ:JBLU) carries only about 1% of the weight. A big day for UNP would move the transport ETF a large amount. A big day for JBLU would barely move the turnstile.
This is of concern to traders and investors because the performance of equal weighted vs capitalization weighted portfolios or ETFs can differ:
The performance of "cap weighted" indexes may be dominated by those companies who carry a lot of weight. Just ask owners of PowerShares QQQ trust Series ETF (NASDAQ:QQQ). The large weight of Apple Inc. (OTC:APPL), over 18% of the ETF's holdings, is the major reason for its poor performance in recent weeks.
In contrast, "equal weighted" indexes give more oomph to the smaller companies.
So what on earth happens when a "cap weighted" ETF tries to track an "equal weighted" index?
Fortunately, with IYT, the discrepancy seems minimal. As the chart below illustrates, over the last five years, the IYT has tracked its Dow Transport bogey with remarkable accuracy: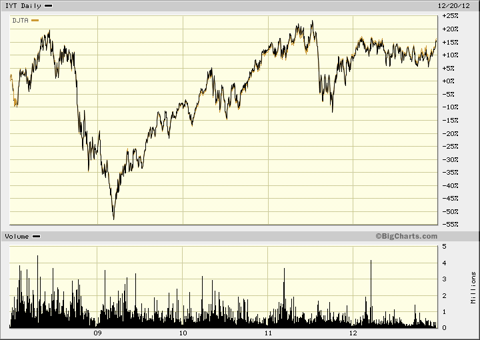 source: bigcharts.com
You can barely see any distance between the yellow Dow Jones Transports and the black IYT. Over the past 12 months you can see some differences, but this is due in large part because the vertical scale is smaller; and day-to-day factors briefly affect individual holdings: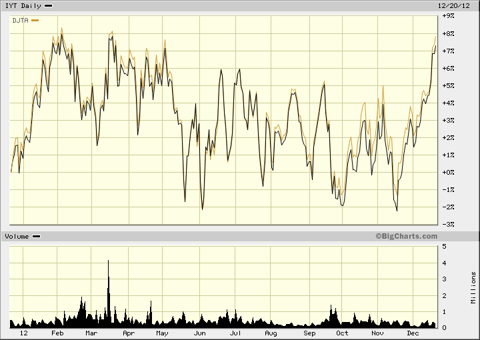 Thus for investors in IYT, the possible tracking error caused by one or two companies dominating ETF performance appears to be one headache they need not endure. Given this advantage and the importance of the transport sector to the USA and world economy, placing some of your investment funds in IYT would provide diversification and improve returns for many investors.
Disclosure: I am long IYT. I wrote this article myself, and it expresses my own opinions. I am not receiving compensation for it (other than from Seeking Alpha). I have no business relationship with any company whose stock is mentioned in this article.
Additional disclosure: No knuckles were abused in the writing of this article. Some Nuns were disciplined for poor investment performance.