The recent announcement that the Joh A. Benckiser Group is buying out Caribou Coffee (NASDAQ:CBOU) for approximately $340 million is causing quite a stir among the coffee crowd. The announcement came that Benckiser offered $16 per share in the buyout deal, which was a 30% premium to the pre-announcement price of $12.32. This is not Benckiser's first move into the coffee segment, as it previously took over Peet's Coffee and Tea (NASDAQ:PEET), and more recently boosted its stake in Dutch company D.E. Master Blenders 1753 to 15%. Moving into the coffee segment certainly makes sense, given the profitability and relatively inelastic demand. However, what remains to be seen is if this move will truly create an organization capable of challenging Kraft Foods Group (KRFT), Starbucks (NASDAQ:SBUX), or even Green Mountain Coffee Roasters (NASDAQ:GMCR) in the battle for coffee supremacy.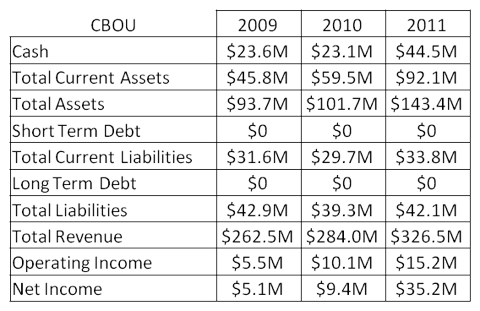 Caribou was an obvious takeover target, as the company was continuously profitable and carried no debt. Over the past three years, current assets more than doubled to over $92 million, while total assets increased 53% to over $143 million. Seeking Alpha Contributor Robert Broens states that there is the possibility that the offer price could be revised upwards, and given the valuation numbers outlined in his article, there could be some merit to the thesis. Regardless, it is not likely that this idea should really be considered by anyone except those who already held the shares. Those holding the shares could see an additional benefit if the offer is later revised while only risking the few cents above $16 that the stock has fluctuated each day. Purchasing the shares now is not especially likely to result in a huge gain unless the offer is revised significantly upwards towards the 52-week high.
The question becomes how can an investor position themselves to get ahead of the next move in this segment?
Reuters reports that Benckiser is more focused on acquisition and consolidation as opposed to building any specific brand. The acquisition of Peet's and Caribou represents a move into both coffee products as well as retail locations, and Starbucks clearly dwarfs the other major players with respect to both number of retail locations and market capitalization. Some may point to McDonald's (NYSE:MCD) as a competitor, but its business is not really based on coffee sales. Dunkin' Brands Group (NASDAQ:DNKN) or Krispy Kreme (KKD) are likely a better comparison, despite the fact that coffee is really an accompanying item sold with their core products. Some of the other companies, such as Green Mountain Coffee Roasters, could offer additional exposure into the coffee market, but given the recent doubling of its stock price and uncertainty in its performance I think it is unlikely that anyone would look at that company as a target for at least a couple more quarters. Likewise, I believe it is unlikely that Kraft Foods Group or Nestle would be likely to divest their assets in the coffee segment given their continued profitability.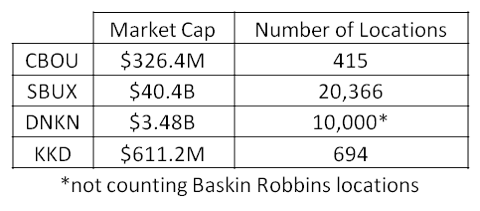 The table at the right puts into perspective the number of locations when compared to the market cap of each company. Purchasing Caribou for $320 million provided over 400 retail outlets as well as access to all other lines of business. Starbucks is clearly an international behemoth, and for our purposes, most probably the immovable object. Krispy Kreme and Dunkin' Brands present the most likely opportunities for further expansion when we consider both cost and additional business lines. This is, of course, assuming that any focus will be on building additional exposure to the retail outlet segment and not just general acquisition within coffee sales.
Dunkin' Brands consists of outlets under both the Dunkin' Donuts and Baskin-Robbins banners. For those not familiar with the brands, Dunkin' Donuts is a seller of donuts and pastry type snacks, and a significant portion of its business consists of sales of hot and cold coffee-based beverages. Baskin-Robbins is an ice cream retailer specializing in hard-serve ice cream. In total, Dunkin' Brands operates approximately 10,000 Dunkin' Donuts outlets and 7,000 Baskin-Robbins stores. Although Baskin-Robbins is not really a coffee-related business, it does provide some additional profits in a business with a similar model. With earnings projected to grow at a continued steady pace for the next several years, the company has certainly become profitable. However, anyone looking into an acquisition target would have to consider both the fact that the company carries nearly $1.5 billion in long-term debt as well as the large price tag. The counter-argument, of course, is the sheer number of locations and the market presence such an acquisition would provide. Any company considering this brand would probably do well to recognize the value in the Dunkin' name itself, as its ground coffee is also marketed through other retail and grocery outlets in addition to its own stores.

Krispy Kreme operates nearly 700 outlets, and its primary product is the glazed donut and variations. It also sells coffee as an additional product, although in certain Northeastern markets, its coffee has not been noted as impressive. Krispy Kreme has worked to expand rapidly following its IPO, and some of the numbers need to be considered with respect to this fact. According to its balance sheet, Krispy Kreme carries only $26 million in debt with nearly $50 million on hand in cash. Although Krispy Kreme does offer its own brand of coffee, it hardly has the market presence of Dunkin' Donuts or Starbucks. As a result, acquiring rights to market an existing premium coffee brand through its outlets could be another alternative to a complete acquisition. For example, much like Starbucks partnered with Green Mountain to market Starbucks-branded K-cups, Benckiser could broker a partnership allowing Krispy Kreme to sell Caribou or Peet's coffee products with its donuts.
Another potential alignment that Seeking Alpha Contributor Bill Maurer discusses is Starbucks buying out Green Mountain. In his article, he describes many positives and negatives related to such a deal, however, it is my opinion that Starbucks would not benefit as much by rebranding Green Mountain's Keurig brewers under the Starbucks Verismo line. I believe that Keurig already has the name recognition needed to remain a market leader in the single serve home segment, and that any suitor would do best to leave the names as they are and simply pocket the related profits.
The Bottom Line
Analyzing this sector shows that potential exists for further acquisitions or strategic partnerships as companies seek to capitalize on the demand for coffee-based beverages. This is not really in question. What is open for debate is which company makes the next move, and what move does it make?
Disclosure: I am long MCD. I wrote this article myself, and it expresses my own opinions. I am not receiving compensation for it (other than from Seeking Alpha). I have no business relationship with any company whose stock is mentioned in this article.
Additional disclosure: I have been trading weekly options in GMCR to capitalize on volatility in this stock. At this point I have no open positions, but may open and/or close them as market opportunities occur.