One of the most popular exchange-traded funds used by covered call writers is the Powershares Qqq Trust, Series 1 (QQQ). It consists of a basket of 100 of the largest non-financial stocks listed on the Nasdaq exchange. Most ETFs have a low implied volatility when it comes to selling options because they consist of numerous equities and the price movement of some offset that of others. However, because the securities in the Qs are technology-based, they tend to have a decent implied volatility despite the fact that they are part of a broader range of equities. This is appealing to cover call writers. As the December option contracts expire, I am writing this article as the market is closing the day prior to expiration and we will evaluate our covered call writing possibilities for the 1-month January contracts. Below is an options chain we will view as the price of this security stands @ $66.35: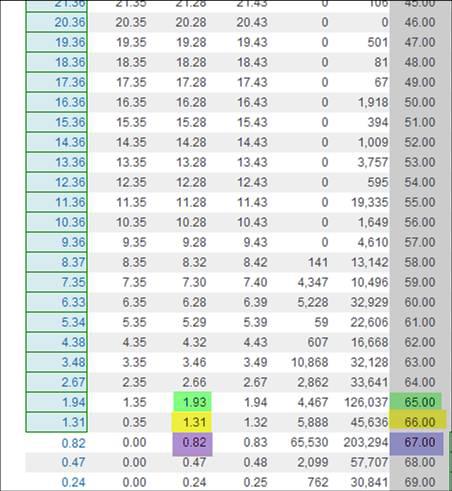 Green: In-the-money $65 call
Yellow: Near-the-money $66 call
Purple: Out-of-the-money $67 call
The corresponding "bid" prices are highlighted.
Next, let's feed this information into the "single tab" of the Ellman Calculator (for a FREE copy go to the "free resources" link on my web site):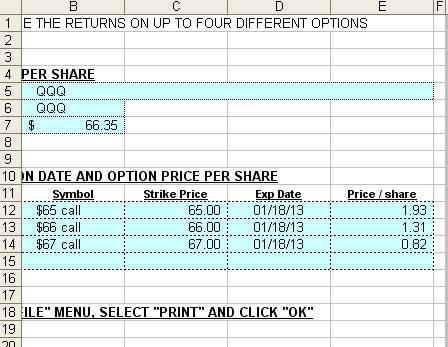 Calculation results:
ITM $65 call:
Initial return = 0.9%/ 11.3% annualized
Downside protection of initial return = 2% (different from breakeven)
ATM (near-the-money) $66 call:
Initial return = 1.5%/ 18.9% annualized
Downside protection of initial return = 0.5%
OTM $67 call:
Initial return = 1.2%
Upside potential = 1%
Total possible annualized return = 27.7%
In bearish or volatile market environments I tend to favor ITM strikes with the additional downside protection they offer. In bull markets, I favor OTM strikes where the upside of share appreciation gives the opportunity of huge monthly gains.
Disclosure: I have no positions in any stocks mentioned, and no plans to initiate any positions within the next 72 hours. I wrote this article myself, and it expresses my own opinions. I am not receiving compensation for it. I have no business relationship with any company whose stock is mentioned in this article.