I'm not a technology geek and although I understand how the semiconductor industry works, I get lost sometimes looking at technical details. That's why I'm not going to delve into how technologically superior Intel (NASDAQ:INTC) is or isn't to its competitors. Instead I'm going to show you, from a business perspective, how structurally superior Intel's position is within the semiconductor industry. And I'll also show you how great Intel's growth potential is.
1) Tick-Tock.
The tick-tock strategy is Intel's new way of making R&D advancements predictable and frequent. What Intel has done is to organize its research in two main programs, silicon and microarchitecture. In addition, it synchronized them in two-year cycles whose results don't coincide in the same year.
For example, in the end of 2009 there was a "tick" and Intel advanced from the 45nm structure to 32nm without changing its microarchitecture and although its designs remained the same, its chip performance was enhanced because it was able to put more transistors in every chip. The next year was a "tock" which means that a new microarchitecture design came along (Gesher) and enhanced chip performance without further change in the number of transistors per chip.
(click to enlarge)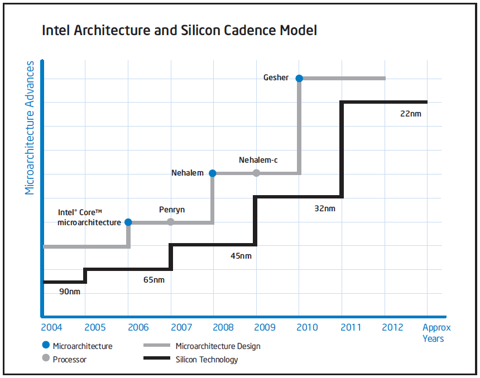 (Source: Intel Architecture and Silicon Cadence, by Intel)
This way Intel is able introduce better products every single year leveraging its great strengths, its huge R&D program and its manufacturing scale and expertise.
With this strategy Intel is killing slowly its competition from other foundries which can't keep up with Intel's pace of introducing new silicon technologies. ARM may design the best chips in the world (though I think it's not) but that is meaningless if there are no foundries able to built them.
Taiwan Semiconductor Company (NYSE:TSM) is the largest foundry business in the world and Qualcomm's (NASDAQ:QCOM) main supplier, will begin 16nm production sometime in 2014 to 2015, Global Foundries which is the second largest will start 14nm production in 2014. Intel on the other hand, will begin 14nm production one year sooner in 2013 while preparing under the tick-tock strategy for 10nm production in 2015.
Keep also in mind that for TSM and Global Foundries this is their first attempt to create 3D transistors using the FinFET technology, while Intel was the first to introduce such transistors in 2011.
2) PCs Are Not Going Away
They may evolve so that All-in-One computers become the new desktop standard, and hybrid tablet-notebooks like the new Dell XPS 12 Convertible become the new standard laptop, but they are not going to disappear any time soon.
Of course, netbooks will disappear and low end laptops will probably be replaced with tablets as well, but you can't do everything on a 10'' screen and a low-end processor. Ten years from now, people will still need a PC-like device to write, create spreadsheets and presentations, play high-end games, process videos and music, design products or houses and do many other things, either for work or fun.
And don't forget the server and cloud markets. Those markets are rapidly expanding, along with the use of mobile internet devices and that means more and more demand for Intel's high-end models.
3) Mobile Internet Devices
The sixth and latest smartphone with "Intel Inside", the Motorola RAZRi Intel is showing that Intel can compete and claim a share of the smartphone market. Furthermore, Intel's LTE-compatible chips are coming in next year, allowing for more Intel-powered phones out there. But the majority of growth for Intel isn't coming from smartphones, at least for 2013, but from tablets.
Tablets are the new low-end laptops, and Intel may conquer them as it conquered the PC world. There are two starting points for Intel to do this, Windows 8 and it's next generation of processors.
Windows 8 is a game changer for the tablet world. It transforms tablets from a fun only device to a full productivity solution when you are on the move. It connects seamlessly with the already existing Windows ecosystem, so many people that haven't bought a tablet yet but have a PC will be closer to buy a Windows powered tablet than any other.
Leaving the familiarity issue aside, it also seems that Windows 8 are overall a better operating system than Google's (NASDAQ:GOOG) Android and Apple's (NASDAQ:AAPL) iOS. Add also the fact that anyone can design a tablet with Windows 8 and we may see Microsoft (NASDAQ:MSFT) and Intel conquer the mobile world the same way the conquered the PCs, outpacing everybody else. But, that's not going to happen tomorrow.
In the immediate future Intel has a powerful weapon coming in 2013: Haswell. With Haswell, Intel introduces three powerful features that lower the power consumption of its CPUs and increase its performance.
Intel has built inside its CPUs a special processing unit, called "Power Control Unit". Bellow there's an excerpt from a PCWorld article by Loyd Case explaining how good its upgraded version works in Haswell:
[...] Intel can manage power almost to the transistor level by using a special processing unit built directly inside the main CPU--Intel calls it the Power Control Unit. The PCU looks at which parts of the processor aren't being used, and can turn individual parts on and off as needed.

The problem, though, isn't putting parts of the CPU to sleep. The problem is waking up the processor fast enough to be useful. [..]

The solution in Haswell is to add a third power state, something Intel designers call "Active Idle." Active Idle, also labeled SOix, is an extremely low-power active state that uses 20 times less power than Ivy Bridge. The PC system itself thinks it's awake, but the CPU is still mostly asleep. This trick translates into wake times of, at worst, a few hundred milliseconds. [...]
The second feature is Branch Prediction. In a few words, it is a way for the CPU to expect what work is coming and use its resources more efficiently, reducing power consumption and increasing performance. Here is how it works from the same article as above:
[...] One trick is branch prediction, which lets the CPU peek ahead to see which instructions are likely to be executed in the near future. If the CPU knows which instructions will be coming down the pipeline, it can be much more efficient about allocating CPU resources, turning on only parts of the CPU that are needed. [...]

Also, the more work a CPU can do in a single cycle, the better the performance at the same power usage. So Intel added the ability to do two floating point multiply-adds every clock cycle, doubling the performance throughput over Ivy Bridge for the same power usage. [...]
Last but not least, comes Haswell's advanced graphics core. It is so powerful t

hat it could bring, thro

ugh Windows 8, modern PC games into tablets! That would expand tablet demand significantly as it would now become a high end portable gaming console! From the same article:
[...]While Haswell's 3D graphics engine is substantially improved over past Intel efforts, desktop PC users will likely still want high-end discrete graphics cards for best PC game performance. But Haswell's graphics core will make extremely thin Ultrabooks respectable gaming platforms, and the new GPU opens up possibilities for modern PC games running on Haswell-based tablets.
4) Valuation
In my previous article about Intel I argued that Intel's worth is around $32 to $36 per share. I urge you to read the full analysis, but here are the basic points anyway:
Its robust financial position, its ample FCF generation and its $2 cash per share does not justify a 4.3% dividend yield but a 2.5% one. That puts Intel's value at around $36.
Even at it's mediocre 4% 10year growth rate Intel should have a P/E multiple of 14 at least. And achieving this growth rate is pretty easy even if takes only a small share of the smartphone-tablet market. That puts Intel's value at around $32.
Timeline
It is only reasonable to expect that Intel won't conquer the world tomorrow, but I expect 2013 to be a crucial turning point for Intel's mobile strategy. My expectations are mainly based on the potential that Windows 8 and Haswell have in the tablet market.
What do you think? I'd love to hear your comments on this.
Disclosure: I am long INTC. I wrote this article myself, and it expresses my own opinions. I am not receiving compensation for it (other than from Seeking Alpha). I have no business relationship with any company whose stock is mentioned in this article.