Invensense (NYSE:INVN) had a bumpy ride this year. Some issues have significantly deflated the price, which were in my opinion not worthy of such a decline. The company is a leader in micro-electro-mechanical systems (MEMS) gyroscopes for motion tracking devices in consumer electronics.
Revenue growth rates have been outstanding, with a 127% CAGR in the last five years. And the company continues to deliver with above average growth rates in revenue and income. Rise in key metrics and a fall in price have made its valuation look cheap, with a PEG ratio of 0.72. Current PE is 29.26, and Forward PE is 15.23, according to Finviz. Also, the company has almost no debt, and a substantial cash position.
Revenue and EPS grew 28% and 7% in the most recent quarter. Those numbers are on the low side of recent growth rates, and have surely been affected by the supply constraints from Qualcomm (NASDAQ:QCOM). The company guided a 40% rise in revenue and 70% rise in EPS for the third quarter of fiscal 2013.

Two things had the most impact on the stock price on the downside. The first one was supply constraints from Qualcomm, especially shortages related to the 28 nanometer technology. The second was the departure of the founder and CEO Steve Nasiri. Although both issues are not marginal, I think that the investors have worried about it too much. The supply constraints are expected to disappear by the year end, and the CEO replacement, Mr. Behrooz Abdi, has been with the company for 18 months, and has been prepared to take over the responsibilities. He has a very good bio, having served as Senior Vice President and General Manager of CDMA Technologies at Qualcomm, Inc., and as Vice President and General Manager for Motorola's radio products division.
Another issue is the legal action with STMicroelectronics for patent infringements, and the case remains in its early stages. Invensense is the defendant in that case, and has brought its own counter claim against ST for alleged infringement of two investment patents.
Smartphone and tablet markets remain the largest growth opportunity for the company. Recent products which include Invensense's parts are Samsung Galaxy S3 LTE smartphone, Amazon (NASDAQ:AMZN) Kindle Fire HD tablet and Google (NASDAQ:GOOG) Nexus 7 tablet. Invensense has most of the major smartphone and tablet players, with exception of Apple (NASDAQ:AAPL), but it was noted in the October conference call that the company aims to serve all the major players, hinting at possible negotiations with Apple, so it would be a huge win for the company if they could become an Apple supplier.
The company is also looking to diversify into other markets. One potential new market is optical image stabilization in still cameras and camera modules for smartphones. The company is seeing strong customer interest in camera modules for smartphones and expects to see those phones in the market in the first half of 2015. Other potential new markets are industrial and wearable sensors, where the company is a leader with integrated multi-axis products, software solutions and reference designs. These two potential new markets could be a strong driver of future growth for years to come.
Price action has been muted recently, after falling more than 50% from its all time high. The stock appears to have bottomed and is possibly building a right side of the base. A relatively high short interest of 16.90% and short ratio of 7 days (source Yahoo Finance) could provide fuel for the rally.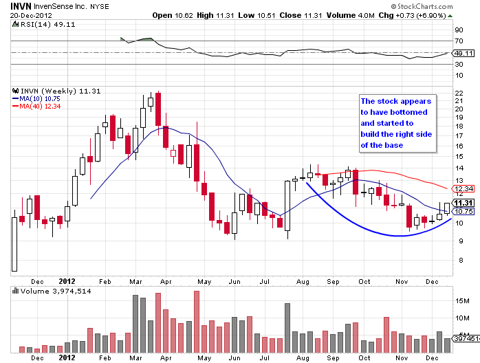 Summation
Invensense has outstanding fundamentals, and presents a growth and value opportunity at the same time. Low PEG ratio of 0.72, forward PE of 15.23, and new potential markets and customers provide compelling arguments for the great story of Invensense. A high short interest could fuel the stock higher, especially if the company follows through with the next quarter results.
Disclosure: I have no positions in any stocks mentioned, but may initiate a long position in INVN over the next 72 hours. I wrote this article myself, and it expresses my own opinions. I am not receiving compensation for it (other than from Seeking Alpha). I have no business relationship with any company whose stock is mentioned in this article.