It was a bit over a month ago that I wrote an article for the younger investor who has; a long-term horizon, a good job, investable cash, and an income that can fund a dividend growth portfolio for retirement. This article was laughed at and I was mocked. Personally I believe most of the commenters did not bother reading the entire article.
Well, now it is time to add another "coulda, woulda, shoulda" stock to this portfolio: Yahoo! (NASDAQ:YHOO)
This Portfolio Is Flexible
Given the profile of this investor and their age, this portfolio can be much more flexible. Since this is a growth for wealth approach, the savvy young investor could swing out of stocks and into others to build momentum as well as strong growth potential.
Since that is what we are shooting for here, we will add Yahoo (same dollar investment) for its potential capital appreciation.
Yahoo: Price: $19.63/share, ESS Rating: Neutral
This much maligned company has never delivered on its promise. Potential is a word used in sports quite often, especially when a sports figure fails to live up to their "potential".
Amazingly, Yahoo! still has potential. It does not age like a sports figure, and the company can continue to attempt to reach its potential with every new CEO and management team they bring in. Time will tell if the company reaches its potential, but I feel that in a portfolio such as this, the price might be cheap enough for our prototype investor to add to our "Young and Restless" portfolio.
Some Basic Fundamentals
It seems like every month there is another story about Yahoo being bought out, or merged with, or split up, or going bankrupt. the buzz around yahoo has been non stop for as long as I can remember.
There are interesting facts to look at, so let's begin with this chart:
Book value has grown from the start. Revenues per share has remained stable to flat. Earnings has fluctuated but has just popped. The share price has basically languished for the last 5 years.
For a technology/internet stock, the share price is selling for a 50% premium to book value which is rather low in my opinion.
The company has about $8 billion in cash and only $35 million in debt.
Institutions own about 75% of all outstanding shares.
The profit margin sits at a lofty 80%.
A forward P/E ratio of about 17.
Just by the fact that the company has virtually no debt and oodles of cash, they have many options. One of which is to be bought out by another company that likes what Yahoo has to offer. It is no secret that Yahoo! Finance and Yahoo! Sports, etc. are highly respected "go to" sites on the web. As noted in this article back when there were rumors of a Google acquisition of Yahoo:
"Content: The other half of the We're-not-Google mantra was a "We're a media company" message that Yahoo backed with partnerships and acquisitions.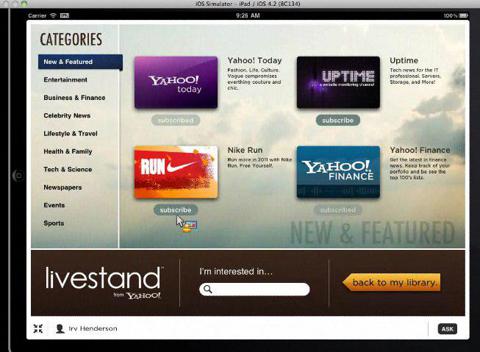 Going after the likes of AOL, Yahoo stepped up its game in original content - not just YouTube style snippets that Bartz was fond of - but also original news. Remember that news has always driven advertising and Yahoo has millions of eyeballs visiting the site daily. Bartz wanted to make sure that the content they see - both news and advertising - on login and logoff pages, as well as other strategic locations, kept them on the site as long as possible. That's counter to the Google experience that most people have - where they find what they were looking for and then click away to another site."
Nothing has happened between Google and Yahoo as of now, but anything is still possible. That article happens to be quite informative as to all that Yahoo has to offer to a potential suitor.
In just about every metric, I feel that Yahoo is not fairly priced. I also feel that they could just as easily continue being undervalued, or triple the share price from current levels. That might be a stretch to many, but if our young investor is seeking to get wealthy quickly, Yahoo might just be another one of those "coulda, woulda, shoulda" stocks, to be held for a few years in the "Young and Restless" portfolio.
The Young And Restless Portfolio
Just for the fun of it, let's see how this portfolio has done in one month during a really volatile market.
The portfolio consists of Apple (NASDAQ:AAPL), Amazon (NASDAQ:AMZN), Google (NASDAQ:GOOG), Facebook (NASDAQ:FB), and Netflix (NASDAQ:NFLX).
It is not a portfolio for everyone and I suggest that you go back to the original article to review the investor criteria. That being said, in one month this "get wealthy" portfolio has produced some surprising results.
Young And Restless Portfolio
Stock
Orig.Price
Price Now
%+/-
AMZN
230
262
13%
AAPL
520
522
0%
GOOG
640
722
13%
FB
23
27
18%
NFLX
82
94
18%
With the same dollar amount invested in each stock, which works out to be 1 share of Google and fractions there of in each of the other stocks, the one month gain (as of current share prices) is about 12.5%. Over a 12 month period that translates into a return of roughly 150%. [Share prices are as of 12/20/2012]
Not too shabby for that younger investor who is ALSO setting up a "Team Alpha" portfolio for an eventual retirement, via a dividend investing framework. (See the original article for details)
My Opinion
Remember what this portfolio is for. I am not suggesting that everyone jump all over any of these stocks and forgo their normal strategy of dividend income investing. These suggestions are for the young investors who want to take a shot, and can afford to do so.
Between time horizon, investable cash reserves, and a regular income that allows this investor to build a retirement portfolio in addition to this, I say; take a look at these stocks and see if they are right for you.
There are no unknown entities here, which does reduce the risk a bit, and it is far less risky than blowing $100k on penny stocks from a brochure.
Disclosure: I have no positions in any stocks mentioned, and no plans to initiate any positions within the next 72 hours. I wrote this article myself, and it expresses my own opinions. I am not receiving compensation for it (other than from Seeking Alpha). I have no business relationship with any company whose stock is mentioned in this article.