Today, General Electric (NYSE:GE) agreed to buy the aviation unit of Avio, an Italy-based manufacturer of aviation propulsion components and systems for civil and military aircraft, for $4.3 billion U.S. (€3.3 billion). Avio and GE have been business partners in the jet engine business for a long time. Avio has been supplying raw material components to GE since 1984, and 50% of Avio's last year total revenue from the aviation sector, that is $2.4 billion, was actually derived from the selling of components to GE and GE JV engines.
This has been the third acquisition in the aviation sector for GE. In July 2012, GE Aviation declared its acquisition of Austin Digital, a privately owned, Texas-based supplier of flight operations data analysis. Austin Digital's flight operations capabilities strengthen GE's services offerings with integrated solutions for aviation customers around the world. In November 2012, GE Aviation acquired the assets of Cincinnati-based Morris Technologies, and its sister company, Rapid Quality Manufacturing, to gain an upper hand in the automated precision manufacturing process of rapid prototypes and end-use production components.
And the acquisition of the aviation unit of Avio seems to fit perfectly into the strategy.
"The deal with General Electric is recognition of Avio's competencies, technologies and growth record," said Francesco Caio, CEO of Avio. "It lays the foundations for the next phase of development for our company and will enable our teams and plants to become centers of excellence in transmissions and turbines for one of the leading companies in this field. This will open up many new opportunities for our people, our research centers and manufacturing in Italy. Our space division, which will not see a change of ownership in the short term, enters a new phase. Cinven and Finmeccanica will work together to establish the most appropriate set of industrial alliances to ensure long-term competitiveness and compliance with national and European interests."
One thing is for certain, GE is aiming at rapidly growing the production of jet engines in the coming few years. This seems to be a viable decision, with the 2012 air traffic forecast released by Airbus: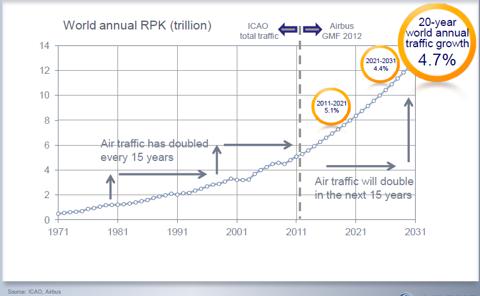 And if you are thinking whether any recession might affect it or not, then here's your answer.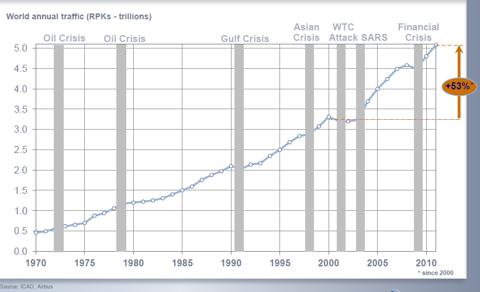 Moreover, GE recently launched the global mining unit, with enhanced products based on its clean propulsion systems, energy storage offering and world-class system integration capabilities. Needless to say, the recently acquired aviation section will support this endeavor perfectly. In short, GE is taking the right decision at the right moment. But how is it affecting the balance sheet?
Into the Financials
The purchase price to be paid by GE for Avio's aviation business represents a multiple of approximately 8.5 times based on 2012 estimated earnings before interest, taxes, depreciation and amortization EBITDA (a proxy for cash flow). That is a huge amount to pay but with $85.46 billion cash balance and quarterly current ratio of 2.25, GE can bear the amount as it seems.
The price will boost the assets section on the balance sheet, but will also come up on the income statement as increased depreciation charge and reconstruction charges (if applicable). That will certainly depress the return on average assets (ROAA) for a while. Perhaps that's the reason behind such low ROAA of GE, 1.96%. It will start showing results after maybe one or two quarters.
And one more thing, if Avio's aviation segment's annual revenue was $2.4 billion and 50% of that was derived from selling components to GE, then GE seems to save on an additional $1.2 billion every year, starting from the very next quarter.
Regarding the fourth quarter this year, not only was there the purchase price of Avio's aviation unit, but also the acquisitions of U-Systems, Inc., a manufacturer of ultrasound products specifically designed for breast applications on 9th November, and Albeo Technologies Inc., a privately held LED fixture manufacturer, on 26th November this year. This might be an apparent setback to the fourth quarter bottom-line, but all these acquisitions are supposed to return profits in the years to come.
Conclusion
The conclusion part can be tricky sometimes. Is GE worth our precious time?
Well, let's take a look at the table below:
| | | | | | |
| --- | --- | --- | --- | --- | --- |
| Companies | General Electric | Citigroup (NYSE:C) | Koninklijke Philips Electronics (NYSE:PHG) | Siemens AG (SI) | Industry |
| Quarterly Rev Growth (YoY): | 0.03 | -0.36 | 0.14 | 0.07 | 0.13 |
| Revenue (NYSE:TTM): | 142.31bn | 58.60bn | 31.51bn | 101.37bn | 1.38bn |
| Gross Margin : | 0.35 | N/A | 0.38 | 0.28 | 0.3 |
| Operating Margin : | 0.1 | 0.14 | 0.06 | 0.09 | 0.08 |
| EPS : | 1.26 | 2.37 | 0.58 | 6.52 | 0.73 |
| P/E : | 16.52 | 16.66 | 45.5 | 16.66 | 15.26 |
| PEG (5 year expected): | 1.24 | 0.92 | 18.31 | 0.24 | 1.29 |
Comparing the stats above, GE does not seem to lag behind the industry averages. And with the recent acquisitions, investor confidence might only grow, resulting in further stock price rise.
In short, GE does show some long-term value to me right now.
Disclosure: I have no positions in any stocks mentioned, and no plans to initiate any positions within the next 72 hours. I wrote this article myself, and it expresses my own opinions. I am not receiving compensation for it (other than from Seeking Alpha). I have no business relationship with any company whose stock is mentioned in this article.
Additional disclosure: Investing is subject to market risks. Think before you act.