Commodity Chart Of The Day
Daily Dow Jones
(click image to enlarge)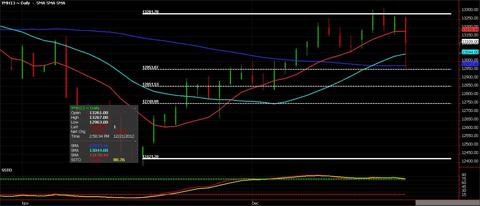 In the last five weeks, the Dow has climbed 7.25% to trade as high as 13300, as you can see on the daily March futures chart above. Prices appeared to be showing signs of exhaustion this week, and then Washington, D.C. decided they were ready for their Christmas break, and you see how this story ends. As I've said for the last two weeks, when politicians need to see eye to eye, they just don't. As they continue to kick the can down the road and fail to deal with the fiscal cliff, I think the market responds by selling off. The lesson is uncertainty is not good, folks.
For purely fundamental traders that do not subscribe to the idea of technical analysis, please ignore the Fibonacci levels that I will use as my objectives on the way down. Overnight last night, prices were clipped significantly before paring losses in the day session. In my opinion as we approach 2013, we will break the 50 day MA -- identified by the dark blue line -- and stocks will continue to leak south. Though this is a chart of the Dow, I also think the S&P will respond with lower trade. My favored vehicle for speculators is bearish trade in the ES.
Those not willing to speculate on bearish trade are advised to lighten up on long trades and to hedge with some type of options or futures exposure.
Risk Disclaimer: The opinions contained herein are for general information only and not tailored to any specific investor's needs or investment goals. Any opinions expressed in this article are as of the date indicated. Trading futures, options, and Forex involves substantial risk of loss and is not suitable for all investors. Past performance is not necessarily indicative of future results.
Disclosure: I have no positions in any stocks mentioned, and no plans to initiate any positions within the next 72 hours. I wrote this article myself, and it expresses my own opinions. I am not receiving compensation for it. I have no business relationship with any company whose stock is mentioned in this article.