U.S. Treasury yields are moving up, and the talking heads are again cautioning investors who have piled into bond ETFs about the damage that rising rates would inflict on fixed-income portfolios.
Of course, investors have heard these warnings several times during the past few years, yet Treasury yields remain depressed with the Federal Reserve seemingly committed to buying every bond in sight.
Still, exchange traded funds that target international debt have been in focus as investors seek fixed-income products for diversification and more income with 10-year Treasury notes yielding only 1.8% despite the recent move higher. SPDR Barclays Capital International Treasury Bond (NYSEARCA:BWX) has a low correlation to U.S. Treasuries, making a strong case for enhancing a portfolio with foreign currencies.
"BWX is weakly correlated with U.S. Treasuries. This is largely because its portfolio securities are denominated in foreign currencies. As such, a decline in the value of the dollar will be positive for the fund's performance. Consequently, BWX can serve as a tactical bet against the U.S. dollar. It's important to remember that an increase in foreign interest rates relative to U.S. rates could cause the U.S. dollar to decline," Alex Bryan wrote for Morningstar.
SPDR Barclays Capital International Treasury Bond has a 3.48% yield and about $1.9 billion in assets under management. The ETF tracks the Barclays Global Treasury ex-U.S. Capped Index and costs 0.50%. This year, BWX has returned 5.62% year-to-date. The fund has over 660 holdings, giving great diversification benefits. The index measures the performance of fixed-rate local currency sovereign debt of investment grade countries outside the United States that have remaining maturities of one to three years.
The risk is a rise in inflation, which would hurt the ETF. Any decline in inflation would help the holdings, similar to the fixed income market. Furthermore, the ETF does have high exposure to Europe, which has hurt the performance in 2012. Heavy exposure to Spanish and Italian sovereign debt may be a deal breaker for investors at this time.
Recent austerity measures and participation in the Outright Monetary Transaction program could help keep eurozone member countries' borrowing costs lower while allowing them to fulfill their debt obligations in the near future.
Other comparable ETFs:
iShares S&P/Citigroup International Treasury Bond (NASDAQ:IGOV)
SPDR DB International Government Inflation-Protected Bond (NYSEARCA:WIP)
SPDR Barclays Capital International Treasury Bond
(click image to enlarge)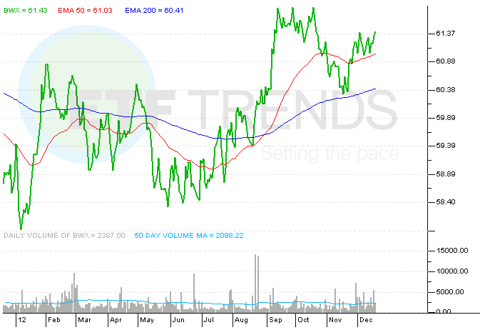 Tisha Guerrero contributed to this article.
Disclosure: I have no positions in any stocks mentioned, and no plans to initiate any positions within the next 72 hours. I wrote this article myself, and it expresses my own opinions. I am not receiving compensation for it. I have no business relationship with any company whose stock is mentioned in this article.