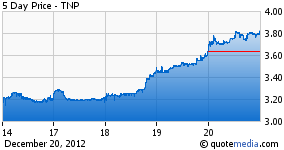 Tsakos Energy Navigation Limited (NYSE:TNP) provides international seaborne energy transportation services such as transportation of crude oil, petroleum products and liquefied natural gas.
Tsakos gives an impressive dividend of 6% and is trading closer to the low end of its 52-week range - at a mere $3.80 price, this stock is worth taking a look.
About Tsakos
Tsakos operates a fleet of modern carriers and tankers that provide transportation services to oil companies and refiners, and is based in Athens, Greece. Two new tanker vessels are due to be ready in the first two quarters of 2013, and a new LNG carrier is expected to be ready in 2015.
Competitive Landscape
Other than Tsakos, other global companies involved in oil and gas transportation include Teekay Corporation (NYSE:TK), StealthGas Inc. (NASDAQ:GASS) also based in Greece, Knightsbridge Tankers Limited (VLCCF) based in Bermuda, DHT Holdings Inc. (NYSE:DHT) based in Channel Islands and TORM A/S (NASDAQ:TRMD) based in Denmark. Most of these companies have fleets that are comparatively less diversified. For example, StealthGas is predominantly involved in LPG or Liquefied Petroleum Gas transport. Tsakos has a much more modernized and multi-purpose fleet that addresses customers in diversified energy markets (see image below).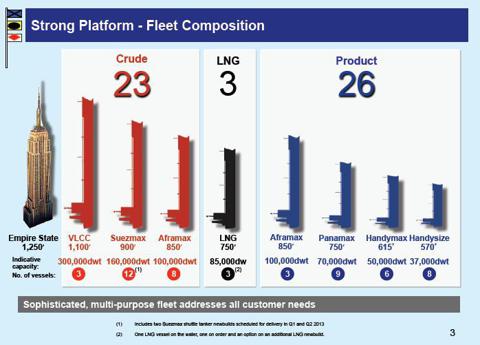 Catalysts
High global energy demand requires transportation of energy between countries and continents. A recent Exxon Mobil (NYSE:XOM) outlook suggested that "the global energy landscape will evolve significantly as regional demand and supply patterns will shift, creating new opportunities for international trade and economic gro

wth."

High tanker and carrier rate trends are another catalyst for Tsakos. Earlier in 2012, a report suggested that the rates of hiring a liquefied natural gas tanker has increased by more than 5 times since 2010.

Tsakos' 3Q2012 earnings revealed that rates for all vessel categories were better year-over-year except for Suezmax vessels (these are vessels designed to carry liquid cargoes 120K-199.9K deadweight tons or "dwt"), and its LNG carrier Neo Energy earned the most rates relatively. The spot rates for crude tanker actually improved somewhat this quarter in spite of the fact that the third quarter has historically shown a seasonal weakness for energy transportation demand.

The company's stock has a slight seasonal aspect associated with it, particularly during the winter months and the first quarter of a year, as it is one of the largest ice-class operators in the world and almost half its fleet has ice-class capabilities. On December 20 2012, Tsakos announced six-month period charters for three ice-class tankers to an undisclosed global energy end-user. Ice-class tankers are viable transportation options particularly during winter times.
Apart from transportation of oil and refined petroleum products, Tsakos has also entered into the business of transporting liquefied natural gas or LNG, which is a tremendous longer term opportunity for the company.
In its more recent earnings call, the company has said that it continues to see strong demand for its vessels from clients.
Tsakos has consistently paid healthy dividends since 2002, and so far it has distributed a total of $9.5 per share to its shareholders.
The company's fleet utilization was at 98% according to its recent quarterly earnings announcements, and 54% of 2013's available days are already in secured revenue contracts, providing expected revenues of $170

million.

The company's interest costs were 27% less in the 3Q2012 compared to previous quarter. Interest rates trends are an important cost factor for this highly leveraged business.
LNG Transportation - Big Prospects
The transport of liquefied natural gas require longer term charters that earn fixed rates for the company. Fixed rates for a long term will help the company in sustaining its cash reserves and balance sheet.
Tsakos has already set foot into the liquefied natural gas business (through its Neo Energy tanker) which is a huge growth opportunity.
Financials and Valuation
Its EPS is currently negative, showing a loss of $1.19 in FY 2011, an estimated $0.63 loss for FY 2012, a lesser loss of $0.16 in FY 2013 and going into the positive territory in the year 2014 and beyond.
Operating margin is expected to improve substantially in 2013 from a mere 6% to double digit numbers. Operating cash flows are showing positive trends.
EBITDA is on a positive trend if you consider analyst estimates for 2011 to 2014. EBITDA in 2011 was $103 million and estimated 2012 and 2013 values are around $116 million and $145 million respectively.
Revenues are expected to grow from $272.57 million in 2012 to more than $317 million in 2013.
Risks
The company's biggest risks include decreasing

demand for energy, environmental regulations that require fleet upgrades (and hence costs), political risk associated with the countries where Tsakos operates and higher interest rates.

The company's profit thrives on tanker rates and lower tanker rates or increased worldwide tanker supply both affect Tsakos' revenues.
Weak demand of natural gas liquids would hamper a great growth opportunity for Tsakos.
Target Price
Tsakos traded at $3.80 on December 21 2012, which is not only closer to its 52-week range lows, but also closer to the lowest 12-month target price of $3.40 (-11% from its current price) by one of the seven analysts that cover this stock. But the upside is huge - the mean 12-month target price happens to be $5.56 (45% from current price) and the highest target price is $7.50 (95% from current price).
Conclusion
Tsakos Energy has a high fleet utilization, tighter cost control and a relatively modern fleet along with some pretty longer term secured contracts that are bound to keep the balance sheet strong for 2013. Mr. George Saroglou, COO of Tsakos Energy, is positive about the 2013 and beyond:
"Looking ahead, we think the worst is behind us as supply of vessels shrinks while global oil demand continues to increase."

- Tsakos' Energy Chief Operating Officer
Considering the impressive 6% dividend yield, the company's secured revenue contracts for 2013 and the fact that the stock is trading closer to 52-week lows, Tsakos Energy could well be the next turnaround story in the energy transportation industry.

Disclosure: I am long TNP. I wrote this article myself, and it expresses my own opinions. I am not receiving compensation for it (other than from Seeking Alpha). I have no business relationship with any company whose stock is mentioned in this article.