I do a lot of reading to try to stay on top of things – both news, as well as a number of blogs and other analysis sites. Many have been commenting on the distress in the bond markets on a number of fronts – long swap spreads, investment-grade corporates, and now highly-rated commercial mortgage-backed securities. The rapid blowout in CMBS spreads has hit lower rated tranches already, and the relative stability of the AAAs has probably led to some people being caught by surprise.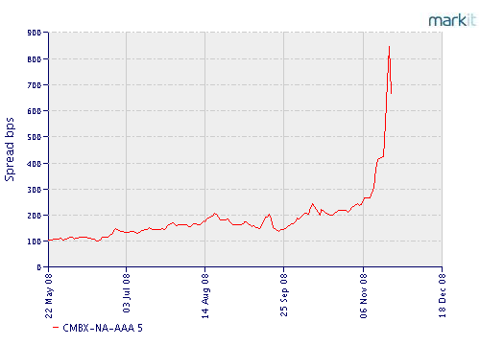 And as would be expected, the LCDX index referencing credit default swaps on leveraged loans has gone parabolic in an even more extreme way.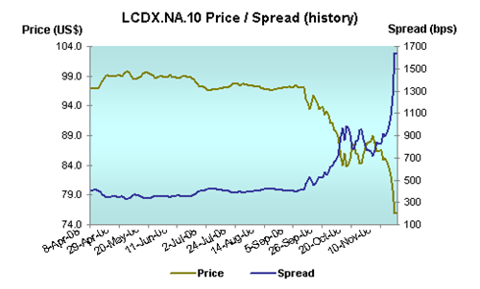 And the CDX index referencing CDS on investment-grade corporates touched another high.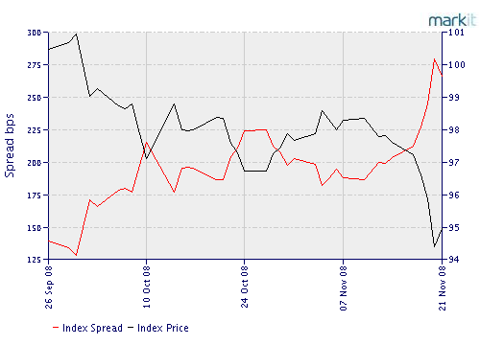 Now, the stock market jumped going into the close Friday, but I'm still generally averse to buying stocks. There are many stocks trading at or below levels I didn't anticipate seeing, but I'd rather keep the cash for the time being. Most of my searching for investment opportunities lately seems to focus on high-yielding alternate asset exposure, as well as distressed corporate debt. Until investment-grade corporate spreads start to tighten, I imagine that will continue to be true.
My primary position continues to be Primus (NYSE:PRD) debt, which has actually been rallying in the midst of all this credit market distress. I believe they've been very aggressive in buying back their debt – possibly accounting for about 28% of volume from the announcement of the program through the end of October – which would be a good explanation for this divergence.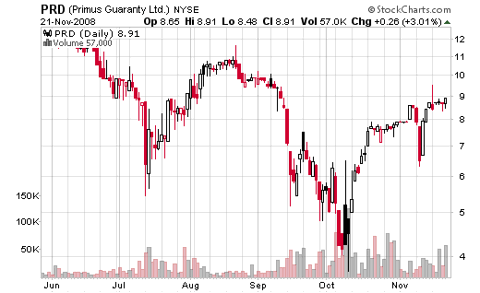 All of this serves as a backdrop to what is shaping up to be a bailout/restructuring/capital injection at Citigroup (NYSE:C) – a crisis being dealt with in a quieter manner than what happened in September, although possibly more significant because of Citi's size. As much as the credit default swap market is being demonized, back in July the CDS market was pegging Wachovia (NASDAQ:WB), Morgan Stanley (NYSE:MS), Citi, and AIG as the shakiest of the financials. Draw your own conclusions…
For some parting thoughts, here are a few excerpts from the conference call transcript from Fortress Investment Group (NYSE:FIG); with substantial private equity business, they certainly have a pulse on the market for riskier debt financing.
Wes Eden, CEO:
To the extent that you have a debt maturity of any real consequence in this market, you have a serious problem.

The debt markets to me in particular and to us in particular seem very, very underpriced right now… I think many of these markets are now priced far beyond what the worst case scenario is and actually offer a lot of upside from these current prices, but there are some that are not yet fully priced and we think the market's overall are probably going to continue to be negative on the debt side but do offer some very compelling opportunities…
Dan Bass, CFO:
…the debt markets right now are 100% shut. There is no new debt in the world that is being done right now. We think that is a temporary condition and hopefully it will abate coming forward. But, in any significant corporate financing that has to get refinanced right now is going to end up being a restructuring or a default.
On the whole, this collection of data (including things like potential tax loss selling) makes me somewhat concerned about my PRD holdings, and I'm considering putting a stop somewhat below the current price.
Disclosure: I own Primus stock and debt.