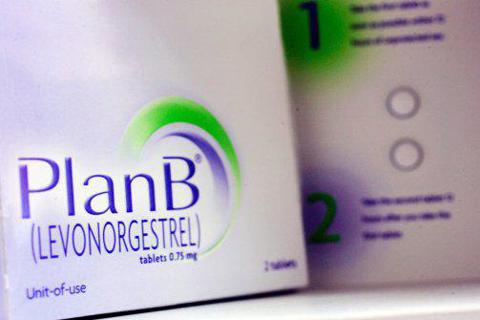 You would think that the Republican Party could have come up with an alternate name to describe an alternate pathway to budgetary harmony.
It's unlikely that anyone gave much thought to the name that is always widely used to describe the "morning after pill." But then again, Steve Jobs must certainly have entertained the thought that the "iPad" would evoke some snickers when first announced, and that seems to have worked out well, so you can't blame the House leadership for overlooking the obvious.
But they also overlooked the obvious fact that their Plan B had no support, being bought down by a minority from within the party.
More classically, "Plan B" is simply a generic description of a back-up plan. In this case, the fact that there was no plan to begin with made it a little unusual that a back-up plan was really necessary. Predictably, however, the GOP version of "Plan B" was all placebo, as it was never intended to work. It was also a bitter pill that they couldn't agree on taking before it was time to scatter back to their respective home districts.
And so when word came Thursday evening that the GOP couldn't come to an agreement on "Plan B," the futures did the same about face as Research in Motion (RIMM) shares did in the after hours market following the release of its most recent earnings report.
In both cases, it wasn't strictly about the numbers. It was about the guidance. In RIM's case, the guidance was bad. It was losing subscribers. In the GOP case, the guidance was from the invisible hand that makes certain people stay on what they believe to be the "true path." In essence, they were losing votes from those that pledged to be Norquist compliant.
When investing, there always has to be a Plan B, but if it was designed by the same person who formulated the original plan of action, it's probably a good idea to have a backup to the backup. Most of all, your personal Plan B shouldn't be held hostage by minority positions or highly speculative investments that really aren't consistent with your overall investing philosophy.
As the year comes to an end and I'm executing Plan B by taking strategic tax losses, I couldn't help but think that it would have been so much more efficient to have had Groupon (NASDAQ:GRPN), for example, not be a total sham of an IPO and company. That would have meant far more taxes paid on the extra capital gains and escaping the need to rationalize a bad decision by touting its tax benefits. On the whole, Groupon was a decision that wasn't really consistent with my overall investment approach, and it was a stock that did everything to foil efforts to rescue it from disaster. I equate Groupon with how John Boehner may be thinking of his Tea Party friends right about now.
As the overnight futures contracts were beginning to foretell the disappointment of House Speaker Boehner being unable to get a vote on Plan B, I was feeling a sense of perverse, but short-term happiness. There's nothing better than selling call contracts, having shares exceed their strike prices and then falling back sharply on expiration day. You couldn't script that any better.
At Thursday's market close, I was setting out on my usual task of trying to spot some potential "bargains" for the next week, but after any run-up on prices, it gets more and more challenging. Friday's trading helped ease that challenge, as long as the slide isn't greased.
As it would turn out, Friday presented an opportunity to rollover a number of positions into new call contracts, having expected to lose them to assignment. I'm always pretty pleased when reliable stocks seem to get inexpensive again and become a source of streaming income, especially when it's totally unexpected.
Thank you (non-pharmacological) Plan B.
As usual, the week's selections fall into the Traditional, Momentum and Double Dip Dividend categories. This week and for the next few weeks, the Premiums Enhanced by Earnings category takes a breather as Alcoa (NYSE:AA) gears up to get a new season started (see details).
Bristol Myers (NYSE:BMY) is a pharmaceutical company. I'm not certain that I can say much more about it as far as distinguishing it from some others. It has traded in a tight range all year and happens to have a nice premium for a staid drug company, and then also happens to go ex-dividend, if still owning shares, on January 2, 2013.
Schlumberger (NYSE:SLB) has been recently underperforming one of my perennial holdings, Halliburton (NYSE:HAL). With the latter's shares assigned this past Friday, it may be time to see Schlumberger play some catch-up. However, if near the $33.50 level, Halliburton would still be my preference, because we have a long and happy history together, despite ups and downs.
It feels strange to think of eBay (NASDAQ:EBAY) as a "Traditional" stock, but with its recent addition to the ranks of those companies offering weekly options, I may be ready to own shares again for the first time in more than a year. PayPal, despite increasing competition, remains a juggernaut and profit driver. Square may be great, but I really don't want to move off of my La-Z-Boy recliner to ring up a sale.
American Express (NYSE:AXP) is a current and frequent holding. It's never very exciting, even by my pastel standards, but it is reliable. Despite the fact that its option premiums are sometimes lower than I would like and not enough strike levels are available to sell, it is a consistent performer. Besides, it too, if not assigned, goes ex-dividend on January 2, 2013.
But if it's excitement you want, then the Momentum stocks are the place to be. Deep down inside, I think the story of the year in 2013 will be Chinese economic growth and re-awakening. Despite its recent pullback due to its acquisitions, Freeport McMoRan (NYSE:FCX) continues to be a must-hold position for me and I may add to existing positions, possibly to the point of being over-represented in my portfolio. At the current price, I don't see a terribly large risk with that being the case.
I believe Facebook (NASDAQ:FB) will be another big story. Granted, it was already a big story in 2012, but mostly for the wrong reasons. I caught a lot of disparaging remarks from the Seeking Alpha readership when venturing into shares right before its August 2012 lock-up expiration. No matter what you may think of the company, its stock or leadership, there's no denying that all of the collective wisdom of pundits and trolls has been wrong with regard to their lock-up expiration theses. Far be it for me to not point that out. Facebook has weathered the deluge of new shares beautifully, predominantly because insiders, big and small have great faith in the company. Well that, and earnings. Facebook is also now one of the few stocks that has option contracts available for multiple upcoming weeks. The spreadsheet link only contains the coming week and monthly options, but consideration may certainly be given to selling intermediate length contracts.
Ever since weekly options became available, I've stopped being a fan of picking up new shares during the first week of a monthly option cycle that only traded monthly options. One possible stock to make me forget my own rules is Comcast (NASDAQ:CMCSA), which goes ex-dividend this week. It's a stock that I frequently think about buying, but while I've been thinking about it, the shares have added 6 points without me. In all likelihood, that fact won't outweigh my rule of sticking to the rules.
Of the stocks that I follow and that are going ex-dividend this week, only The GAP (NYSE:GPS) offers a weekly option. Given that my other retail holdings, Kohls (NYSE:KSS), JC Penney (NYSE:JCP) and Macys (NYSE:M) suffered big enough one day hits on Thursday to slip well below their strike prices, I'm a bit equivocal about adding more retail, particularly with a relatively low dividend yield. But then, what's a week without a dividend?
YUM Brands (NYSE:YUM) is a perennial China play. I just know that it perennially confounds everyone. It always responds negatively to rumors of a Chinese slowdown, and then always thumbs its nose at the rumors. People like to eat and once they get hooked on fast and convenient food, a little economic slowdown isn't going to get in their way. The American experience bears that out. Why in the world would the Chinese be any different? Besides, does anyone really care about possible food safety concerns in the Chinese market that came to light today? Now, before you chide me for breaking the first day of a monthly option rule, how often can you get into YUM shares at this level? I've been waiting for a few months, and I am hungry.
Las Vegas Sands (NYSE:LVS) is another oft-owned stock of mine. Having owned it on four separate occasions since mid-September, it has reliably traded like a yo-yo, but always aware of where the floor was located. Following a large drop on Friday, I think my current shares miss their cousin shares that were assigned mid-week.
Traditional Stocks: eBay, Schlumberger
Momentum Stocks: Facebook, Freeport McMoRan, Las Vegas Sands, YUM Brands
Double Dip Dividend: American Express (ex-div 1/2/13), Bristol Myers (1/2/13), Comcast (12/28), The GAP (12/28)
Remember, these are just guidelines for the coming week. Some of the above selections may be sent to Option to Profit subscribers as actionable Trading Alerts, most often coupling a share purchase with call option sales. Alerts are sent in adjustment to and consideration of market movements, in an attempt to create a healthy income stream for the week with reduction of trading risk.
Disclosure: I am long KSS, M, AXP, LVS, GRPN, FB, HAL, FCX, and I may initiate positions in BMY, CMCSA, EBAY, GPS, SLB and/or YUM. I wrote this article myself, and it expresses my own opinions. I am not receiving compensation for it (other than from Seeking Alpha). I have no business relationship with any company whose stock is mentioned in this article.