There's a lot of bad press surrounding Intel (NASDAQ:INTC) and the PC industry these days. The claim is that PC demand is going to continue to deteriorate largely due to cannibalization by tablets that fit the iPad form factor. While this is still up-in-the-air, I believe that the issue is a fair bit more subtle than the average retail investor and the sell-side research tends to see.
The One Analyst That Has It Right
For all of the song and dance that Intel missing the mobile market will lead to the firm's demise, the truth of the matter is that the mobile chip market just is not all that big. Microdesign Research makes the point that the entirety of the smartphone/tablet applications processor market is roughly ~$6.5B while the current PC processor market is ~$31B. Further, the report notes that the majority of the processors that go into this space are either Apple's (NASDAQ:AAPL) own designs or Samsung's, leaving a served available market of merely $1.5B. The argument, then, is that even if Intel captured the entirety of this market (which is unlikely given the number of strong competitors in the space), it wouldn't make much of a difference to the firm's top and bottom lines.
So, clearly taking the mobile market would add a bit to the top and bottom lines, but the priority for Intel is to make sure that tablets are upside, rather than lower-cost devices with lower ASPs that eat into the higher ASP products. This means solving the fundamental problem with the PC industry: it has been - up until now - BORING!
PC Designs Have Been Awful For The Price
Up until the end of the year with the Microsoft (NASDAQ:MSFT) Windows 8 launch, Ultrabooks were nothing exciting. Thin and light laptops...that cost more. Sure, battery life might have been a bit better, some OEMs did a better job than others in implementing "slick" designs, and having solid-state drives as the standard certainly helped the overall "user experience." However there were a number of major problems with the initial batch of devices:
Too Expensive - Unless you're Apple, you're not going to get away with a "fashion" premium. Without enabling fundamentally new functionality or offering a substantial feature advantage, then the devices are doomed to flop at anything close to an Apple price-point. The feature that everyone wanted is touch.
"Crapware" - A problem that has always plagued modern PCs (and why I wiped the hard disk of my laptop and did a fresh install of Windows) is that these devices come loaded with all of these "extra

s."

Applications, demos, trials, and so on. Things that clutter up the computer, chew up memory, and generally act as annoyances.
Tablets - right now, people are enamored with touch, "always on" capability, and quite frankly want something

"new." Whil

e an iPad or a Nexus 7 tablet is not likely to replace a real productivity device, people will be much less inclined to upgrade the "aging" laptop if it still works and will instead buy the "new" thing.
These three combinations made the late 2011/early 2012 incarnation of the "Ultrabook" decidedly unappealing. However with the Windows 8 launch, everything changed. While the reports about notebook sales still portend doom and gloom, there is a bright spot that should serve as a subtle hint that things are not as bad as they seem.
The Lenovo Yoga Is Selling Out
This holiday season, I wanted to treat myself to a new "Ultrabook." In particular, I wanted the Lenovo Yoga. This is a 13.3" convertible Ultrabook that has a beautiful 1600x900 IPS touch display, 128GB - 256GB SSD, an Intel Core i3/i5/i70, and 4-8GB of RAM. The price? Anywhere from $1000 - $1450, depending on the configuration.
Not only does this machine make the MacBook Air look like the over-priced rip-off that it is, but it also makes the majority of "high end" 10" tablets look pretty silly too. The iPad 4 with 64GB of storage, 1GB of RAM, and a very low power CPU/GPU chip also looks like a terrible value proposition at $700, especially given that the Yoga is a more functional device that can easily be used for productivity.
I know, I know - I don't get it. Nobody wants convertibles, the iPad is going to rule the world, Intel's dead, Windows 8 stinks, and Lenovo's teetering on the edge of bankruptcy. Right?
Well, no. I think it's the naysayers that don't get it. As I eagerly decided on the model that I wanted, I noticed something awful: it was backordered. By "more than 4 weeks."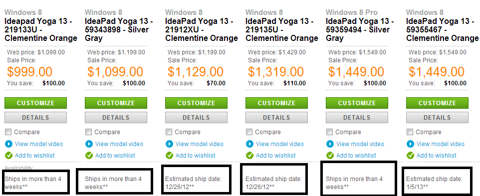 So, wait a minute. If nobody's buying PCs, then why is the most exciting model available selling out?
It's All About Making A Great Device
The point of this is to illustrate that, yes, people want PCs. But these PCs need to have a major "selling point." Upgrading from a traditional bulky, uninspiring, bloatware filled laptop to a less bulky, uninspiring, bloatware filled laptop is not something that will get people opening their wallets unless they really need to.
Intel is doing a good thing with the "Ultrabook" initiative. The company enforces battery life requirements, size/form requirements, and specification requirements (no solid state drive? no go). As Intel's CPUs bring power efficiency up, bring graphics performance up, and bring overall platform power down, the notebooks will have intriguing features that will continue to drive innovation at the platform level.
The "Haswell" generation of Ultrabooks will be even more interesting. Connected standby will be a standard feature in all Ultrabooks, longer battery lives will be required (Haswell is said to double battery life), better cameras, sensors, and so on will all be a part of the package.
The OEMs got lazy, Intel didn't do anything about it, and PCs got boring. This is a mistake that Intel seems to be feverishly remedying.
What About Cheap Devices?
The Lenovo Yoga is a high end device at a high end price-point. What about the low end?
If this "Ultrabook" push is to succeed, Intel needs to make sure the devices span the gamut of price points. In addition, these devices can't be total crap. They need good processors, fast storage, decent screens (with touch), and good battery life. A quick scan of Newegg shows that there are cheap Ultrabooks, but they're not touch enabled. This will need to change going forward if wallet-share is going to shift back to the PC at all ends of the spectrum.
Don't Count PCs Out
The PC will become exciting again and, as we have seen with the iPad Mini's popularity, "pure" tablets will be relegated to the 7" class devices. The higher end will eventually be cannibalized by slick, feature-filled, high performance convertible Ultrabooks at competitive price points.
With the "Ultrabook" trademark and specification belonging to Intel, it is clear that both ARM (NASDAQ:ARMH) based clamshells running Windows RT and even Windows 8 thin and light devices running on AMD (NYSE:AMD) processors will have a very tough time competing with the marketing power, product superiority, and sheer volume that Intel can provide in chips.
And at a 4.5% dividend yield from Intel's stock, it's hard not to be tempted to buy in and wait out the "funk" before the real show begins with Haswell in 2013. Oh, and one more thing. Intel didn't issue a revenue warning for the current quarter, which is why the price seems to be on a nice uptrend. But that's a topic for next time.
Disclosure: I am long INTC, MSFT. I wrote this article myself, and it expresses my own opinions. I am not receiving compensation for it (other than from Seeking Alpha). I have no business relationship with any company whose stock is mentioned in this article.