I can't feel bad about buying CBI at these prices (6.79 as I write this).
Overview
Chicago Bridge and Iron (NYSE:CBI) is an engineering, procurement and construction (EPC) company with a global presence. The company has about 17 k employees and essentially services customers in the hydrocarbon, power, water, and mining sectors. I know what you are thinking – construction? global? And you want to buy this thing! But before you throw this EPC into the trash, take a look at the numbers.
The Numbers
When there is a global financial crisis (like now) I want to be in stocks that are not going to have to open up new lines of credit or do any type of debt financing. That is why I like CBI. The company has continually reduced its LTD-cap, from 35% in 2000, to 17% in March of 2008 to 5% today. Moreover, the company has got 242 million in cash (the market cap is only 647 million dollars at current prices). Furthermore, and most importantly, CBI has 1.4 billion dollars in unused bank lines. (see slide below from Q3 corporate report)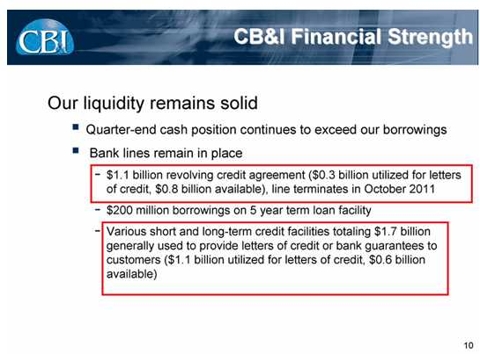 Also enticing me to buy CBI is the company's impressive backlog - $6.2 billion of backlog with 704 million dollars of new backlog last quarter (see below). In addition to that, CBI is well positioned to take advantage of a move toward liquefied natural gas, wind power and nuclear energy.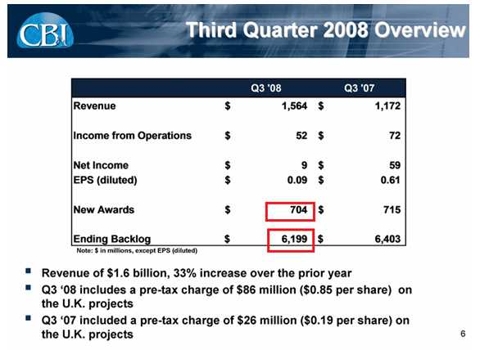 Conclusion
CBI is really cheap right now – but it may stay that way for a while. I think this is a bargain name for anyone looking to invest, but not necessarily a great play for someone looking for a quick trade. The firm has caught some bad luck with its UK operations and will most likely not be profitable this year. But revenue is growing, and the company has tons of money it can call upon in the forms of letters of credit. In short, CBI is a really cheap way to play the future energy infrastructure market.
Disclosures – plan to be long CBI soon.